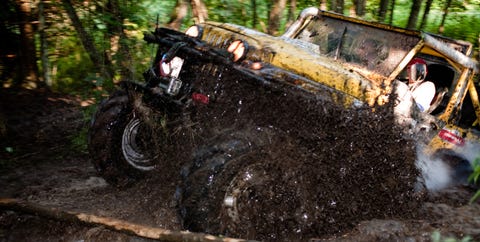 Getting stuck can happen to anyone, no matter how cautious you are behind the wheel. Don't mash the gas pedal when you sense that your wheels are slipping and your vehicle isn't moving—that will only dig a bigger hole. Instead, you should pause and dig yourself out the right way. The best way to handle getting lodged in a mucky or loose surface is to always be prepared for that scenario with the right tools. If you're driving on the soft stuff, here is the automotive gear that can keep you moving.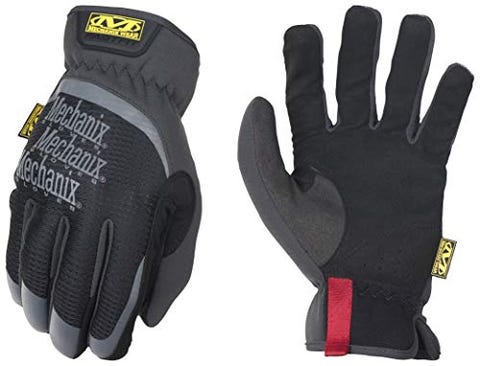 Let's start with the most basic item. You probably aren't too concerned with keeping crud out from under your fingernails if you're already playing around in the snow or dirt. However, if something goes wrong, a solid pair of work gloves can protect you from the actual hazards of dislodging your car from a bad spot.
Engines, transmissions, and exhaust systems get hot with use and some of these recovery tools can pinch or snap those hands. We recommend skipping thin latex or nitrile gloves for a thicker, reusable work glove that can better insulate your hands.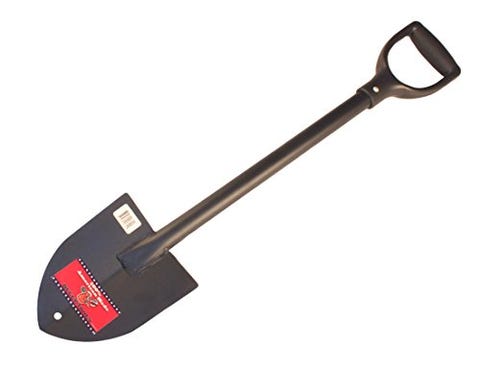 A shovel that can dig the dirt or snow away from the front of your tires is the single most useful tool for getting a vehicle unstuck. Any item that can dig and scoop can be used, including your hands, but a shovel gets the job done quickly. When all four tires are stuck, your hands and back will be grateful you brought a shovel.
A proper D-handle shovel is always the best bet as it's the least back-breaking option. However, if space is at a premium, you can opt for a foldable shovel or cut the handle down on a regular garden shovel so it fits in your car.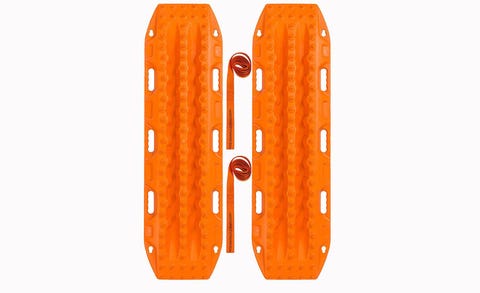 Once you've shoveled out the front of your tire, you need something that your tires can grip onto, lest you end up getting re-stuck in an even bigger hole. The concept is simple: Stick something more solid in front of your tire and slowly crawl out of your mess.
The most cost-effective solutions involve things you already have sitting around the house. You can stuff a strip of carpet or cardboard in front of your wheel to get the extra traction you need. You can even use your vehicle's floor mats if need be. Sticks, branches, and plywood also work to prevent your tire from spinning as long as they don't sink into the ground too much. Press the accelerator slowly so the tire has time to grip, or else you'll fling all the things you just laid down behind your tire and go nowhere.
If you want to spend a little more, molded plastic recovery tracks are a considerable improvement over a carpet or cardboard solution. They won't sink or slide under your tire, and when held on the end, they can be used as a shovel. Maxtrax are so popular that the brand name is all but synonymous with these boards in the same way that Kleenex is for tissues. But there are plenty of other, less expensive options.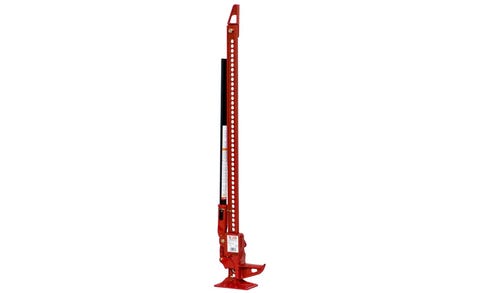 A hi-lift jack is a recovery gear staple on most off-road rigs. The factory tire jacks that come with your truck are wholly inadequate on loose surfaces, especially if your truck sits higher off the ground due to larger tires or a lift. A hi-lift can be used to lift a stuck tire so you can stick cardboard or Maxtrax underneath it.
In a pinch, a hi-lift jack can also be used as a come-along winch. You can buy an extra off-road winch accessory kit that makes this process easier.
First, attach a tow strap or chain to the loop on the part that moves up and down the jack and secure the other end of this strap to a solid object like a large tree. Then, chain the plate end of the jack to the frame or tow hook of your vehicle. Pump as if you're lowering the jack and you can pull your vehicle out of a hole.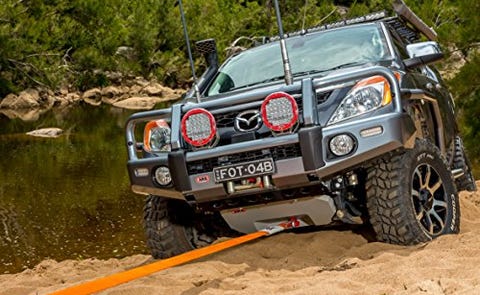 Another solution for pulling a vehicle out of the muck is a recovery strap, which can be used by one vehicle to free another. If you venture out of civilization or onto isolated trails, you should be traveling with a friend in a second vehicle anyway. That way, you can help each other navigate obstacles and stay mobile if one vehicle gets stuck.
Make sure you get a proper "snatch" or "recovery" strap with loops at each end. Avoid using tow straps with hooks at the ends, as they can be dangerous if the strap breaks. Buy a strap with well over your vehicle's weight as its breaking strength so it doesn't snap from too heavy a load.
Only connect between automobile frames or designated tow points—never to the body or bumpers—and ensure that the strap isn't rubbing against any sharp edges that could break it. Once the strap is firmly secured to both vehicles, keep it taut as you pull the stuck vehicle back onto firm ground.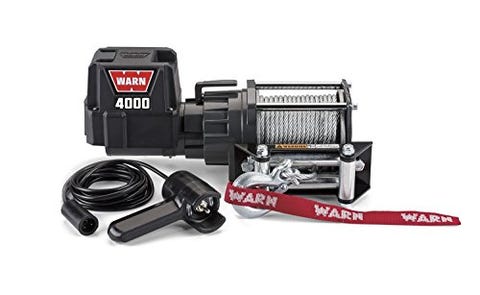 If you frequently visit areas where the likelihood you'll get stuck is very high, then the best option for pulling yourself out of bad spots is a winch and proper recovery gear, which includes a tree saver strap, snatch block, and tow straps. A winch allows you to get out of tricky situations even if another vehicle can't help pull you out.
Toxic Crush recommends getting a winch that's rated at 30 percent or more of the weight of your vehicle. Many prefer having a synthetic winch line instead of a steel cable, as steel cables can snap when they break, leaving you with two dangerous metal whips when they do.
This is where a snatch block comes in handy. These heavy-duty pulleys can double the pulling capacity of your winch and reduce the chance of snapping a winch line. Furthermore, these enable slower, more controlled movement from your winch.
If you connect your winch to another vehicle, attach a tow strap to the end of your winch line and always hook to the frame or a recovery point that is directly bolted to the frame. It doesn't take much for bumpers to break off and become lethal flying objects.
Regardless of what you attach to, always make sure it's solid enough to handle the weight of your vehicle. Don't turn your tree saver strap into a tree removal device.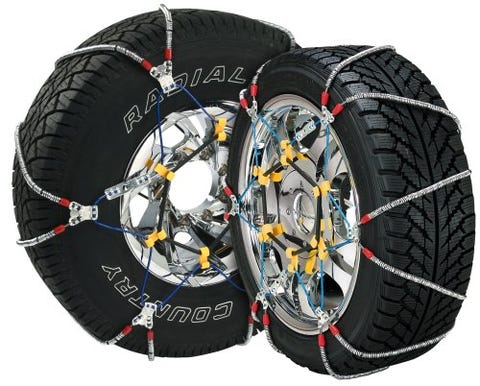 Today's snow chains can be installed by just about anyone, and many are more like wrap-around cables than actual chains. To put these on, park your vehicle and wrap the snow chains around the wheel. A central bungee cord tightens everything up. Remember that it's always better to put chains on before you need them, and definitely wear some warm gloves to make the process a bit more pleasant.
From: Popular Mechanics
Source: Read Full Article