While we've been aware of GT Sport's next content update for a little while, the exact contents have remained a bit more of a mystery. In the last couple of days, the fog has lifted slightly, with Kazunori Yamauchi's traditional teaser post revealing that five cars are on the way (even if no-one can work out what one of them is).
Today, thanks to the eagle-eyed GTPlanet member Aweoob, it seems we've got a bit of a sneak preview of another bit of content coming next week. It's something we've been waiting for since the World Tour event at the Nurburgring, but it looks like it's finally coming after this weekend's action: rain.
It's actually come to our attention via a scheduled refresh of in-game events. The last GT Sport update brought a new Time Trial mode, which allows players to race one another in a hot-lap competition rather than a head-to-head race scenario. Polyphony Digital updates these events every two weeks, with the next due on Wednesday 28 August.
For each event, PD uploads an image to a directory on the game's official website. This then forms the basis of the event tab you'll see in the game, and you can find images from both previous Time Trial events in that folder. Browsing that directory manually reveals this image as one of the latest added: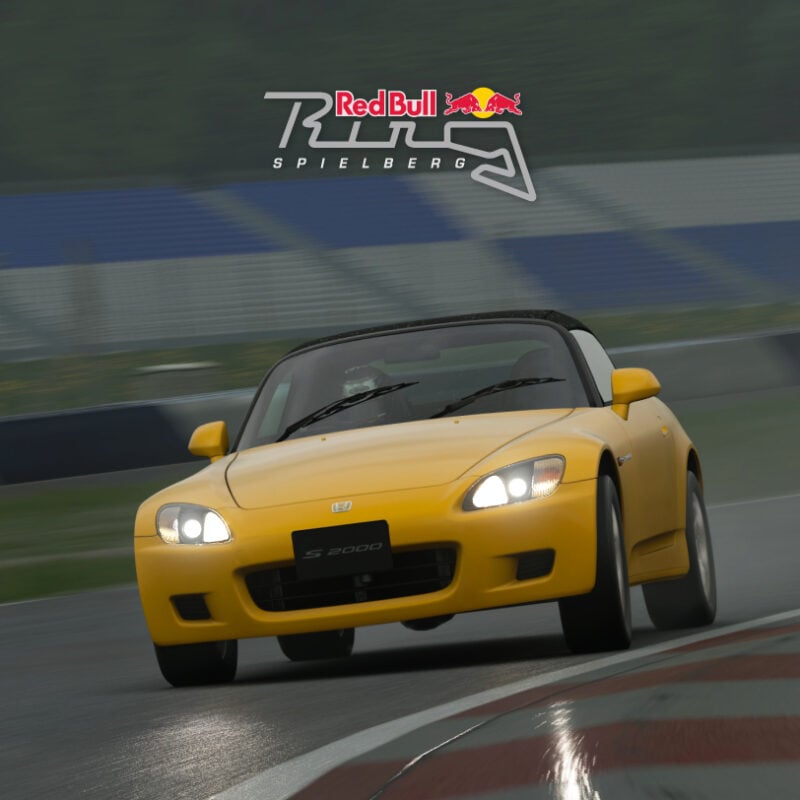 The image is of interest for several reasons. Firstly, the car shown is a first-generation Honda S2000. That's a car that isn't yet in GT Sport, but it's one of the five vehicles shown in disguise in Yamauchi's silhouette Tweet. It's even more notable that it is a first-generation (or "AP1") model, as the only high-quality, "premium" S2000 in the PS3 Gran Turismo games was a second-generation ("AP2") car from 2006.
That aside, the image appears to show that the car is making its way round a wet Red Bull Ring. There's reflections of the car's headlights on the asphalt and curbstones consistent with surface water, the S2000 seems to be kicking up spray behind it and — just to clinch it — the Honda's wipers are on.
Red Bull Ring is the only track we've seen to date with these conditions. That suggests that it may be the only circuit with wet weather available when it arrives in an update, but there may be others to follow in the future.
We'll likely learn more at New York this weekend, and with an entirely new circuit also rumored for this update, v1.42 is shaping up to be one of the biggest to date.
Thanks to Aweoob for the tip!
Source: Read Full Article