Toto Wolff thinks the chances of Mercedes leaving Formula 1 in the foreseeable future are the same as an invasion of aliens from Mars.
After seven consecutive Drivers and Constructors' world titles, and the prospect of an eighth in both categories being racked up this year, Mercedes have conquered all fields in the sport.
There have been suggestions they could step away, which would clearly leave a big void, but the team's co-owner and team principal Wolff believes the prospects are beyond slim.
Asked about a potential Mercedes exit during an interview with Motorsport.com over the Spanish Grand Prix weekend, Wolff said: "Every year we also hear rumours that aliens have landed on planet Earth.
"Let's say the certainty that aliens from planet Mars have just landed here in Granollers [home of the Barcelona circuit] are the same as Mercedes leaving Formula 1."
What is more likely to happen than Mercedes disappearing from the F1 paddock – and we don't mean via a spaceship – is Wolff taking a back seat compared to his current wide-ranging role, as he has been threatening to do for some time.
The 49-year-old Austrian signed a new three-year contract last December and now owns one third of the team – the same stake as Daimler and sponsor Ineos.
Check out all the latest Mercedes merchandise via the official Formula 1 store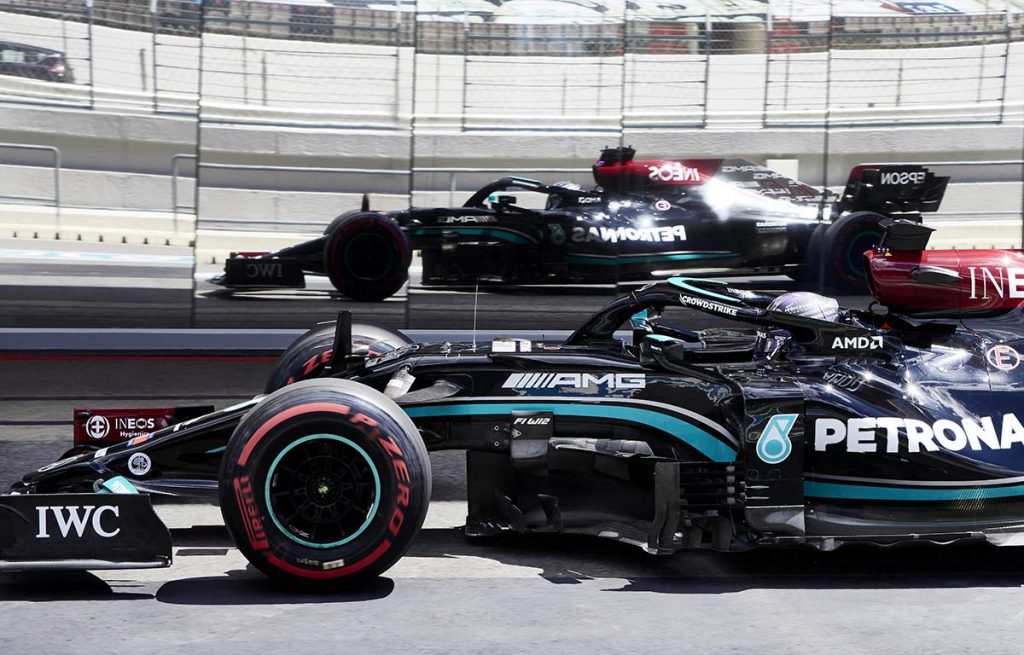 But eventually, he still has a yearning to pass over the day-to-day running to a successor while switching to a less hands-on role for himself.
Asked about taking a step back, Wolff said: "I'd like to…sit on a quiet beach, read the results at most!
"But then I think about it and realise I really enjoy being where I am. I love what I do.
"However, I hope to identify a group of young people able to take my place and operate at their best, and perhaps carve out a role from which to guide the strategic choices of the team. But that moment has not yet arrived.
"This is a never-ending journey in the sense that this company has three owners with an equivalent stake – a third Mercedes, a third Jim Ratcliffe [Ineos] and a third me, so as a shareholder I will always be there.
"But as CEO and team principal I know one day I will move on to other things and I will be proud of the team, proud of the fact that whoever arrives will do a better job than I did.
"I will give my comments…useless, but only if things do not go well. And maybe I'll take credit when things go well… a nice prospect!
"But my journey with Mercedes doesn't end, because I am a shareholder of this team."
Source: Read Full Article