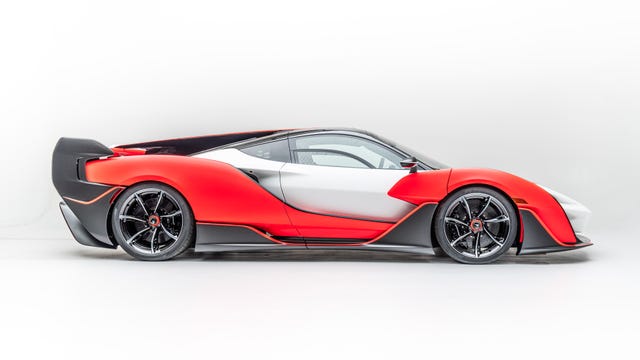 The fastest two-seat McLaren ever made goes 218 mph, was designed with input directly from customers and… is all sold out.
The new McLaren Sabre is likely based on the formerly world-beating Senna two-seater, but more power and better aerodynamics mean the Sabre is the new crowned king of McLaren supercars. McLaren Special Operations in Woking, UK made the limited run of 15, but at least some development work on the car took place at the Thermal Club race track in Southern California and included track drives of a camouflaged engineering prototype by actual customers months before the car was finished.
McLaren flew the proto-Sabre to SoCal in order to get feedback from the 15 lucky buyers, who presumably liked what they saw, since all 15 cars are already spoken for. Pricing has not been released, but consider that the Senna, when it was for sale, went for around a million dollars or so, depending on exchange rates. So add a healthy pile of Pounds Sterling to that and you might be close to the sticker price.
In addition to that crazy 218 mph top speed the new car boasts the most powerful non-hybrid McLaren twin-turbo V8 engine to date, with 824 bhp and 590 lb-ft of torque. That 218-mph maximum speed makes it the fastest-ever two-seater McLaren.
We don't have much more in terms of technical specs yet. But the most interesting aspect of this super/hypercar might be that McLaren included buyers in the design process.
"The McLaren Sabre is designed and homologated exclusively for the US market, stretching design, engineering and aerodynamic conventions to new limits," McLaren said in a statement. "The McLaren Sabre by MSO is the co-creation of its customers and McLaren Special Operations designers and engineers. There are just 15 examples, each tailored to exacting standards of personalization and – because the car has been homologated solely to U.S. Federal standards -featuring ideas and innovations that global homologation would not permit."
The track drive was done in partnership with a SoCal supercar megadealer called O'Gara Coach, more specifically, with a division of the dealership called O'Gara Motorsport. The actual dealership name is McLaren Beverly Hills.
"I've been fortunate enough to have been involved with a number of very special cars and I've never seen a manufacturer give clients the level of access that McLaren Special Operations has provided for the Sabre," commented Parris Mullins, Motorsport Director for O'Gara Motorsport.
What is called "The Bespoke Commission customer experience" includes "a close working relationship with the MSO development team of designers, engineers and test drivers to ensure that the finished car would exactly match their desired and personalized concept."
"Everything from visiting the 'skunkworks' style design studio in the UK to flying out the actual development test mule for clients to get behind the wheel of and drive at a private track –these just aren't things you typically get access to," said Mullins.
O'Gara said the build process culminated with that highly exclusive and secret track day for customers, held at what is apparently the O'Gara facility inside the Thermal Club private race track. Each owner was allowed to drive a development car multiple times throughout the day, while being coached from the right seat.
After returning from the drive, owners were seated in a private room to give direct feedback via video chat to the design and engineering team back in Woking.
"We were extremely pleased with how the event went and were honored to support such an integral part of the customer journey for the Sabre," said Mullins. "And today we are thrilled to hand over the first McLaren Sabre to its new owner – this time, not just a client, more a customer who has been in part collaborator, designer and factory test driver as their dream came to reality."
Kind of doubt we'll get to drive one, but hope springs eternal.
Source: Read Full Article