The fuel efficiency the car delivered was 9.5 Km/L, while the maximum figure seen on highways was 12.5-13 Km/L.
BHPian adigup recently shared this with other enthusiasts.
Like Turbanator, I got my hands on our Innova Crysta 2.7 ZX AT.
The Innova is my dad's daily drive and he absolutely loves it. It's a February 2019 manufactured and registered car (it replaced our May 2013 Innova 2.5 Vx).
As of today, our Innova Crysta's (referred as Innova in the rest of the post) odo stands at 34,3xx kms, which means yearly average of 11,xxx kms (not to forget the multiple lockdowns). My dad manages to do around 1,200 kms a month in the Innova, and I manage to get my hands on it once in two weeks.
It's quite clear that the engine has a very sporty sound, and picks up pace in no time. In the early days, I remember telling the driver at home that I don't need the stereo and I could just listen to the car's engine during the drives. It's a bliss to drive this car because it's very easy to know and judge the sides. It's very effortless and has true Toyota / Innova characteristics. My dad who is lowkey always worried about the fuel efficiency, usually prefers driving in Eco mode with MID showing figures around 8.5 / 9 kmpl at least. In winters, I have seen the car showing a minimum of 9.5 kmpl in Delhi traffic. Take it on the highway and the figures just go up by 0.5 – 2 kmpl (close to 10 – 12 kmpl), when topped up from a COCO and driven with cruise control on and a little AC, expect figures close to 13 kmpl.
Until a couple days back, I had only driven it in the city and less (or just once) on the highways, where I managed to get 7-9 kmpl according to the MID (with Eco and normal mode). I just feel the engine sound and the push is so good, that I floor it a lot of times on empty stretches. On highways, I have seen figures of 12.5 – 13 kmpl.
Last year in July, I took this picture on a highway when the car had done 20,500 kms.
Recently, I did a trip from Delhi to Vrindavan (went there with family after 4 years) and back in one day (went via Gurgaon so took the western peripheral expressway) and the entire trip was close to 350 kms in all. I drove all the time (usually my dad prefers to take the wheel mid-way). With 4 on-board and AC on all the time, the weather wasn't great – there was storm and rain on our way, and I managed to get close to 10.8 kmpl at max., as I was driving in Normal mode and with my foot slightly heavy on the accelerator pedal at almost all times. For most of the journey, the car was doing 90-95 kmph and while our time at the western peripheral expressway the car was doing 110-120 kmph throughout.
Managed to get this picture after reaching home (there was a little bit of traffic on the way back, hence, the drop in mileage figures.
I usually take our Corolla Altis 1.8 VL CVT 2019 for all the trips (when only 2 people have to go) and manage to fetch 16-17 kmpl keeping the speed close to 90 – 120 kmph most of the times. Taking the Innova was definitely a good experience, and I am actually surprised to see 10 kmpl + figures on the MID. 100 kmph is seen below 2,000 rpm which is absolutely amazing. Our Innova is due for it's major service, let's see how it goes. A friend also has a 2.8 ZX which I have driven, which is definitely a gem to drive but the petrol feels more fun to drive. Last point that I would like to add, my friends 2.7 V Manual doesn't give more than 9.8 kmpl on highways and 7 kmpl in city, probably because of lack of 6th gear.
Signing off with some pictures of my dad's priced possession covered in dirt.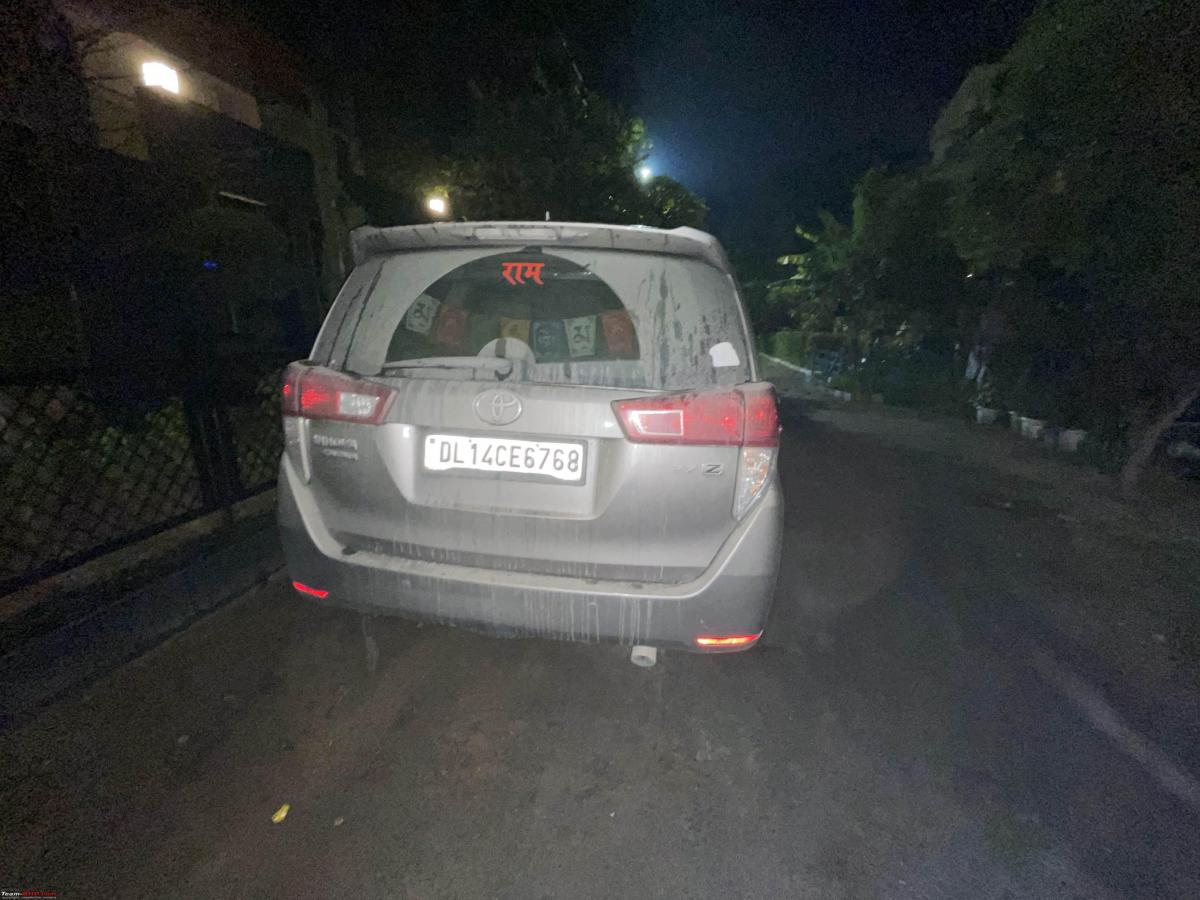 Read BHPian comments for more insights and information.
Source: Read Full Article