The motor of the electric motorcycle is really efficient. I ride it in the Sport mode exactly like I used to ride my Bajaj Dominar 400 for my daily commutes.
BHPian shrey220 recently shared this with other enthusiasts.
I've recently completed over 1600 kms on my Tork Kratos R and below is my take on the motorcycle.
Background
My father being an EV enthusiast, there was no doubt my family would be one of the early EV adopters. I've had a decent experience with EVs, since we own a Bajaj Chetak EV, MG ZS EV and now the Kratos R. The reason to mention this is that I'm not new to the driving/riding pattern an EV needs to know its potential.
Why Kratos?
The founder, Mr. Kapil Shelke, knows what he's doing since he's been in the same background for years now. Not to forget that this startup is backed by Force Motors, which separates them from many other EV startups.
I've always used a motorcycle for my daily commuting and scooters just don't do it for me.
The company being from Pune, Maharashtra itself, gave me the confidence of getting faster resolutions to early adopter issues.
I booked the bike in black colour on the day of the launch. Tork motors contacted me for the final payment in June but I was informed that only the white colour would be available in the first round of production. I decided to wait and finally got the black colour delivered on 5th October 2022.
First impressions
The bike looks good! I did not have very high expectations since it's their very first product, but the looks really impressed me.
As you go closer, the average built quality is pretty evident. Panel gaps are uneven, plastic quality is average, and indicators have no flex whatsoever. Many users on their private forum have complained about the indicators breaking, but the company has promised to come up with a solution. The quality of the switches on the handlebar is below average and the experience is not smooth.
Display: It shows a decent amount of information, but being an EV and in 2022, one would expect a colored TFT screen, if not a touch screen. But this is way better than the one they had on the pre-production model. The battery temperature and percentage are displayed like a fuel gauge and not in numerical, which I find very annoying.
Issues
I faced charging issues on the very first day. The bike would charge in increments of 20% before stopping each time. Due to lack of time, I could not visit their service center which is 25 kms away from my place. Surprisingly, the issue was resolved on its own.
All users had a battery drain issue where the battery would drain almost 3-5% when parked overnight. Just a few days ago, the company rectified this issue by changing some cables which were drawing current unnecessarily and with a software update.
Headlights are useless. There's absolutely no difference in the throw of the upper and dipper lights.
The instrument cluster is too bright after sunset. Only a tinted film over it could help.
Experience
The bike comes with three modes, Eco, City and Sport. Eco mode is very dull but lets you get up to speeds of 50kmph which is decent. City mode has better acceleration and goes up to 70kmph. I haven't bothered testing the range in Eco and City modes, as I never use them. But I must say, the motor is really really efficient. I ride it in Sport mode, exactly like I used to ride my Dominar 400 for my daily commute. Yet, the bike returns a good efficiency of about 95-99 kms per charge in Sport mode (Company claims 90kms). My accelerations are linear and I ride at around 55-70 kmph using regen instead of brakes.
Being chain-driven, chain maintenance becomes mandatory which I really don't mind.
The App comes with a unique feature (compensating for the lack of a modern instrument cluster) where the phone connects via Bluetooth and displays a fancy version of the instrument cluster on the phone. It can be used by mounting the phone on the handlebar, but it's mostly a miss since it does not work well in real-time.
The bike does have fast charging capabilities, but since the company has not finalised the type of charging port as of December 2022, the charging port slot has been left empty for now. The slow fixed charger at 750w does take a good 6-7 hours to completely charge the vehicle.
Likes
Dislikes
Average fit and finish
Price (1.6L OTR Pune, considering the fit and finish)
Poor App and connectivity experience
Poor headlight throw
Very basic-looking instrument cluster
Basic but informative instrument cluster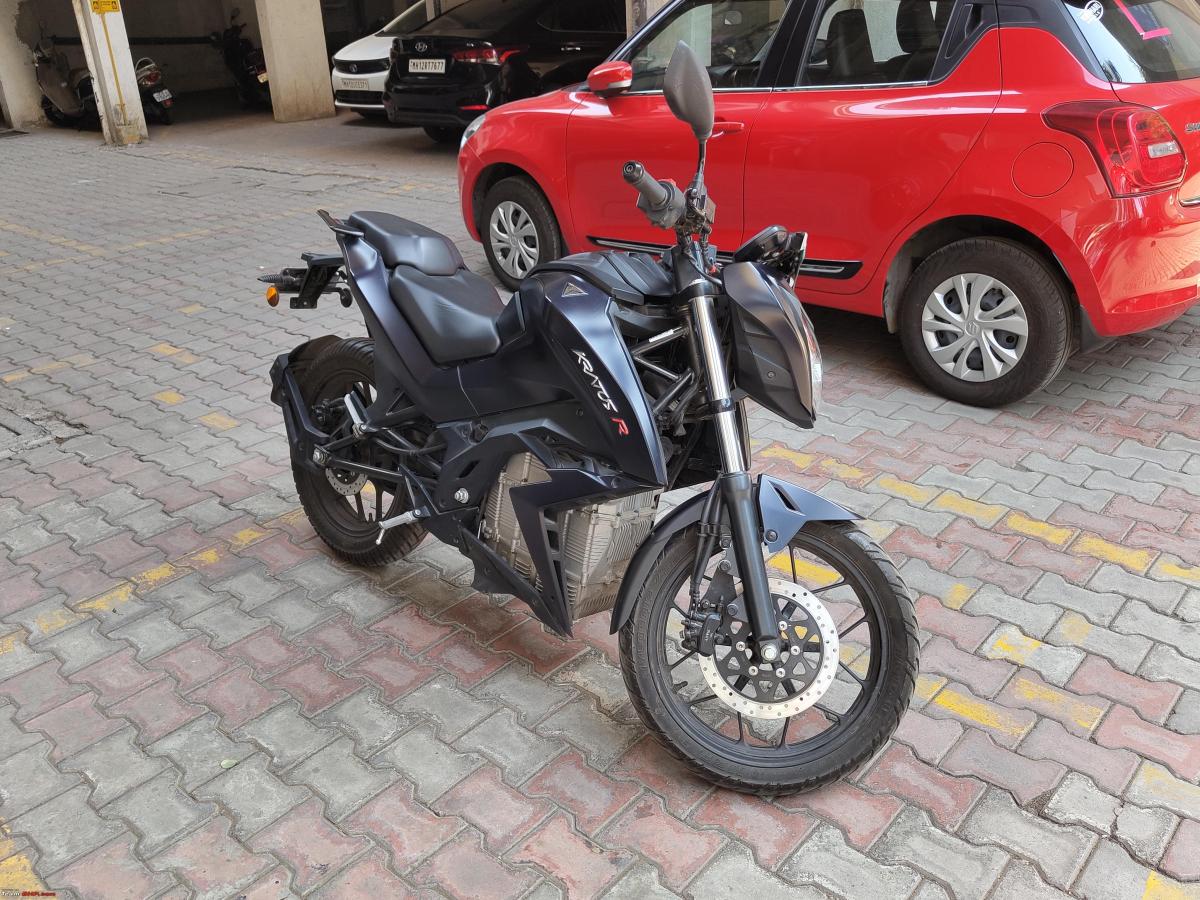 Black space left for the fast charging port.
Some storage space where a fuel tank's supposed to be.
Conclusion
Apart from the very few negatives, the Tork Kratos R is a really good, fun-to-ride motorcycle, at least within the city at the moment.
Check out BHPian comments for more insights and information.
Source: Read Full Article