In my opinion, the Altroz diesel is a much more fun car to have than the Maruti Swift petrol.
BHPian PrasannaDhana recently shared this with other enthusiasts.
Coimbatore trip & 4th Service – 22,500 km
Odo: 23,000 km
Fourth Service is scheduled at 22,500 km. The last 10 days were a bit busy with Altroz clocking 1200 km and Storme another 400 km. I gave it for the 4th service at 22,950 km.
Before going to the 4th service, let me share about the one-day round trip to Coimbatore & Tirupur. I have been searching for used school buses for one of my schools. Unfortunately, there were no dealers in Trichy or nearby districts. I found two dealers, one in Coimbatore and another in Tirupur.
I studied my undergraduate course in Coimbatore and have driven/ridden cars and motorcycles numerous times, but many years back. The last time I drove to Coimbatore was in 2014, in my Chevy Beat diesel. Trichy to Coimbatore is a very short 210 km. Hence I chose Altroz over the Storme. Trichy to Coimbatore highways is smooth and good. But the major irritant is the hundreds of trucks traveling at a snail's pace. It's a two-lane highway and hence we get held up behind the trucks pretty frequently. So it was useless to get a good pace when the truck traffic was not there because once you start enjoying the roads, there will be another group of trucks to slow you down to 40s.
Little did I know that the used bus dealer in Coimbatore would send a wrong Google map location which led me into Suburban Coimbatore towards Palakkad with horrible roads. To make matters worse, it was raining too. It indeed was torture to drive on those roads. When I reached the location, he smoothly apologises and sends another location, which is 24 km across the city towards Mettupalayam road. It was another 70 minutes of B2B driving through the city. After all that frustration, I reached the dealer, which was anything but a dealership. It was a mechanic shop.
This was how the Altroz looked after the frustrating drive through Coimbatore city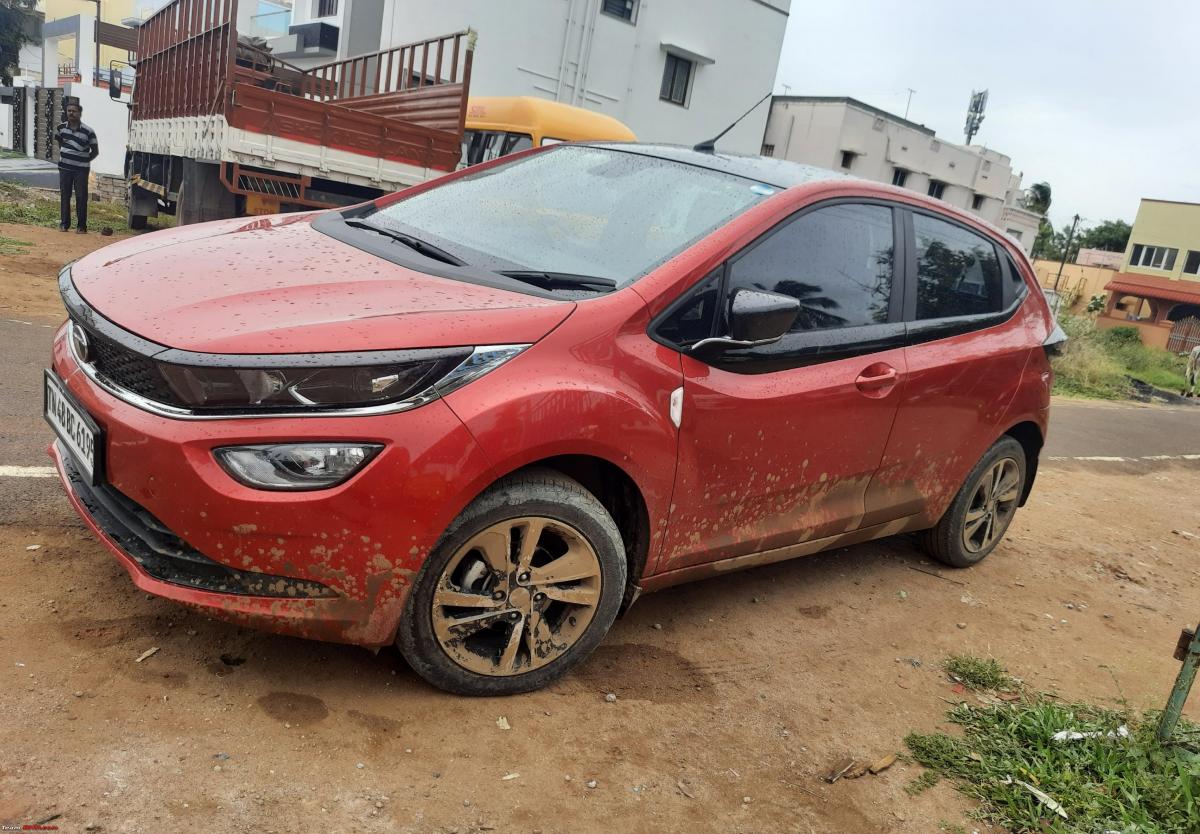 Adding to the misery was the state of the listed buses. They looked totally beat and were being worked upon. I did go for a test run with my school driver driving the bus. He was disappointed too.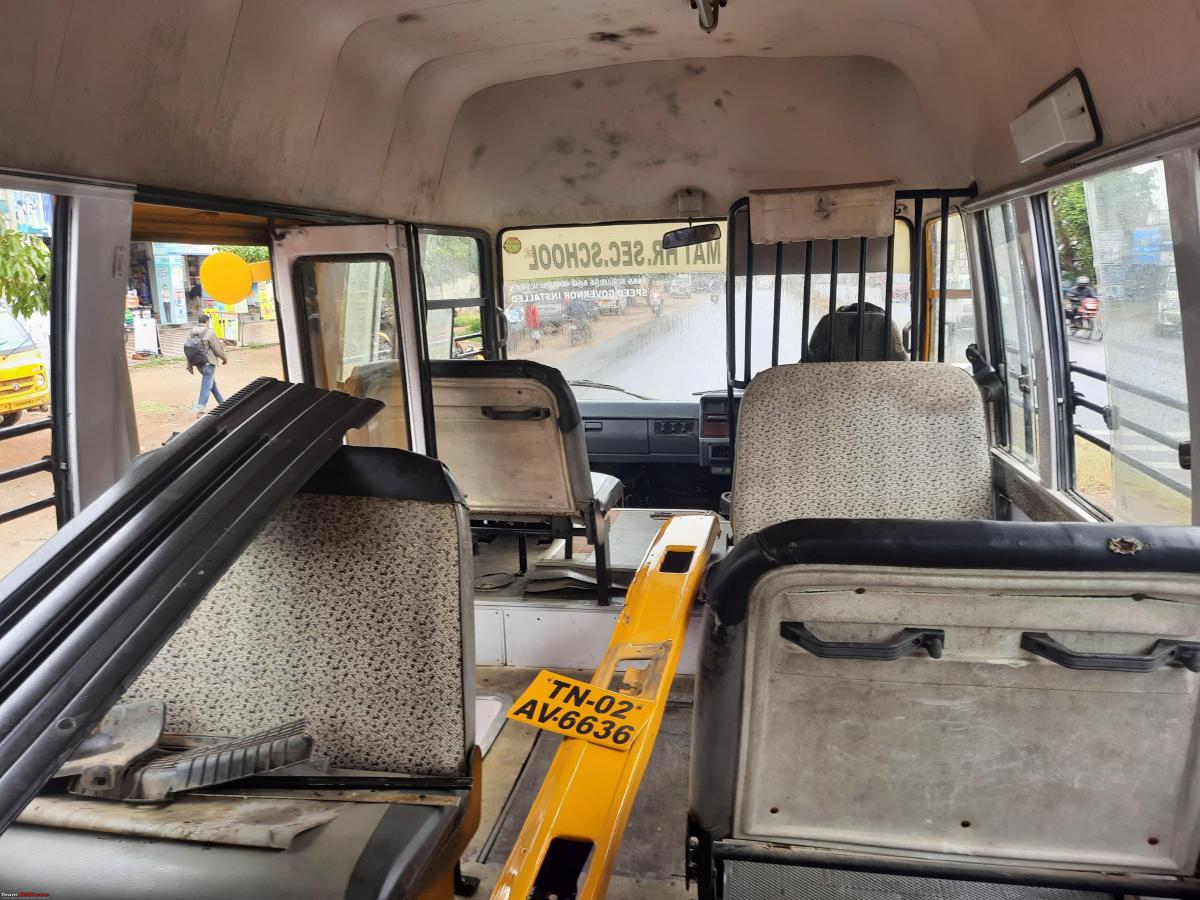 I decided to skip this place and lost any last bit of trust in used bus dealers. I decided to skip the next dealer at Tirupur. The stress of driving through the city and the fact that I had to do a detour of 30km from my route back home, to reach Tirupur made me decide to give it a skip.
Only saving grace of that day was a surprisingly superb Biriyani at Dindugul Thalapakkatti restaurant at Avinashi.
Energized by the good lunch, I got back to Sulur and joined on the Coimbatore – Trichy highway, where I got to let the Altroz stretch its legs. I managed to do a very good pace and reached Palladam in no time. I decided to give the Tirupur dealer (a mere 15 km from Palladam) a try. This one was a professional dealership with a lot of commercial vehicles and school buses. I found two buses that suited my needs. Both were in decent shape (much better than the Coimbatore ones). But the price quoted was too high.
11 lakhs for a 7-year-old, 25-seater bus with 80k km on the odo! New BS6 40 seater is on sale for 20.5 lakhs on road after discounts. Figured it is better to go for a new one. Well, that plan needs some time to materialise though.
Coming to the stats for the Trichy – Cbe – Tirupur – Trichy trip
That's the longest duration I have driven the Altroz in a day. Not the longest distance though. That will be the Chennai trip done last month, with 630 km done in 9 hours. Coimbatore trip was, in comparison, a torture – 530 km in 11.5 hours. It was exhausting, to say the least.
The fuel efficiency for the day was shown in MID as a very healthy 18.3 kmpl. But the actual fuel efficiency was much lower
But then, the same trip in my Storme would have returned single-digit FE.
Altroz was driven 536 km in a full tank. When the fuel level went beneath the red mark, the "Fuel level low" warning prompt on the MID changed to a stern "Refuel" prompt
The tank gulped 32.5 liters of diesel.
22,500 km service – 4th paid service
I left the car today at Kaveri Tata for the 4th paid service at 22,950 km.
It is a minor service involving general inspection and water wash. The service bill was 1,700 INR.
I always tell the service personnel not to apply polish on the dash. This time though, I forgot to tell that and the effect is polish all over the dash.
Post service pic
The odo climbs, so does the documentation
The All 2 milestone
Red everywhere
While the Altroz was in the service center, this little Maruti did the duty
Issue(s) if any
The AC recirculation has been ineffective. AC functioning is flawless, but only the mode change for recirculation/fresh air circulation was not as effective as before. Raised this issue with the service personnel. They suspect an air flap defect, for which they needed one day to rectify as they had many cars in the queue. They told me it will be covered under warranty. I told them I will get it replaced in the 30k km service, which might be in October. Since the issue isn't major, I decided to get it done during the next service.
Front seats are very comfortable with good support. Much better than the swiftest front seats. AC is much better in the Altroz too.
On good roads, Altroz ride quality is nice. Only on bad patches of roads and at low speeds, the stiffness is evident.
1.5 Revotorq diesel is superior to 1.3 DDIS FGT/VGT in all Rev bands. If you enjoyed Swift diesel, you will love the Altroz diesel even more.
Steering is one of the best aspects of the Altroz. Go for a long test drive on the Altroz diesel. You will instantly love it. I suggest you get at least the XZ variant. Also, be aware of the DPF issues in Bs6 diesels which might be a problem if you drive more in urban traffic.
Fuel efficiency is 18 kmpl Overall. That is awesome considering the fact that I drive aggressively most of the time.
In my opinion (also as a previous owner of Swift diesel), the Altroz diesel is a much more fun car than the Swift petrol. You might spend over 2 lakhs more on the Altroz diesel XZ over the Swift petrol ZXI. In my opinion, it's totally worth it. Just don't expect QC levels of Maruti in Tata. There will be minor irritants in Tata whereas Maruti is a truly shut it and forget it experience. In 8 months & 23,000 km of my ownership, only issue has been the recirculation mode switch issue, which is a minor one too. Other than that, it has been an absolute hoot to drive and own. Let's not forget the questionable safety of Swift vs the 5-star GNCAP rating of the Altroz.
Check out BHPian comments for more insights and information.
Source: Read Full Article