Plan was to ride the bikes back to back and see what they are like on a variety of terrain and over a longer duration.
BHPian KedarB recently shared this with other enthusiasts.
Sorry I haven't been able to respond on this thread. Work and family commitments kept me busy. But this was a welcome break from obsessing over the bike and gave me a nice chance to revisit my thoughts a bit later. I felt the need for a longer test ride to form a clearer picture in my mind. A friend was in a similar dilemma between the meteor and the classic (classic because I added it to his confusion). We cooked up a plan to drive down to Goa, rent these bikes and ride during the day and chill out on shacks at night! A plan this good has a way of working itself out.
So dates and hotels booked, we looked for rental options that could provide us with the Classic 350 reborn. Himalayan BS6 and Meteor were easy but a lot of rental agencies do not mention if their classic is the older UCE one or the new J series one. I finally stumbled upon a rental section on the Royal Enfield website. They had a chrome red Classic 350 available for booking on our dates! So we booked the Classic and the Himalayan on day 1, and Classic and Meteor on day 2. Plan was to ride both bikes back to back and see what they are like on a variety of terrain and over a longer duration.
I will talk about the renting experience a bit later, let me get straight to the test ride experience:
This was the route we took on both days. Tried to keep it similar to help us compare the bikes we were riding.
Google maps link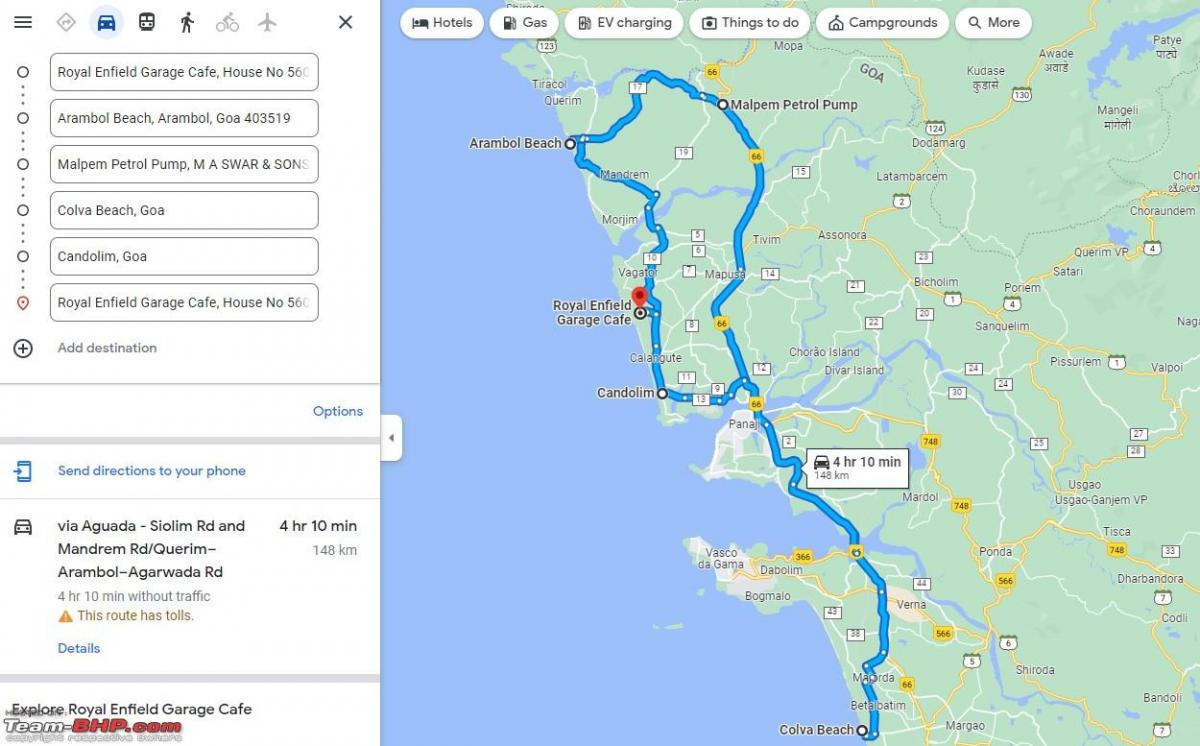 Day 1: Himalayan and Classic 350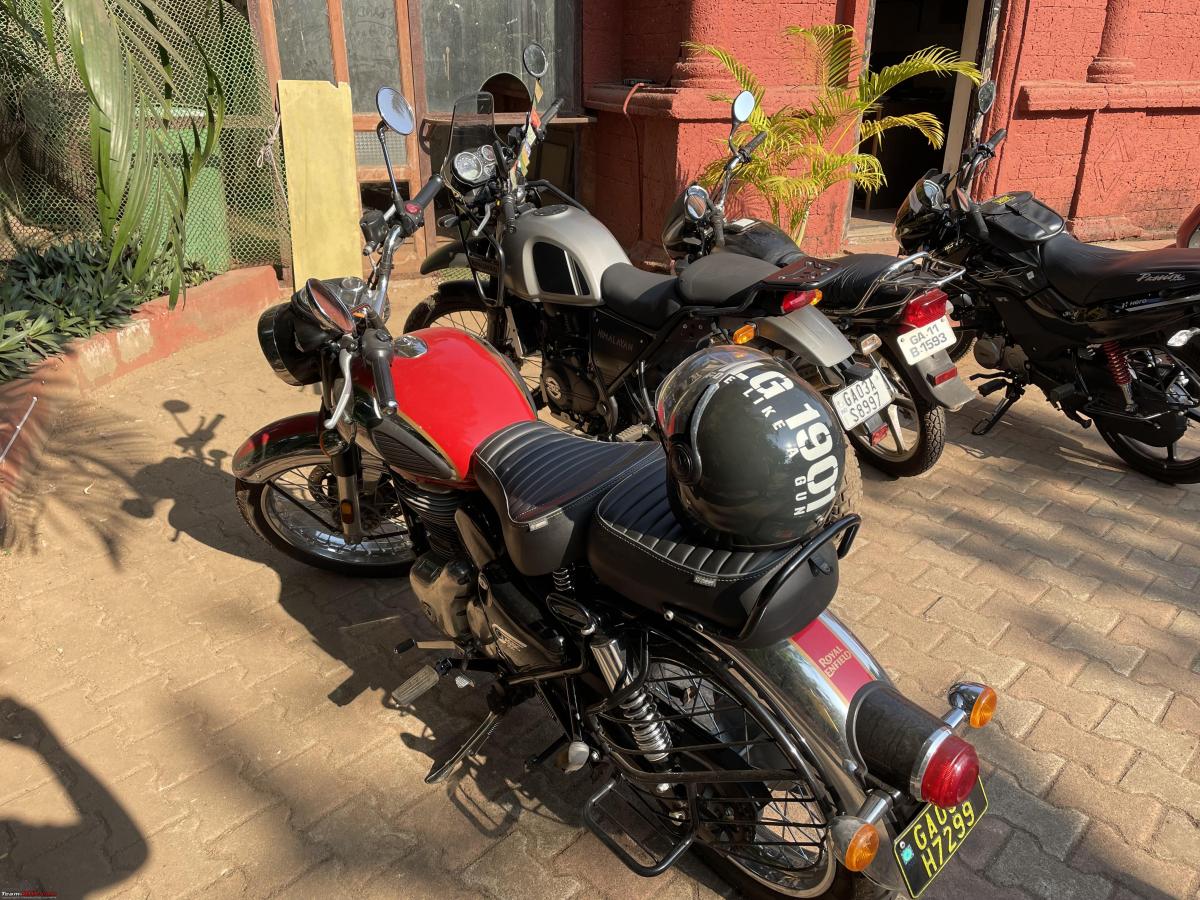 Pros for Himalayan:
The bike was more refined than I expected. My test ride in Pune was mostly inside a small lane at very low speeds and I only experienced the initial gruffness. The engine smoothens out as you pick up the pace and is buzz-free at 90-100 as well.
Has great weight distribution. It initially felt a little heavy steering, maybe because of the 21-inch wheel. But once you get used to that, you do not feel its weight. Moving it around the parking lot is easier than its weight would have you believe.
Liked the riding position for my 5' 8'' height. The more you ride, the more comfortable you get in that position.
Has a good pick-up of speed and shows urgency if you give it throttle. It's very easy to reach 90-100 speeds and it has reserve power to go beyond 100 as well. Managed to touch 110 on an open empty section of the newly minted NH 66
Suspension is good at particular speeds. it is good on bad patches of road.
Cons of the Himalayan:
The gearbox was perhaps the most disappointing aspect. It was clunky and the shift from first to second made a really bad and loud clunking noise. It was notchy at all but the changes were made at exact optimal RPMs.
Overall quality levels were poor. The bike we received had 3K KMs on the odo but the windscreen was vibrating when the engine was lugged or revved. The mirrors don't stay in position. The small buttons used to set/reset trip meters are very hard to use. It just felt like a generation older than the classic and RE has grown as a manufacturer in this generational change which makes the difference even more apparent.
The bike stalled in between quite similar to how it was reported in this post.
The torque figures are very healthy on paper. But when ridden back-to-back with the classic, the Himalayan does not feel that tractable. It knocked and protested at lower RPMs
While the suspension was good on very bad/broken roads, I found it a bit bouncy on the cement section of NH66 which is highly undulating. This again wasn't as good as I thought it would be from the reviews. Very similar to how I felt about engine refinement, but in a negative way.
Here is how my frame looks on the Himalayan.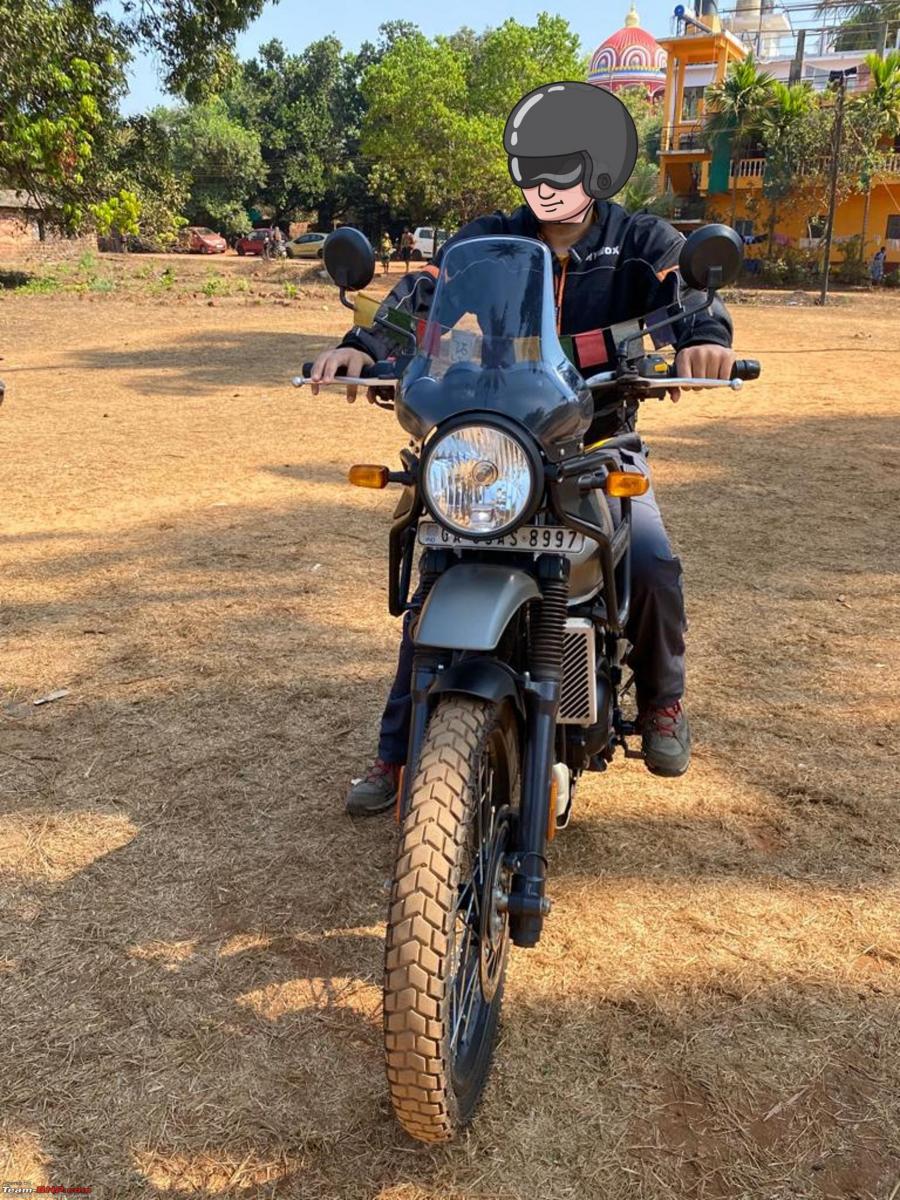 Pros for Classic 350:
The test ride experience was substantiated by the rental bike. It felt very refined and smooth.
The bike just feels very calm to ride. You are much more relaxed, and I found myself being very gradual in building and shedding speeds. My friend on the Himalayan seemed to be making more gear changes and working much harder.
The gearbox is REALLY good. No false neutral, at the same time, it goes to neutral when you want. The gear changes are smooth, accurate and clicky. Add the fact that you do not change the gears so much makes the riding experience that much better.
Classic also felt very well-balanced in terms of its weight distribution. Don't get me wrong, when I picked up the bike from the RE showroom, it did feel heavy while moving it around in their parking space and taking it out. But once you start riding it, it just feels very natural. Changes directions easily and I found it very manageable in heavy traffic conditions.
The riding position felt good. Our rental bike had REs touring seat fitted on it. So even after riding almost 180 KMs on day 2 both of us did not feel the fatigue. This was also the only bike where I did not get numb posterior.
I was happy with its ride quality. It's good at low speeds and it's also stable on good roads at high speeds. It felt better on the undulating sections of NH66 compared to the Himalayan which was bouncing a bit more. The only place where the Himalayan is better is on broken roads where it takes the edge off the potholes. You can feel these on classic, more than you do on the Himalayan.
Cons for Classic 350:
The bike is swift in reaching 80. You start noticing a bit of a struggle from 80 to 90, but it gets there. 90 to 100 was a real struggle, especially on the internal roads or on NH66 with even a minor uphill gradient. It did cross 100 on one occasion on a flattish straight road. In the bike's defence, it was also very windy during that time. However, even after the struggle, the engine still remains refined for the most part. 90 is its comfortable cruising speed and overtakes above this speed will need careful planning. This is probably the biggest downside in classic's package.
The digital information unit is quite barebones. I don't know why RE can't put a gear position indicator in there or just make it slightly bigger to have the clock and the odo/trip meters showing at the same time.
You can feel more wind blasts on the classic than the Himalayan. This is quite obvious. It was really windy in Goa those days and some sections of NH66 are downhill and very close to the sea. And the windblast was strong enough to scare us going into a flight off the bike.
Here is me on Classic 350: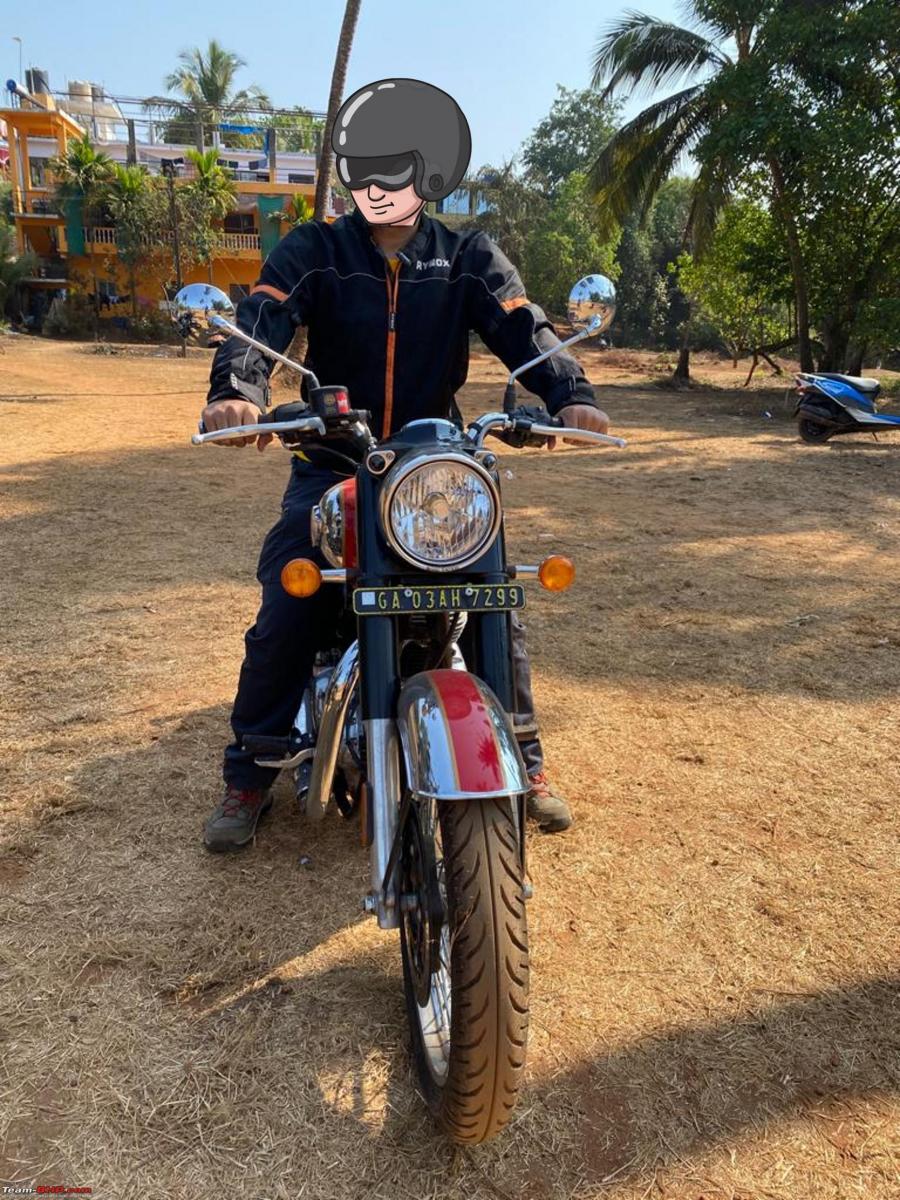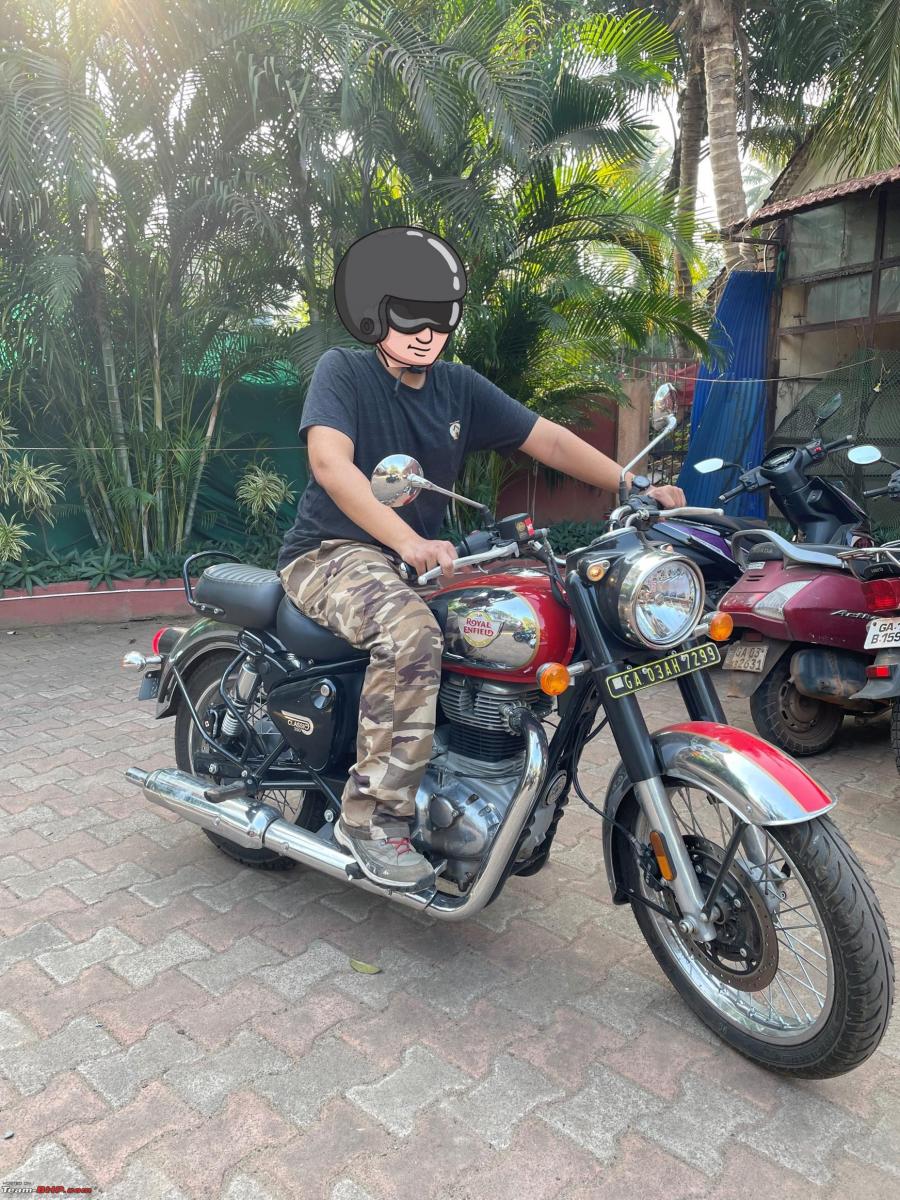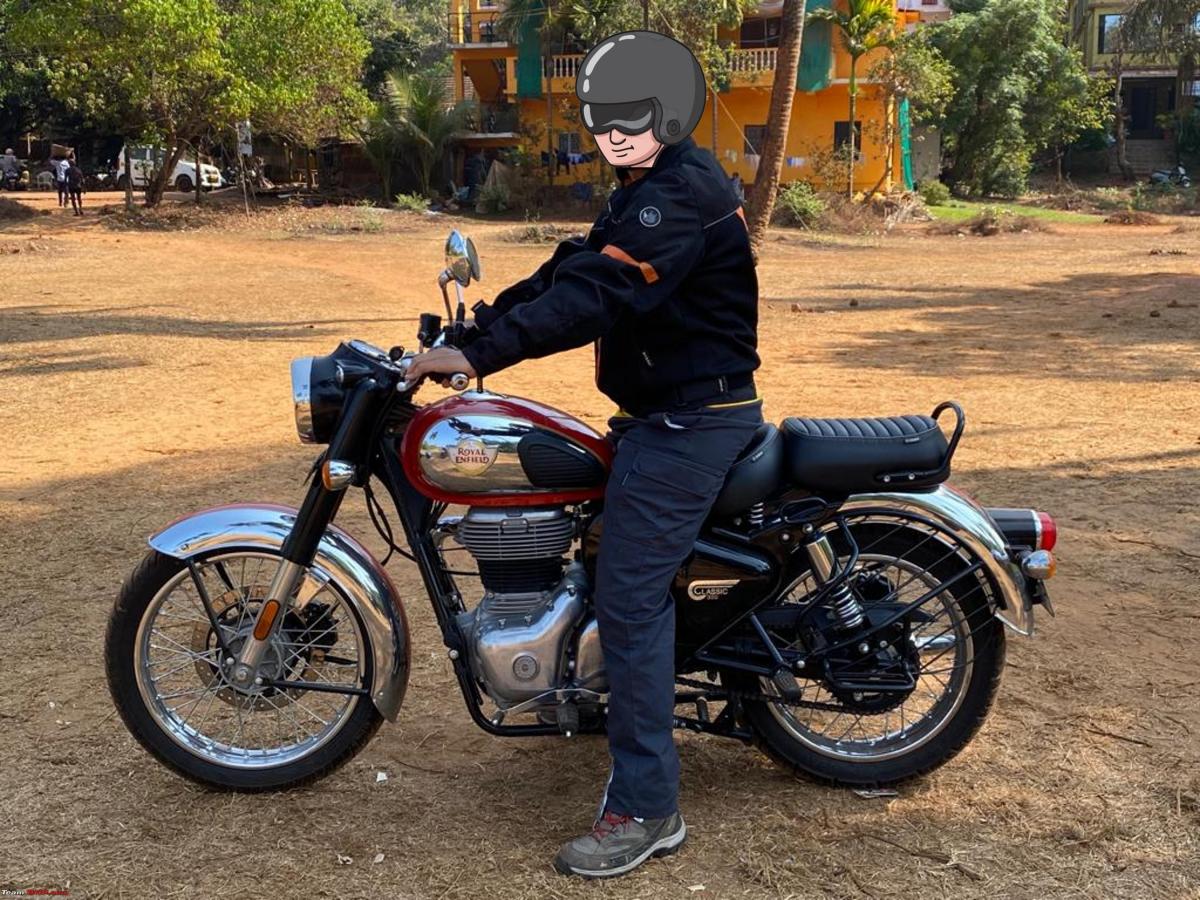 Day 2: Meteor and the Classic 350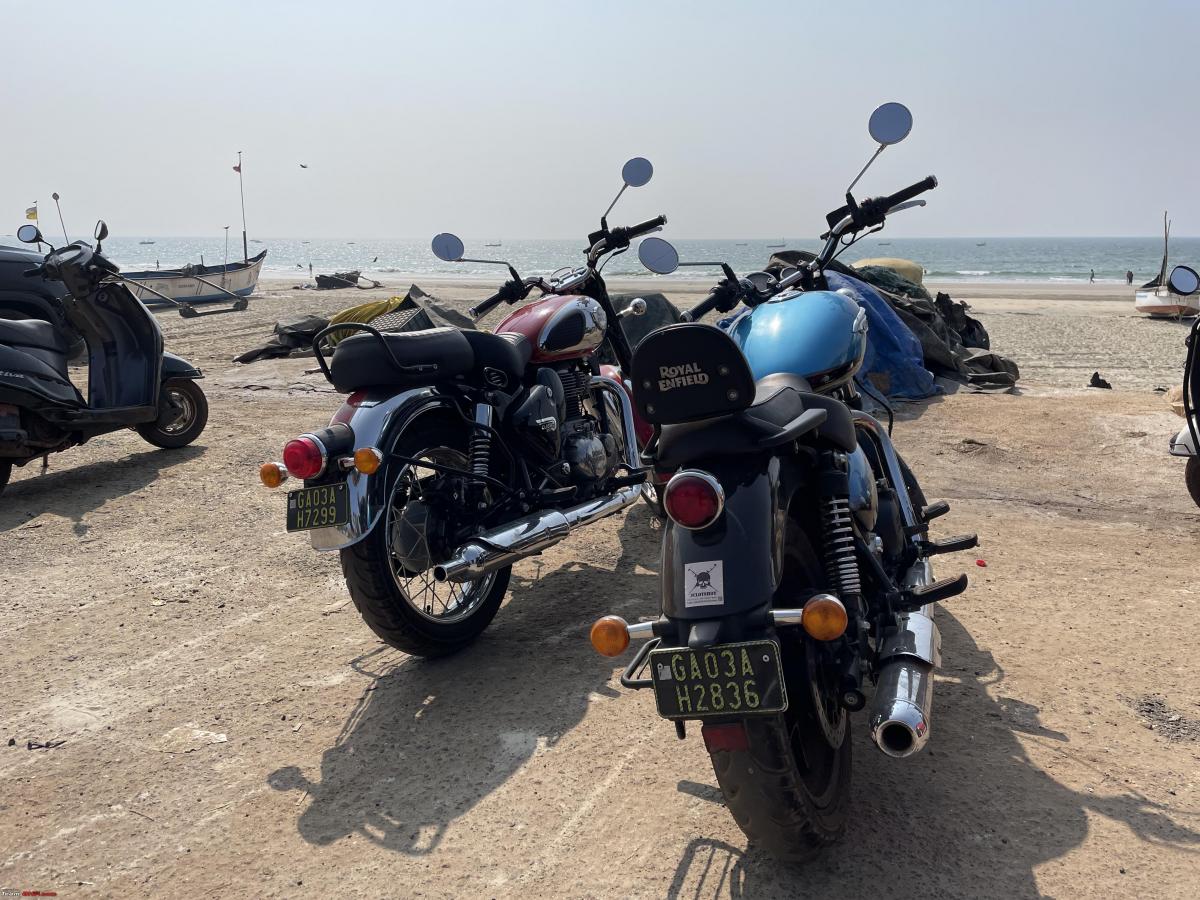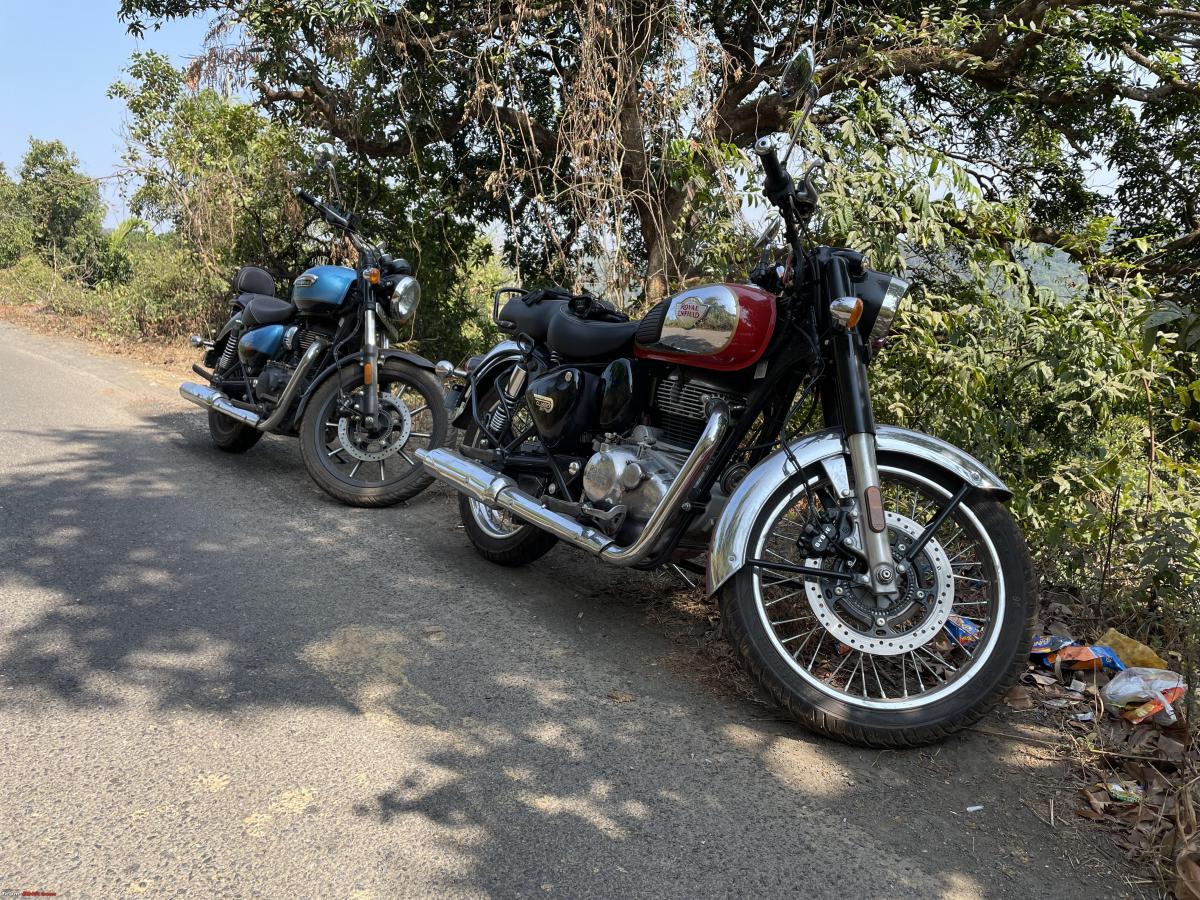 Have covered the classic above so let me talk about my experience with the Meteor.
Pros for the Meteor 350:
It reaches 100 a little more comfortably than the classic. This was a real surprise. I never thought this difference would be so noticeable.
I liked its seat. It was very comfortable especially when you sit on it for the first time. The feeling of sitting inside the bike with that bulbous fuel tank between your legs was good.
The wide handlebar gave a better sense of control over the bike.
It felt easier to move around at parking speeds even though there isn't a major difference in its weight compared to Classic.
The speed and MID were better than that on the classic. There is plenty of information visible on the MID at the same time and it's easier to read owing to its angle.
Cons for the Meteor 350:
The biggest con is its cruiser-like riding position. This one is very personal to me, and I admit it's not as bad as my Avenger. However, I still could feel that familiar numbing feeling at the lower back to the tailbone region after riding the meteor for around 50 KM or so nonstop. And it's still not easy to lift up your butt to escape the shock from a pothole or a speed breaker. If you try to, it messes with your balance on the bike.
In terms of how tractable it is, meteor is somewhere between the classic and the Himalayan. It still did not feel as tractable as the classic.
Classic felt better through congested roads. This is when it's ridden back-to-back with the classic. On its own, the meteor is not that bad in the city.
Me on the Meteor 350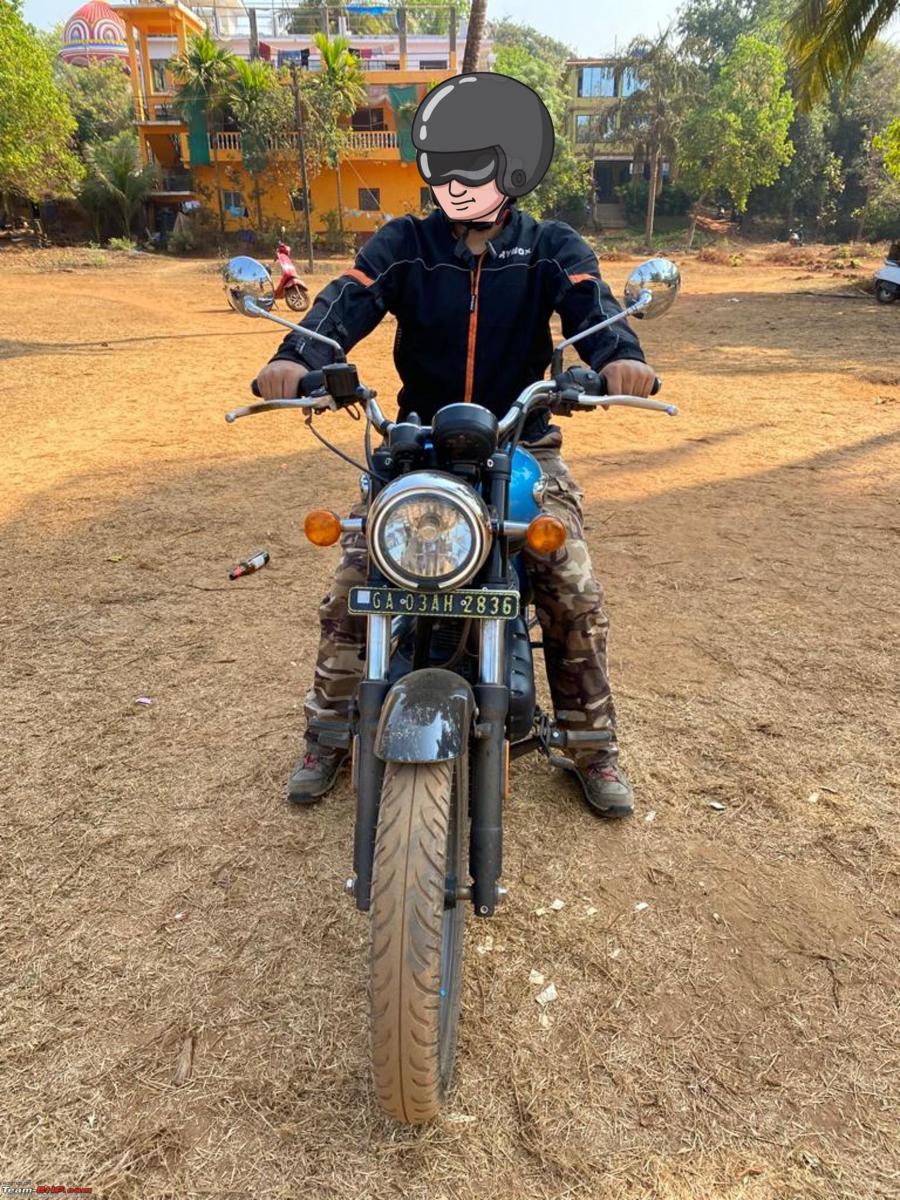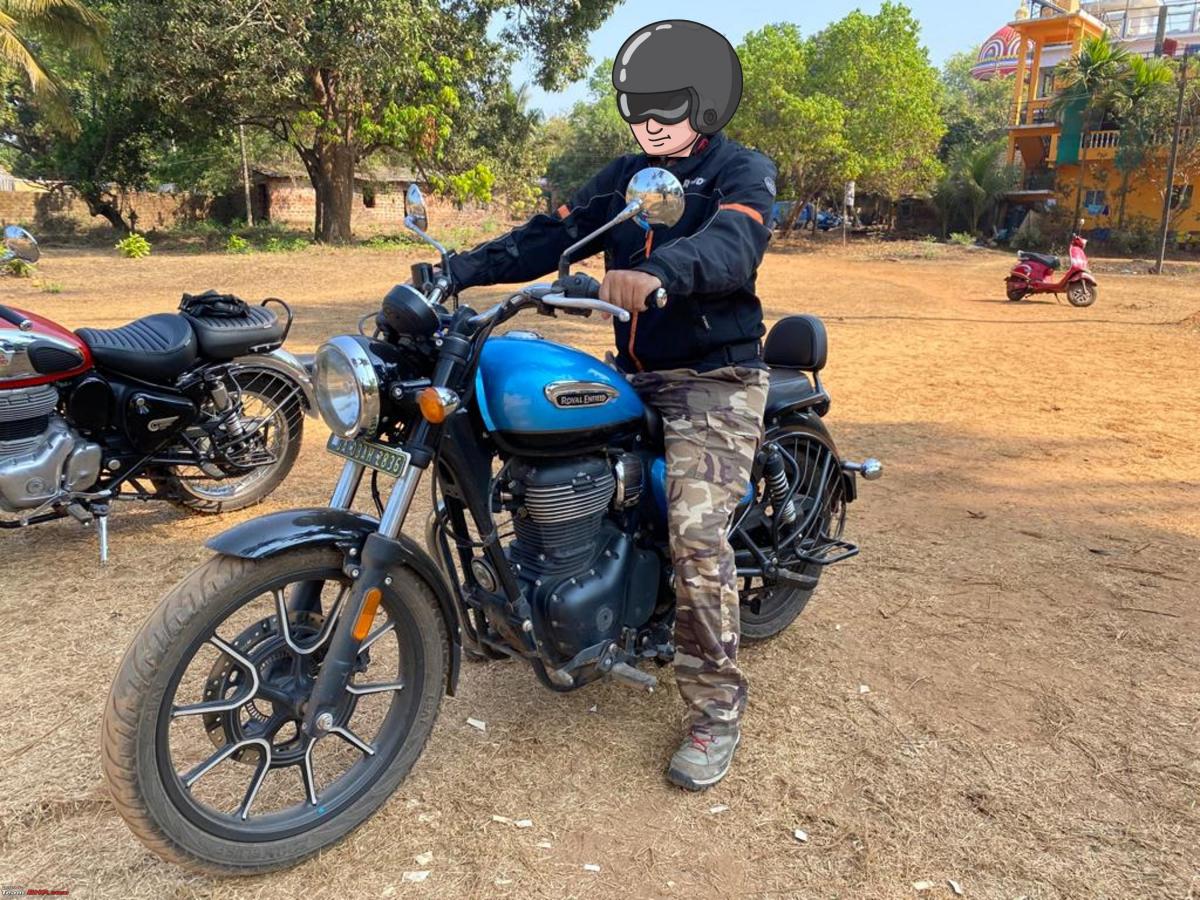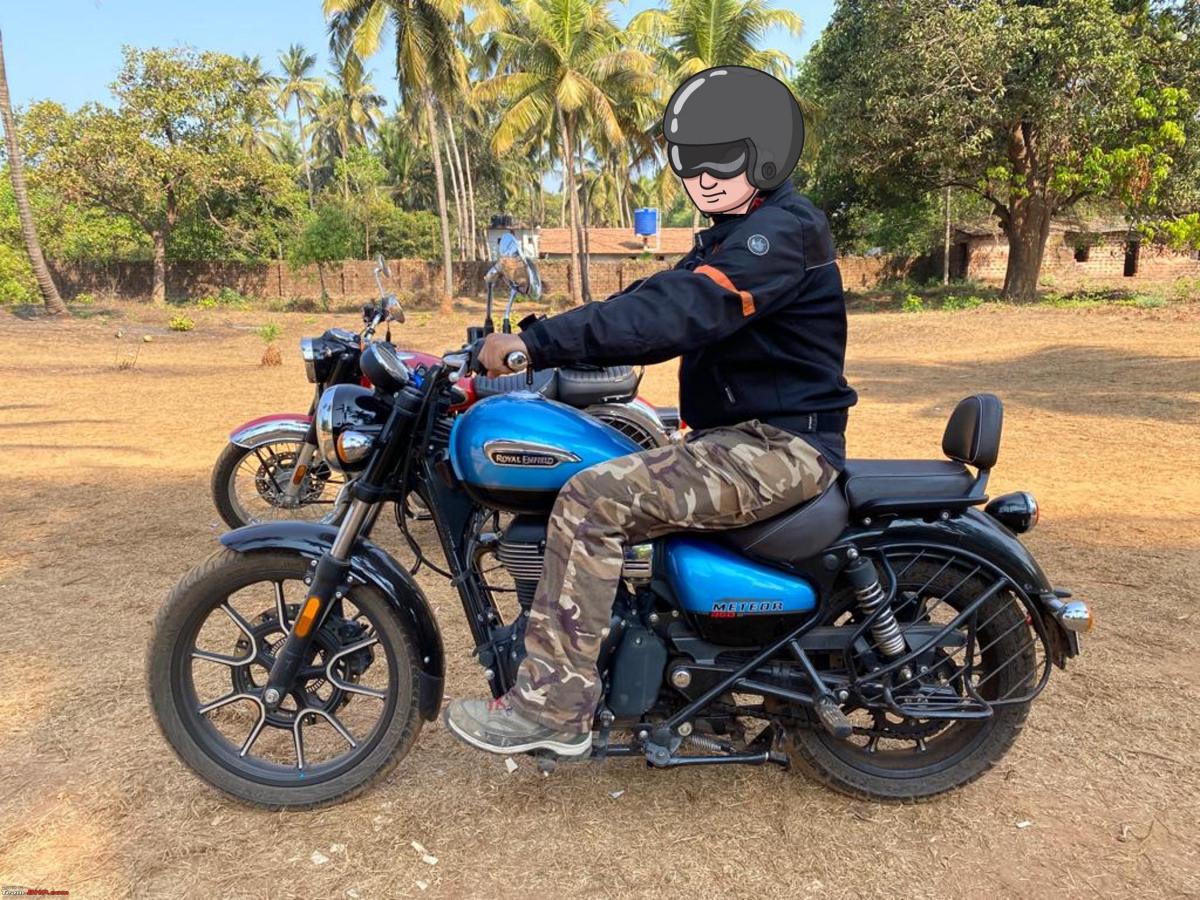 If I were to think about my experiences from the two days and approximately 300 – 350 Kilometers, the Classic 350 really stood out as something special.
There was one particularly beautiful stretch of road between the Arambol beach and the petrol pump where it touches the NH 66 almost near the MH border. This goes through some quaint Goan villages and snakes right beside a beautiful river. The speeds on this road were naturally lower. It was on this road that the classic just felt amazing. It was in its element and put us in a state of Zen. Both my friend and I had the same observation.
Then comes the long NH66 that goes from the MH border all the way to South Goa. This road is now almost complete and has some really beautiful bridges built on it. We even managed to ride on the Zuari bridge on our way back. Since we were mostly riding during midday on this section, it was quite empty. It was on these roads that the Classic 350 felt wanting more power or speed.
While travelling through Panji or the smaller roads that connect the north Goan beaches, the classic again felt comparatively better than the other two.
Another way I like to pick between multiple options is to look at the cons and think about which negative points are complete deal breakers and use that to eliminate prospects. Even with this approach, the classic makes more sense to me, just between these three bikes. The negatives of the Himalayan in terms of its quality and the fact that it will soon go out of production and another completely brand-new bike will take a generational leap forward for this brand means I will stay away from it unless it had really appealed to me (which it didn't). Same for the meteor. It was never in my consideration, and I got to ride it only because it was on my friend's shortlist. But I prefer the riding position of the classic to the meteor and the other differences are quite subtle giving this one point higher precedence.
So while driving back from Goa, we had a long and satisfying debate on the three bikes and we successfully concluded the trip, both narrowing down to the Classic 350!
Once I was back, I also managed to test-ride the V-Strom 250 and the Dominar 400. A lot of folks on this thread recommended the V-Strom so I had primarily gone to check that one out. But there was a Bajaj showroom right beside it so check that out too.
First the V-Strom 250 SX
The bike feels quite substantial in person and has a good road presence. I wanted to see how the saddle height feels since on paper at least, this is 20mm lower than the Adventure 250 that I had already checked earlier. Moving the bike around in the Suzuki showroom's front porch, the bike felt just as tall as the KTM 250 ADV. The bike is probably broader than the KTM even in its narrowest region near the tank and that meant I could only tip-toe (172 CM tall). It was quite challenging to move it around in that narrow space. Coming to the test ride, I managed to ride it on a small gravel stretch beside the showroom and then a very small ride around the two signals in front of the showroom (they didn't allow anything more). The engine was refined lower down and the gearbox was very good. The engine also feels tractable and doesn't protest being lugged. I could feel some buzz above 6000 RPM. However, the test ride bike probably had a fall sometime as its handle wasn't pointing straight when the bike was moving straight. This ruined the overall experience. Even if I ignore this small issue, the bike felt a little too tall for my comfort. I have heard many arguments on how this really doesn't matter and how really small riders race on really tall MOTO GP bikes, but moving around in typical chaotic Indian city traffic or riding on state boards where the road shoulder is 2 stories below the road surface and not uniformly in line, I feel riding this tall a bike will be more stressful than a comparatively shorter bike. The V-Strom's ride quality also felt a little stiff on the gravel section. So, I took the quotation from the sales guy and went home, mentally finalizing the Classic in my mind.
Bajaj Dominar 400
This was never on my shortlist, but nonetheless, I will talk about my experience from the test ride. It was again around the same two signals and the distance won't even half a kilometre long. Even in that short distance, I could feel the superior acceleration from the engine. But the bike was too buzzy even at idle RPMs.
So that's about it. I booked a gunmetal grey classic 350 last weekend and expect its delivery sometime next week! I would like to thank everyone for sharing their opinions and helping me in my decision-making process. Just writing my thoughts out and sharing them with the TBHP community helped provide a lot of clarity in narrowing down my final choice. The signing off with this beautiful but rare tea up on the Goan beach! We were riding later, and we are responsible
PS: didn't test-ride the Interceptor. I was afraid I will like it too much and this could increase my confusion even further. Everything about it is beyond what I am willing to spend on a motorcycle (purchase cost, FE, overall maintenance delta above classic etc.). It's not about waiting longer and collecting more funds to buy it. I have rationalized what I need from the bike the Classic feels like the sweet spot for my needs.
PPS: a friend who had bought the Avenger with me (the 220 street you see in my opening post) is also upgrading and has booked the mark 2 (chrome and red) Interceptor. Am moving from chrome to stealth black and he is moving in the exact opposite direction!
Check out BHPian comments for more insights and information.
Source: Read Full Article