My benchmark is Tesla Model 3 and Model Y which I drove about 1.5 years ago.
BHPian mobike008 recently shared this with other enthusiasts.
Test Drive of Kia EV6-GT Line in Seattle
As we are contemplating our second car and I want it to be an Electric Vehicle. Now the market here in the US is flooded with choices and it's very difficult to choose any vehicle as within $500-$1000's there are multiple choices and it's rather exhausting to compare features and do all the math.
I'm not the type of a buyer who compares feature by feature and looks at value for money.
I buy a vehicle if it hits the right notes and pulls at my heartstrings. After all, the car is our second home and we spend a lot of time there. It has to be a pleasure each time we get on board.
I would buy the Tesla Model 3 or Model Y Performance with my eyes closed. But, I seriously want to see if there is anyone out there who is even remotely close to a Tesla.
You may have seen my brief review of Polestar 2 which was an average experience and I will not be considering it in my purchase process. Here is the link to that short review.
Last Friday, I finished work early around 3:00 pm and was on Kia's website and casually filled in for a test drive and submitted the button.
Believe me, I got a call from the Kia dealership in 30 seconds flat. The lady on phone said they have the top of the line EV6 GT Line available for a test drive. I asked if they can come home. But, apparently, they are understaffed (who isn't these days), so requested me to come over.
Within a couple of hours, I was at their dealership and after a few minutes of formalities completed. We were off on the road with my sales consultant- Quincy Jones (Not the famous Jazz singer and no relations as well – He confirmed that to me. Haha!)
Kia EV6 GT-Line Looks
EV6 GT looks very impressive and almost like a concept car that we used to see a few years ago in automotive shows. Beautiful aggressive lines and a super clean design. I loved how the car looked from the side profile and rear. The front isn't too appealing and looks bull frog'ish.
While the car may look small in the picture, it isn't. It's quite a big car. It's been stretched from both front and rear to increase length, which means better interiors. I'll come to that in a moment in the interior description.
Overall, the exterior looks radical and will definitely stand out in the crowd compared to an old-timer like Tesla.
Kia EV6 GT-Line Interiors
When you step inside, it doesn't give you an SUV feel, but more of a sedan or hatchback on stilts. Having said that it's not as uncomfortable as a regular sedan but, ingress/egress is also not as comfortable as an SUV.
Interiors look futuristic and wonderful and the materials used are high quality for the dashboard and doors. However, the centre console near the gear shifter knob is a glossy finish which gives it a slightly cheaper feel. I was surprised by the space in the backseat. It has got plenty of space and I being 6ft. 1inch tall had absolutely no issues with headroom as well.
GT Line comes loaded with technology and there are plenty of reviews on YT that explain it in detail.
However, I was impressed with 3 features:
Kia EV6 GT-Line Ride & Handling
The ride is super smooth inside and feels like a proper electric vehicle. Kia has also given 4-5 different sounds that you can enable to enjoy a different driving experience which is a cool feature.
Steering is well-weighted and has a flat bottom like a nice performance car should be. This version that I drove is the AWD and comes with a dual motor (Front + Rear) and is rated at 320 HP. While the acceleration was not mind-blowing, in hindsight I may not have explored it properly as the sales guy was constantly talking (I didn't like it and was a bit of a distraction) which didn't allow me to explore the performance better.
Reviews on YT say it's 4.4 seconds for a 0 – 60mph which is really fast.
This car feels slightly on the heavier slide but, the handling is very good and feels planted when I was exiting and entering freeways.
My benchmark is Tesla Model 3 and Model Y which I drove about 1.5 years ago and they feel nimble. I need to drive both these vehicles again to see if anything has changed in the 2022 models.
Kia EV6 GT-Line Storage
Storage is limited in both front and back unlike the "FRUNK" of Tesla. You cannot even put a small suitcase inside these storage spaces.
Finally, the most important aspect – the battery
AWD comes with 2 batteries (Front + Rear) and has a realistic range of 275 miles which is lesser than 300 miles as claimed by Tesla for their AWD models.
Charging times are super impressive 20%-80% in 20 mins.
Overall, it's a brilliant car and I would love to buy this if I can slightly compromise on the performance aspect that I was looking at in an EV as from all other aspects, it ticks off the boxes pretty well.
I got a quote back from the dealership and they are all making hay while the sun shines.
Price is quoted for over MSRP and is coming to $67,000 and payments are $1200/month with a $5000 downpayment and wait of 6-12 weeks.
I won't be surprised if there are folks out there who are paying for it. But, this is beyond my budget. Sigh !!
Ridiculous pricing for a Kia.
Kia EV6 test drive video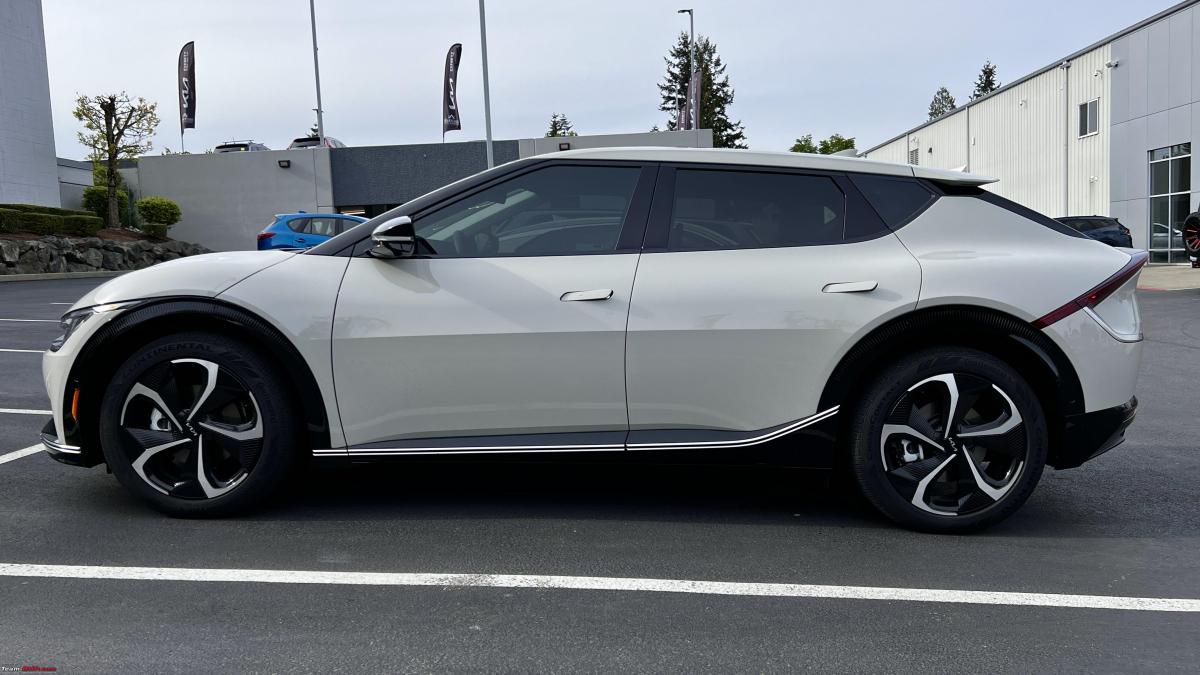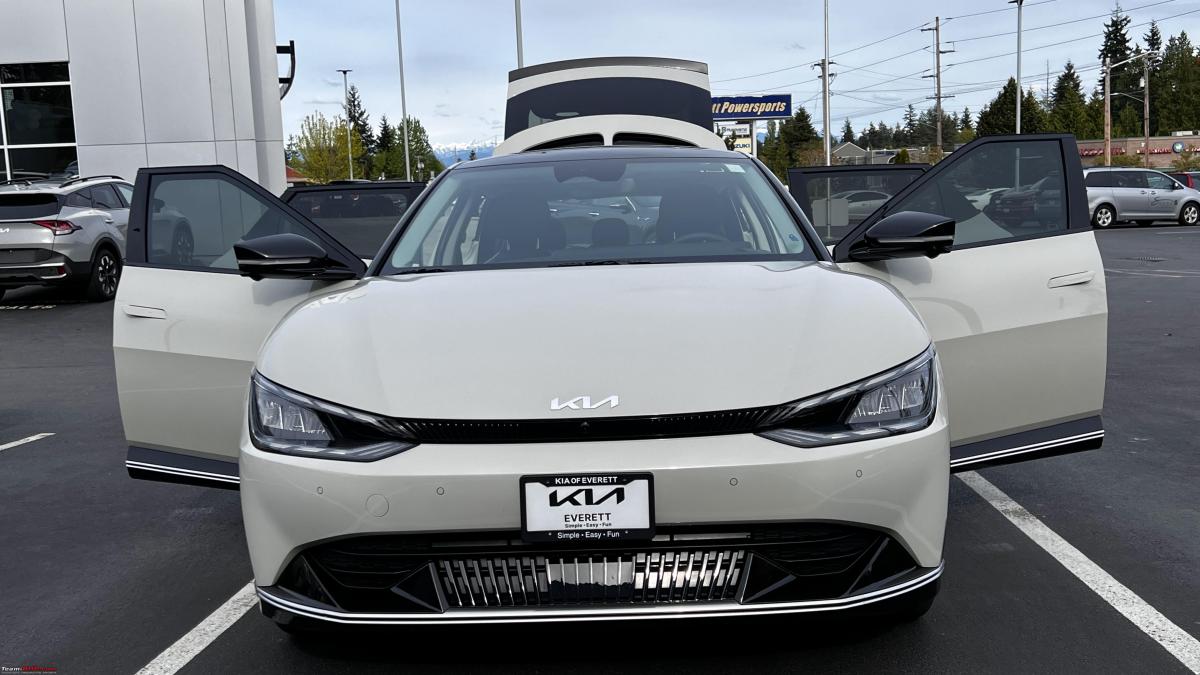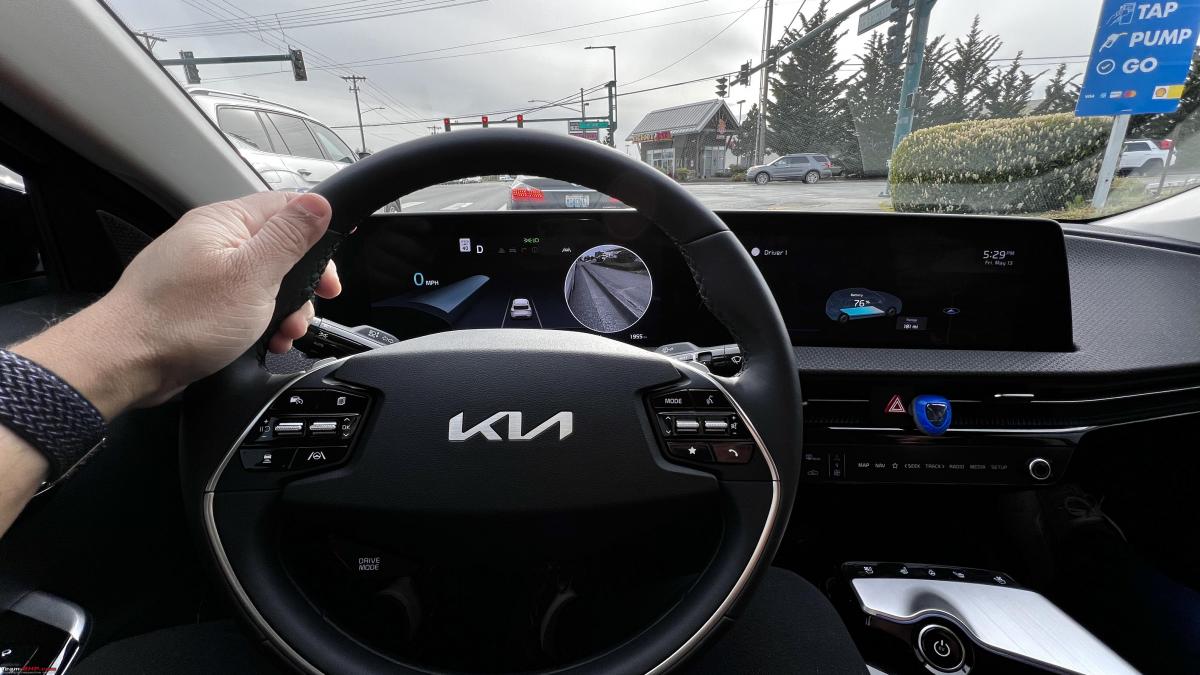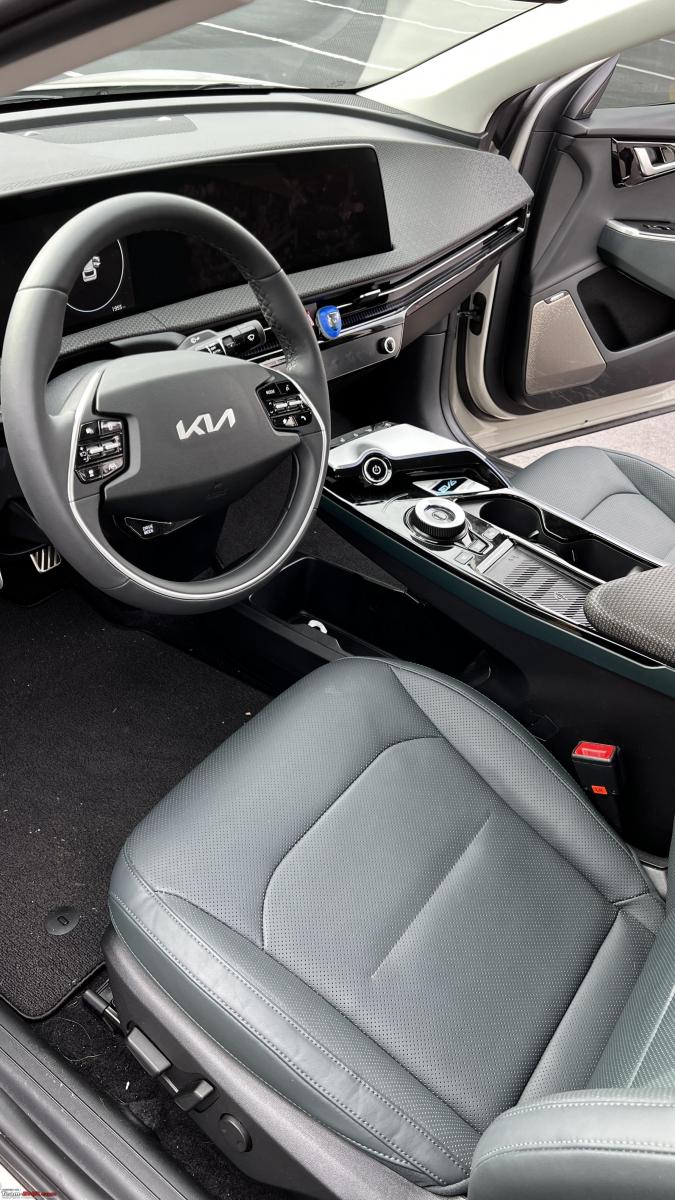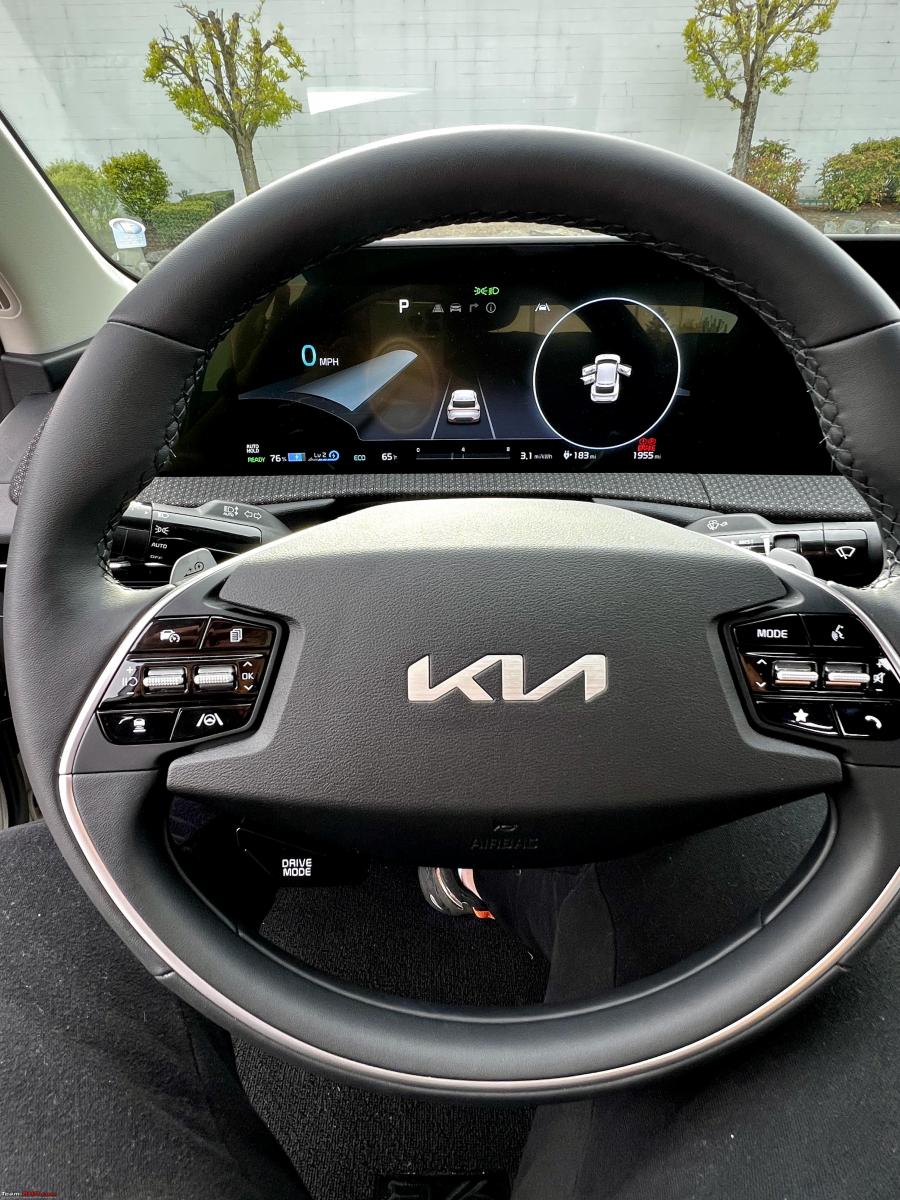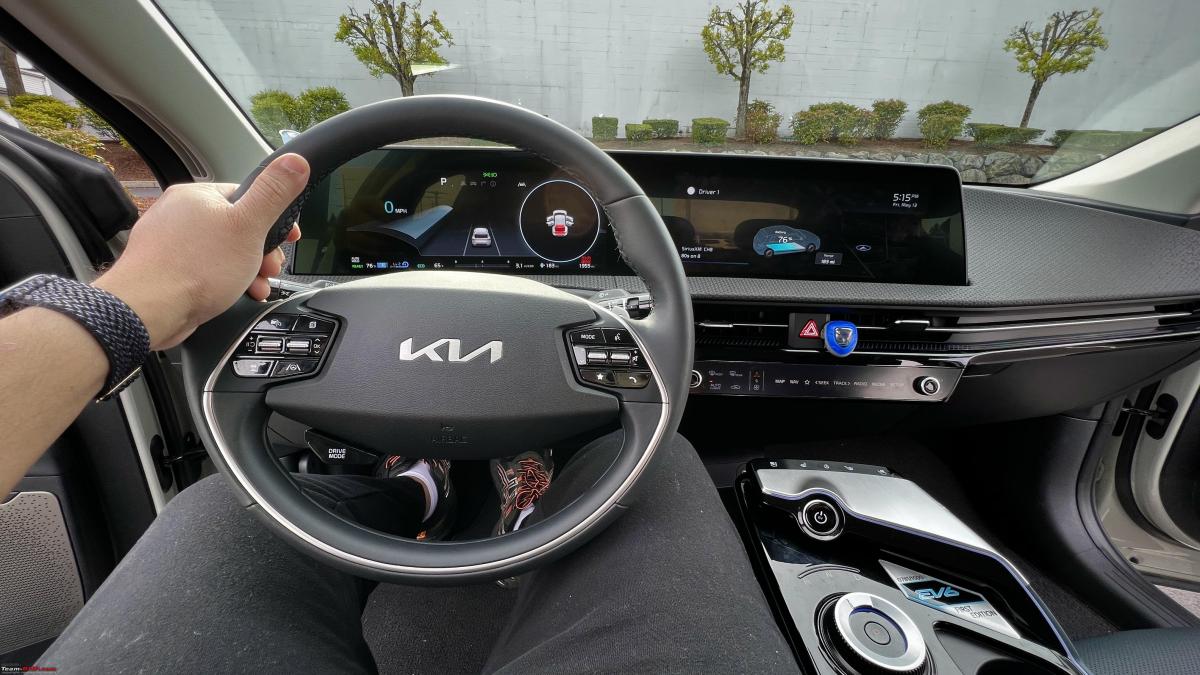 Here's what BHPian kiku007 had to say on the matter:
Thanks for sharing.

The Hyundai-KIA group is on a roll with the Ioniq 5 and the EV-6. I look forward to driving them. Australia gets 500/lot or something and they get sold out soon.

I think we are done with the days of inflated dealer stock and discounts.
Here's what BHPian Turbanator had to say on the matter:
The bookings in India will start from 26th May and deliveries from September.

We are getting GT Line trim with 77.4 kWh battery and RWD and AWD variants.

AWD gets the augmented reality HUD as well meridian 14 speaker premium system. Loadings are similar to what they offer in Europe. Have the spec sheet but don't know if it's ok to post it here. Prices are expected to be between 50 lac-60 Lac. I believe, Kia will this more as brand building exercise than earning profits.

Almost all of the reviews are very positive about this car, will be interesting to see how it fairs in India. We have in past not been very kind to high price launches by non-EU manufacturers barring Toyota.
Check out BHPian comments for more insights and information.
Source: Read Full Article