The eagerness to go on a drive is still the same as it was on day 1 of ownership and it never wanes.
BHPian arun_josie recently shared this with other enthusiasts.
3 years ownership update, ODO @ 84,711 kms:
It's been three years of ownership now and has been a fantastic journey so far. The eagerness to go on a drive is still the same as it was on day 1 of ownership and it never wanes. It has been an excellent highway cruiser and a great handler of bad roads as well. I covered 42K Km during the first year of the ownership however pandemic put the brakes on the mile-munching later. So, it took two years to cover the next 42K kms.
Maintenance cost and service history:
The maintenance cost has been decent so far. For servicing, it has costed me little over 1Rs per Km. Apart from this, I have replaced the tyres and battery. Here is the service history:
Parts replacements:
Tyres were replaced @ 51K Kms (Replaced it with Yokohama Earth1).
Front brake pads were replaced @ 51K Kms.
Wipers were replaced at 69K Kms (the OEMs are very expensive (closed to 5K), so replaced with Bosch wipers which costed around 900/-). These Bosch wipers are flimsy but does its job.
Battery @ 63K Kms (it came with Exide and I replaced it with Amaron). Many owners had to replace the battery around 18months-24 month time frame.
Timing belt was a periodic replacement at 75K Kms.
Issues so far:
The only issue that concerned be a bit was with the AC. As mentioned in post #297, the AC stopped working during a highway drive. When I took to service center, they first connected the diagnostic tool and scanned for errors. The error captured was "Lost communication with HVAC control module". Due to some power supply issue, the system had disabled the HVAC control module. This issue was fixed and concluded that this could've been caused by a loose connection in the fuse. Refer to this post for more details.
Apart from this, I faced issues with the jammed wheel lug nuts. Its a known issue with these cap type lug nuts that if the cap gets misaligned, then it becomes difficult to remove it. I recently had to replace 3 of them which had this issue. I think for the facelift Compass, they have moved to the normal ones.
Intermittent rattling issue on the driver side door and a noise from the dashboard keeps coming once in a while.
Servicing experience:
So far, all servicing has been done at PPS Motors and the experience has been good so far. They went above and beyond to rectify the AC issue. I went there towards the end of the day; but they made sure to fix it even though they had to stay after their working hours. Overall, I am happy with their servicing.
Liqui Moly diesel additive:
I started using this additive since 76,000 Kms on the ODO, using one bottle every 2K Kms. I am in the 5th bottle now and done around 9K Kms. Initially I couldn't notice any difference but after the 4th bottle, I started seeing some differences. The engine clatter that comes at lower RPMs in 3rd – 4th gear has softened and the engine too feels smoother. Also, I see an increase in FE but not sure if its this additive or something else. When I started using this the average FE till then (76,000 Kms) was 13.96 Kmpl. Now at 84,500 Kms the average FE is at 14.06 Kmpl. Apart from this, it also acts as an injector cleaner as well. Hoping this help with the maintenance of Scarlett.
Odo share:
Number of days taken to reach every 5000 Kms: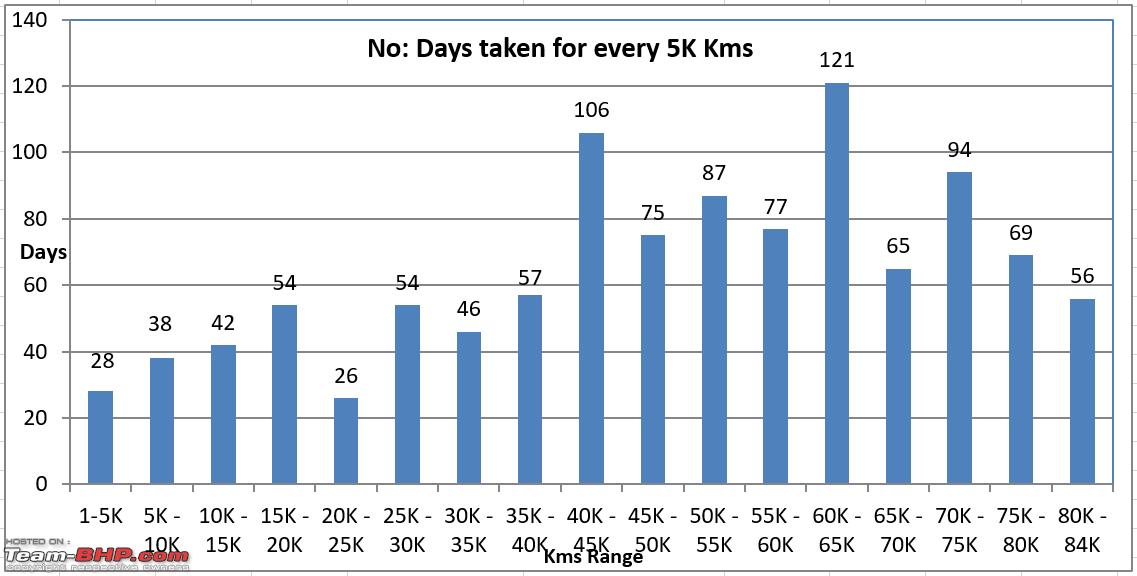 Here is the FE graph, numbers are from full tank – Full tank refills:
Below graph is based on the overall average FE number calculated after every refill. Currently this average stands at 14.06 kmpl:
Some numbers on Max/Min FE, fuel refills etc.
During a recent drive:
That's it for now. I'm looking forward to many more happy miles with this wonderful machine.
Check out BHPian comments for more insights and information
Source: Read Full Article