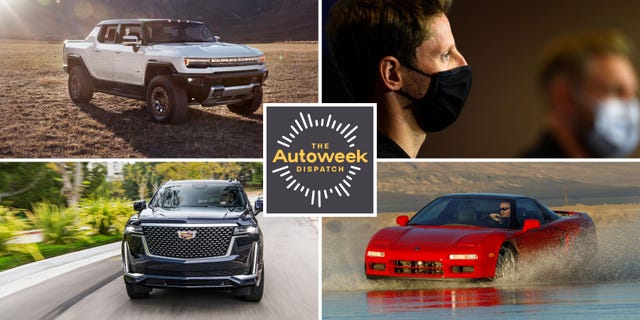 The Hummer EV makes its debut this week while Fisker taps a major supplier and the NHRA suffers a tragic loss. Here's what's happening in the car world:
FROM THE EDITOR'S DESK
Seeing electric cars silently whirring around the streets isn't a surprise anymore, and the next big EV battle is going to be the pickup. There might not be any on sale yet, but soon there will be more than half a dozen trying to make electric trucks mainstream while fighting for a slice of the sales pie. We expect Ford, Rivian, Lordstown, Nikola and more to have competing electric trucks over the next two years.
General Motors is throwing its entry into the proverbial ring this week, unveiling the Hummer EV pickup. An SUV comes later. The truck's stats are impressive: 1,000 hp, between 1,000 and 1,100 lb-ft of torque, 0-60 mph in three seconds … Wow!
My colleague Robin Warner talked to chief engineer Al Oppenheiser to get the back story on the truck and the segment, learning among other things that the electric pickup race is indeed on.
"We had to take over two years out of a normal development cycle," Oppenheiser told Autoweek. "(GM CEO) Mary Barra herself asked us to act as if we were a startup company. If you were a startup company, what would you do differently? She gave us a time frame—Q3, 2021. We sat down as a team, design and engineering and asked, 'How are we going to do this?'"
How indeed (and in this time of COVID, no less)?
To help speed things up Oppenheiser told us they introduced "heavy use of computer-aided engineering tools, heavy use of simulation to help enable the design team, enable manufacturing and frankly to help validate our engineering features. We have chassis and body structure engineers that have never been to the studio, and they came over because we worked with the design team to style every part of the vehicle."
Oppenheiser and his team also tried to simplify every aspect of the truck as much as possible, at least initially. "The first year comes in one flavor, we call it Edition 1," he told Autoweek. "Having one flavor for the first year helps every function tremendously. You have one wiring harness, one exterior theme: option/feature content, one style wheel and one tire 305/70R-18 (the first year's production has already been reserved).
"Second year is when we start exploring the tire and wheel offerings, trim packages, colors. Everything else comes in. First full year of production is a special edition year."
Oppenheiser told us that lessons GM is learning are not just speeding up Hummer development, but they will shorten product cycles across the board. "We have a heavy use of a 'driver in the loop system,' 'hardware in the loop,' 'software in the loop,' they built up to a vehicle level that will get us to the day that we don't have test vehicles anymore, we go right to pre-production ('in the loop' refers to real components attached to a simulator able to replicate real-world driving scenarios so the component gets stressed and tested without ever being attached to a car driving in the real world).
"We're the first of Mary Barra's world of zero crashes, zero emissions and zero fatalities," he told us. "It's the first one. The race to get an electric truck is on."
Indeed, and we're watching closely.
CAR NEWS AND NOTES
Yes, there's other news this week besides Hummer. Acura is contemplating a cool program, potentially joining Jaguar and Ferrari and a few others with a factory restoration program for one of its classics: the first-gen NSX. The company is already doing such a program in Japan, and John Watts, the NSX team's senior manager, said on a Zoom call for the 2020 Acura NSXPO virtual meetup that the company is seriously considering it for America. He said there is research going out to 2,000 first-gen NSX owners in the U.S. asking their interest level in the overall idea of a refresh plan, as well as specific packages. "We're trying to see if there's an appetite for this type of service in the United States, and it seems as though there is," he said. Thumbs-up from us!
Here's another smart move: Henrik Fisker says Austria's supplier giant Magna Steyr will produce his Ocean SUV in Europe, initially on an exclusive basis. You remember the Ocean: A bit less than a year ago Fisker's electric startup made some waves (and a few eye rolls) when it showed a running prototype at CES in Las Vegas with a 300-mile range, a $37,499 starting price, a vegan interior and a solar roof. The SUV also promised a California mode that rolls down all the nine windows, including the ones between the C and D pillars—a rarity in automotive architecture. Magna might not be a household name in the U.S., but considering it builds the Mercedes-Benz G-Class in Graz, Austria, Fisker's handing over production to the supplier is good thinking.
RACING LINES
The silly season is in full swing, with the Haas F1 Team moving on from drivers Romain Grosjean and Kevin Magnussen at season's end. Though replacements for 2021 were not announced. candidates rumored to be in the discussion include Formula 2 drivers Mick Schumacher, Callum Ilott and Robert Shwartzman, along with top F1 free agents Nico Hulkenberg and Sergio Perez. Grosjean has been with team all five years of its existence, while Magnussen is nearing the end of his fourth year with the team. Haas F1 has yet to score a podium in four-plus seasons.
The NHRA Camping World Drag Racing Series community suffered a tragic loss as Eric Lane, co-crew chief for Cruz Pedregon Racing, was struck and killed by a car while walking back from a restaurant near Mineral Wells, Texas. The team was taking time off between this past weekend's Dallas NHRA event and this weekend's race at Baytown, Texas, to enjoy a little fishing and being together away from the track. Lane, who many called "Hop," was 47. Pedregon said Lane was energetic but was known even more "for his upbeat personality and bringing smiles to everyone on the team and those who stopped by the pit. The sport has lost one of its very best." A GoFundMe page has been set up for expenses and to help support his wife and daughter. Please contribute. Thank you.
WHAT WE'RE DRIVING
Robin Warner is tooling around in a truck I can't wait to try—the new Cadillac Escalade. The new truck is big, measuring 211.9 inches bow to stern with the wheelbase taking 120.9 of those inches, 5 inches longer than before. The new 'Sclade rides on a new platform with, for the first time, independent rear suspension. Switching to a multilink setup out back makes for a lower floor. Meanwhile the 6.2-liter V8 produces 420 hp, and in another first there's a diesel option, with the 3.0-liter inline-six diesel producing 277 hp. Go here to find out what Warner thinks of GM's latest full-size SUV.
MOSTLY ODDS, SOME ENDS
Since it's Hummer week (my unofficial title) my colleague Jay Ramey's gallery of the truck's history is a fun read. He takes us through the large variety of military vehicles at the start of the 1980s to the H3's debut on a midsize truck platform and shows how Hummers have always managed to find their niche, no matter the era. Check it out.
LISTEN UP
In the latest Quick Spin Patrick Carone takes a 2020 Porsche 911 Carrera cabriolet up to the Berkshires from New York City, testing the latest 911's road-trip worthiness and putting the creature comforts through their paces. (He's also forced to test how this 911 cabriolet can handle inclement weather when he drives through a storm!) Carone then joins host Wesley Wren in the studio to expand on the car. Tune in here, on Spotify, Apple Podcasts, Stitcher or wherever podcasts are played.
QUOTE OF THE WEEK
"I can't bring the kind of backing that you need in Formula 1. I have sponsors and I have partners, but it's not at all big in this world. It's not enough to make a difference, really, for me. I just can't bring what a lot of other drivers can bring out there. It is what it is, really."
—Kevin Magnussen, Haas F1 Team driver on his getting fired at season's end
WHAT'S AHEAD
That's it for this week. As always we're on the case this weekend, monitoring and reporting on automakers' and sanctioning bodies' latest happenings. We'll continually update the site, of course—you'll know what's happening when we do. Check back often!
Thanks for reading Autoweek and please stay safe.
Source: Read Full Article