The Classic 350 wasn't interesting enough compared to the Interceptor & the Meteor 350 was termed as a "college boy bike" by my wife.
BHPian Shobhitsaxena recently shared this with other enthusiasts.
This is about my Himalayan, how it all started, and what I love and what I don't during the past 8 months.
How it started
Ever since 2011, when I started working, my fascination with bikes started. It started with getting to know what I can afford, the phone calls to check prices and reading everything on the web about the bikes I could afford. I started on a blank slate, but very soon fell into the 'Classic' category instead of 'Modern'. 2 years passed and in a rush decision, I bought a 125 cc Honda. The bike did justice to what it promised, but I was never able to get attached to it as I had read too much!
Time kept flying, marriage and moved to 4 wheeler – Polo 2015 trendline, which I love and treasure at 100k KMS currently. I had forgotten that I spent years thinking about motorcycles.
How it was restarted
Except for a visit to the RE showroom in 2016, I had done nothing. It restarted in March 2021. I read RE had launched a new bike – Meteor based on a completely new platform. My first feeling was a shock that such a significant development happened with a brand I followed so closely and I had no clue (so forgotten the bike dream was). The bike 'read' promising and after a few conversations with my wife, the fire was reignited.
The decision process
To sum it up, it was an overthought and over-engineered process. Meteor read promising, but I decided to wait for the J platform to come to Classic 350 (my inclination towards the Classic genre had remained in my subconscious).
When the Reborn Classic was launched, I thought my decision was final. After many years, in mid-2021, called the RE showroom and booked a test drive. I drove the Classic Reborn and Meteor back to back in the parking lot. I rode a bike after years and was going to decide by 2 rounds of a parking lot.
The Classic was easier to ride while Meteor had a better road personality. When I concluded the test drive and parked the Meteor, an Interceptor was parked next to it. Now enters Interceptor into the mix. It checked all boxes – it is a Classic, has Character and is not Common.
Reading started about Interceptor (I never test rode it as I wasn't sure if I will be able to handle the power!). A critical factor was that the rear seat should be comfortable for my wife. The awkwardly upward rear foot pegs of the Interceptor were noticed and spoken about during the showroom visit and became a bottleneck.
Now I was stuck, Classic wasn't interesting and unique enough compared to Interceptor. Meteor did not appeal to the 'Classic' inclination and my wife termed that as a college boy bike (I am 35 currently and now there is a 3-year-old in the family, living in Rewari HR with my office in Gurgaon -35kms).
Goa
We went to Goa in March 2022. We are regulars to Goa since 2016 and I was fascinated by the biking culture there, though we always rented a scooty.
During this week in Goa, Himalayan entered the mix. I always knew of its existence, but always thought of that as a 'niche' bike made for a purpose I had nothing to do with. Further, it's not very common where I live. With slight hesitation, I started reading about Himalayan during the vacation. The size was the first question, but seeing persons of average size (my size), males and females, steering Himalayan in Goa gave me the confidence to keep the size aside. In a few weeks, I was convinced that this is worth considering.
Test Ride and Booking process
Vacation was over and the next weekend, we visited the showroom. First time, I rode the Himalayan and found it manageable in size. Rode it only for a few KMs and was sold – it had Character, was unique and was not a true Classic but 'Old school' in its genre (compared to KTMs!).
I paid the booking amount and was destined to get the Gravel Grey delivered by end of May'22.
There were a few more visits to showrooms, dillydallying between Meteor and Himalayan. Finally, my wife said Himalayan (she had figured out that I wanted her to say that) and overruled the color choice. We paid the bill for a Lake Blue instead of a Gravel grey. After a satisfactory PDI, on Apr 16, 2022 finally, the Himalayan was coming home.
We almost brought this beauty home! This was after we did PDI (and then went back to Himalayan!)
Finally taking delivery
Nothing much to write about here. The bike was ready and we had all the time in the world to click pics as the government website where registration is required was down for an hour. I got the keys and the first ride of 35kms with my wife as the pillion was slow and steady. When we reached, it was my first time parking the bike. I made multiple efforts to put it on centre stand and was successful only after my wife pulled it from the back. While walking back home, I was happy and also nervous – will I be able to manage this?
Paid the bill, and now Junior could saddle with authority.
Getting used to it
I went back to YouTube and read about getting used to managing motorcycles. That helped. In a couple of days, I was comfortable with the centre stand manoeuvre, unless on an incline. I also found my method of getting up and down. So far, I didn't have to pick it up, but I am confident that I will be able to put my theoretical knowledge to the test when the inevitable happens.
Mind you, I am still thinking about where will I park, and how will I get her out whenever I am riding; that has more to do with how I am as a person though!
A random click from my solo ride to Jaipur. The tank bag from Guardian Gear is a boon.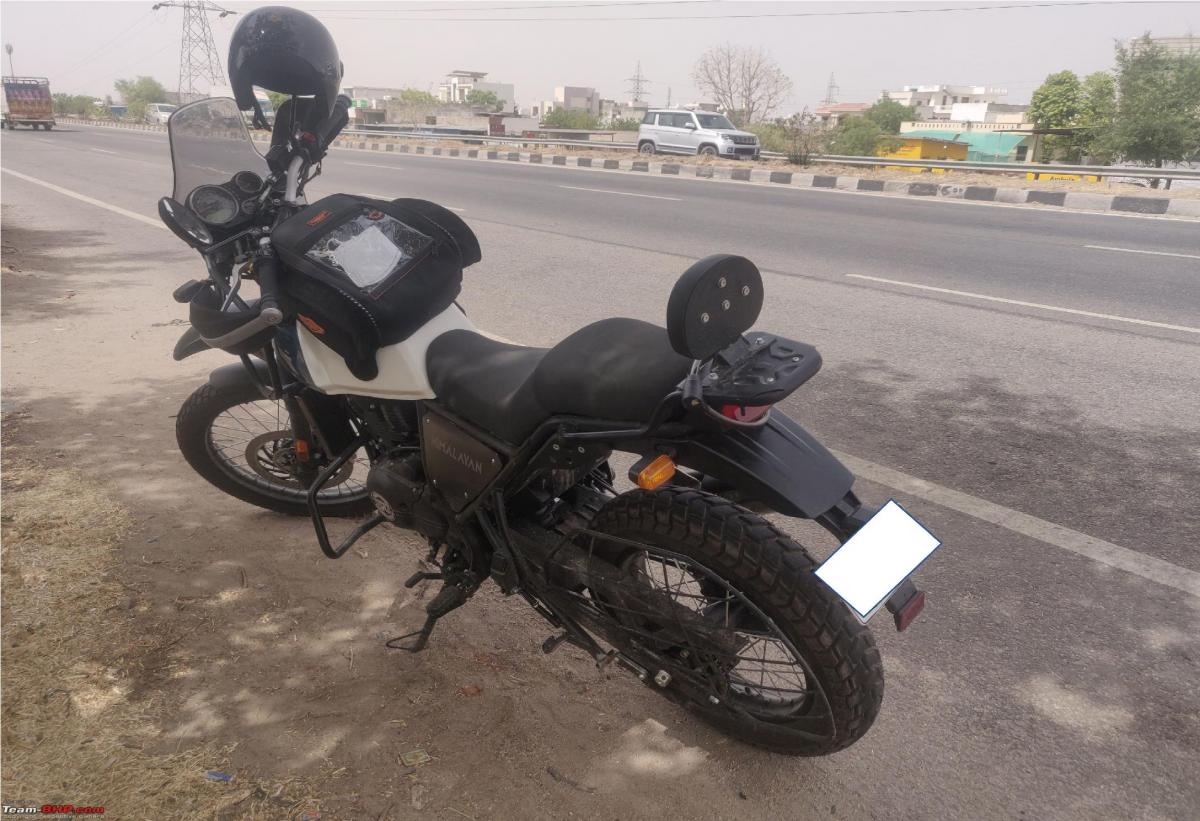 What I love
The upright stance: The liberation you require when you get on a motorcycle is plenty on offer here. You sit comfortably, clear view of the road ahead and feel confident with the high handlebar.
Power delivery: I have not ridden a bike with a bigger engine so I am not aware of what's on offer. Also, I am a sedate rider irrespective of the wheels on a vehicle. I have never crossed 100 and don't intend to. For this, I like the way power is delivered and the amount of it.
Suspension and Ground Clearance: I feel happy with how the bike approaches the adulations. I have gone through a monsoon season in Gurgaon with under-construction roads and the bike never felt questioned.
Balance: I have only been on roads and highways, the worst roads, but yes still won't call that offroading. When you hold the handlebar, you feel confident of the balance and the way the bike reacts to your manoeuvres.
Road presence: It's subjective, but it gets noticed and you stand out when talking about bikes under 3 lacs.
What I don't Love
Gearing: Two things – getting to Neutral and lack of sixth gear hamper the experience. Till date, I never get to neutral on the first attempt. This is very irritating when you want to wait at a red light or park in neutral. Secondly, whenever I cross 80 on highways, more often than not, I am pressing for another gear, only to see the indicator that I am only in 5th. Seems like this will be changed with the generation (I did give the next generation a thought – the platform could require time to stabilize and could be a lot expensive, hence I went with BS6 understanding it is mature and towards the end of its lifecycle).
Tube Tyres: This remains an area of subconscious anxiety. Someday I am going to get a puncture and I will figure out a way to get it fixed. Will share that experience!
The breakdowns
Fuel pump
A major breakdown when I was on Highway. Himalayan has been my go-to vehicle for 1-2 visits to the office every week (35kms one-day Rewari-Gurgaon). I stopped for refuelling midway one morning. Once refuelled, the bike won't start. It used to happen once in a while since I got it home 4 months back so I wasn't concerned. After 4-5 tries, the starting sound started to die and it became quite clear this is a breakdown. The petrol pump folks started to gather and advised me to let it 'cool' down. I waited for 30 mins and during that time called the RE RSA. They were responsive in picking up, but the assigned person was eventually not so responsive.
After 90mins of waiting, I tried again and now the bike started. I had been calling the assigned person and was getting excuses for delays. After the bike started, we agreed that I should ride to the service center 3-4 kms away. They were quite responsive when I reached and within minutes said that the fuel pump is faulty and they will replace it under warranty. They sounded like this is a common issue in certain lots of Himalayan. This is quite shocking and disturbing as the company should do a formal recall rather than riders getting stranded one by one when that's an eventuality. When will Indian firms understand that recalls don't bring bad press as much as snowballing of such issues.
Anyway, thankfully the fuel pump was available and by evening I got the bike back. I felt that the bike has been riding much better after this – not a surprise as the engine would be getting better fueling.
Horn
The horn stopped working after slowly dying down. On the first visit, they changed some wiring. The issue came back again. This time they replaced that with a Classic horn which is slightly squeamish. I did not complain as I try to honk less anyway. I paid 300 rs for this.
Service Cost
I have availed 2 free services at Manzil Motors. Nothing much to write here as nothing special to be done. All was done on time.
Add-ons so far
Backrest: Getting a backrest installed ASAP was a pre-requisite by my wife. I did some research and got one from Clozotech Automotive. Found on YouTube and ordered via WhatsApp. This was DIY and is sturdy. The reason I selected this is that it fixes on the backplate screws and doesn't intrude with the seat space. I just checked and seems the business isn't active on WhatsApp though.
Formula X: To overcome the anxiety re tube tires, I went with Formula X filling in both tires. Haven't experienced any puncture so hoping this has silently worked. I do keep checking tires for any nails.
Other than this I clean and lube every 500kms and once a month take the bike for washing.
Making it look pretty again after Monsoon. Though have to say, Himalayan goes well with dirt!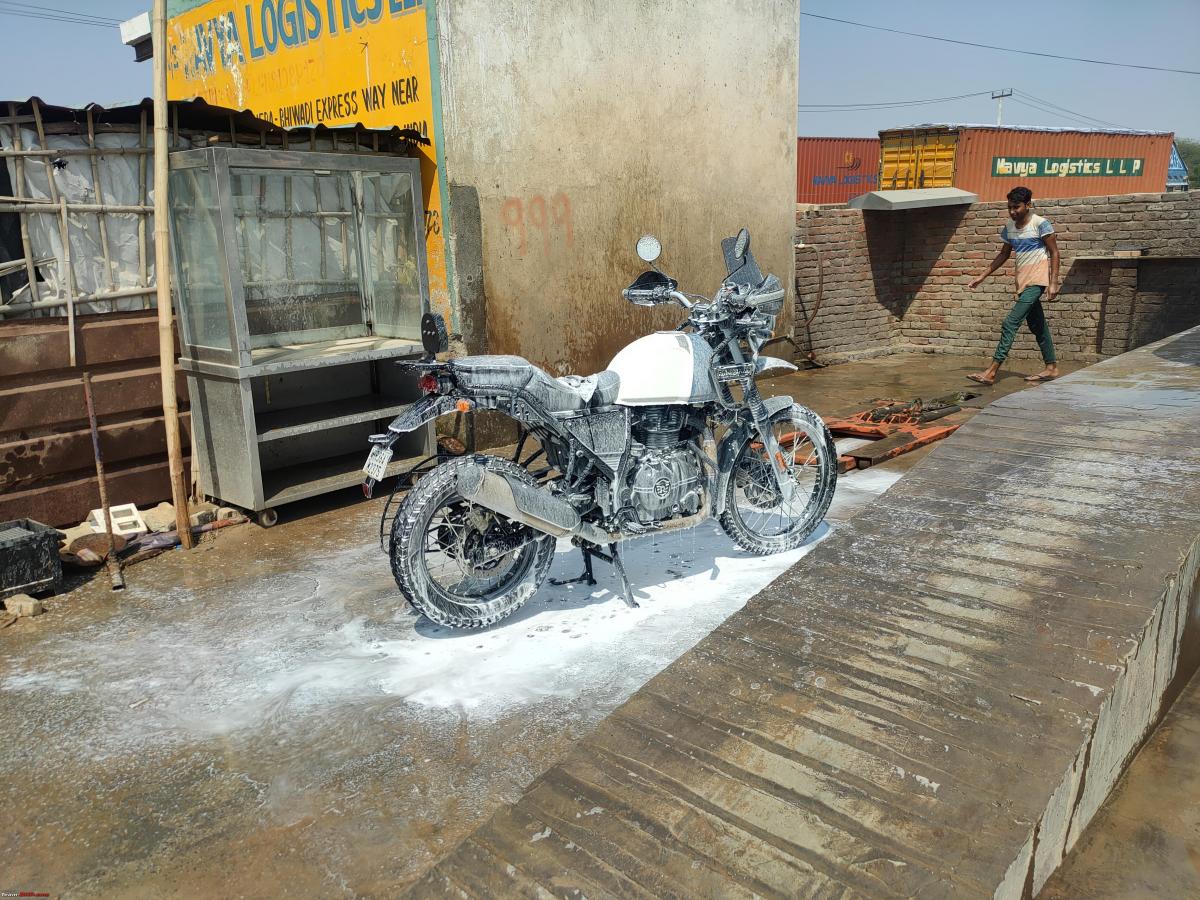 Plan and Aspirations Ahead
Go for a mountain trip: So far my only long ride has been a solo to Jaipur in May (200 km one way). I aspire to a weeklong trip to Himachal on some medium complexity roads. Need my wife to agree and join me as the partner in crime. Equally important, need to prep our 3-year-old to be able to stay with extended family for a week!
Grow as a versatile biker: My riding experience has been on roads and highways. I wish to do more rides, start trail riding and do more with the bike in general. Not sure how to start on this as time is the first issue and secondly, I don't have a riding community around me.
Learn more about the machine: I wish to understand the machine better and be able to do some of the regular maintenance on my own. Any suggestions are welcome.
Graduate from Himalayan to something else: Don't have a timeline in sight for this and what that something would be!
Lastly, I have invested in a Rynox jacket and gloves and knee guards. In addition to the helmet (of course) I strongly recommend everyone to invest in gear for self and pillions. Our roads aren't safe for riding and you can get into an accident without any mistake of yours. These investments will look small if God forbid they are put to test someday.
Check out BHPian comments for more insights and information.
Source: Read Full Article