I was driving on the right-most lane & the divider was full of trees so I couldn't even see the bull.
BHPian vattyboy recently shared this with other enthusiasts.
Hello, fellow bhpians.
I am going to tell you about the most heartbreaking incident of my life recently.
Few days before I posted a thread here asking for some valuable advice from you guys, about how to maintain my Jeep compass as Jeep ASS is closed in my city Udaipur. Thank you to all who have me their valuable advice.
In the end, I finally decided to take my compass for a service in Surat, Gujarat. Because I love my compass so much that I only want Jeep ASS to take care of it.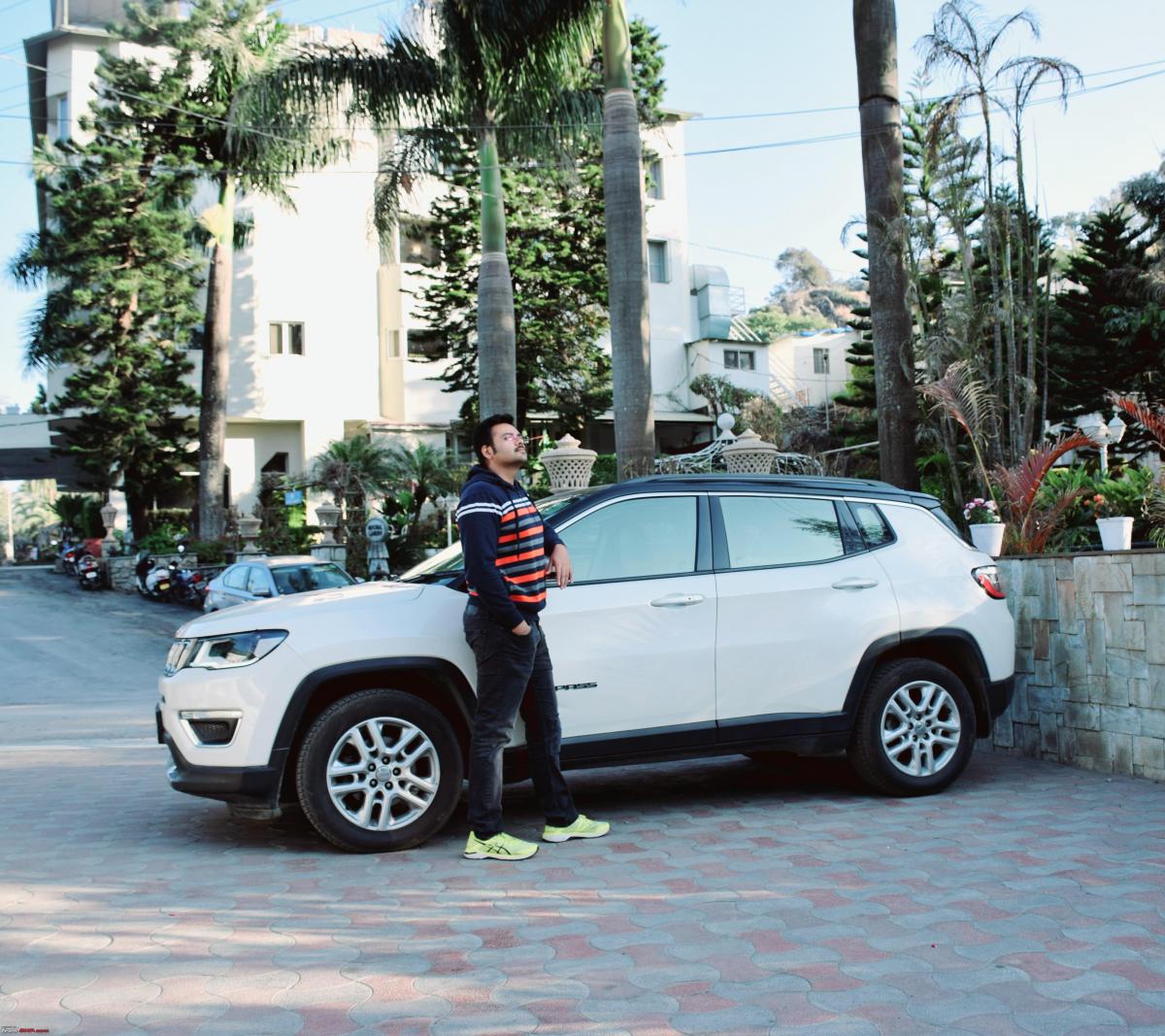 Called Jeep ASS Surat and fixed the appointment on 3 February 2023 for service. On 2 Feb got the car ready for 500 km DRIVE – air checked and diesel filled up to the brim.
The next day on 3 Feb, started my drive at 9 am. I was very happy that tomorrow my car will get pampered and it will drive better and smooth.
I just drove approximately 80km from Udaipur and all joy turned into dismay when a full-grown bull, out of nowhere jumped in front of my car from the divider (which had full-grown trees). This all happened in just a fraction of a second. I collided with the bull and the airbag deployed with a bang and the cabin was full of white smoke or gas.
I got in panic mode and had several thoughts in my mind:
That my car caught fire because of the white gas.
What will happen if some other truck or car will collide with me from behind? So I immediately got out of the car.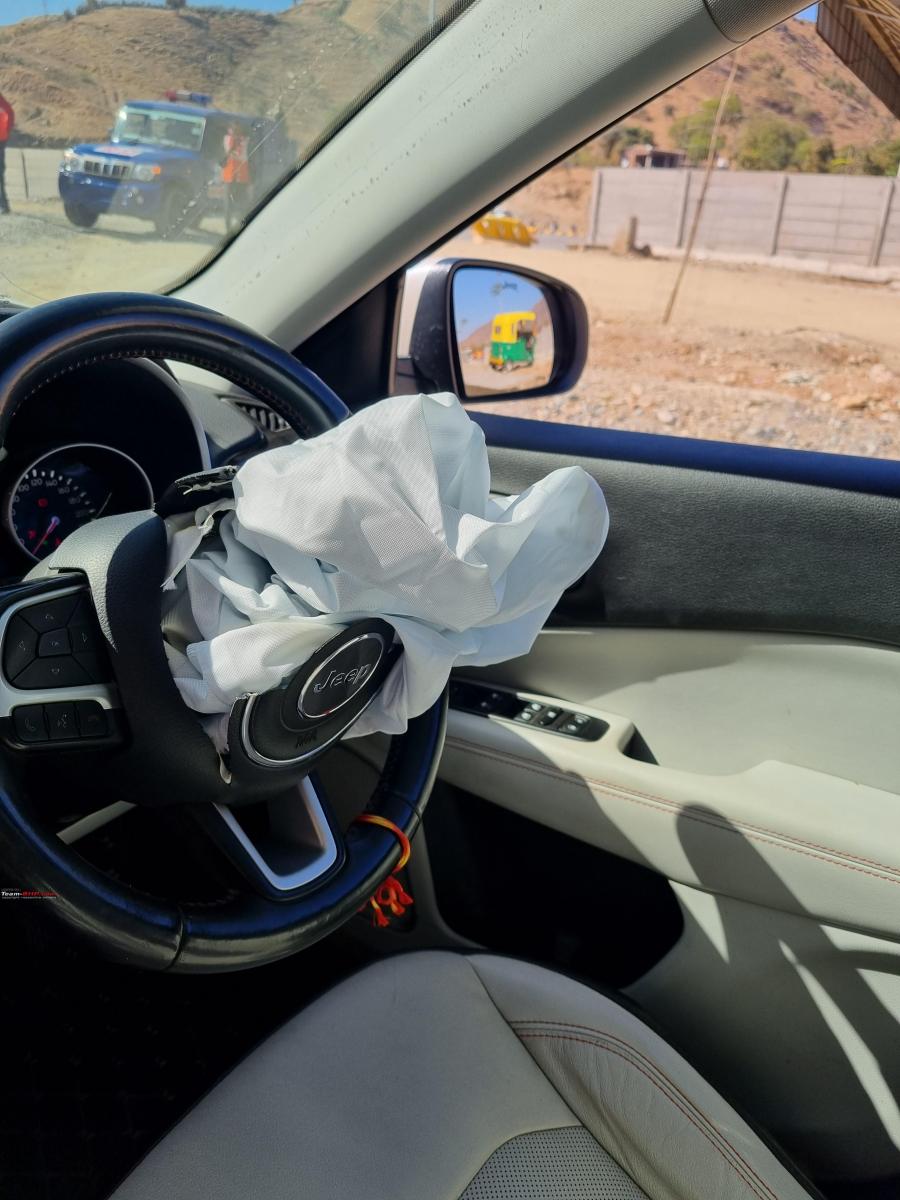 I was driving on the right-most lane on the 6-lane Udaipur- Ahmedabad Highway, the road in front was straight and empty but the divider was full of trees so couldn't see the movement of the bull. The villagers that were present on the spot said that the bull ran from the opposite road to avoid the collision with the truck and came in front of my car.
Got out of the car and it was heartbreaking to see my love in this condition.
The bull was of full size with approx weight of 900kgs.
I would like to praise my Compass build quality and thank Jeep India for bringing such a strong good looking car to India. No jerks were felt within the cabin, it felt like nothing had happened. The car absorbed all the jerks and collisions with ease.
The weight of a compass is close to 1600 kgs, in comparison to some similarly sized 4.2- 4.3m other cars are 1200 kgs approx. I don't know what would have happened in other cars.
Who was at fault
Villagers and owners of the cows who let their cattle roam on the highways freely.
Contractor who has a contract for maintenance of the highway. There is a rule that the plants on the divider should not be grown at more than a certain height.
And because of all this, I didn't even have a single sec to realize and brake.
After this immediately informed JEEP RSA and they arranged a flatbed for the car and I towed the car to Surat.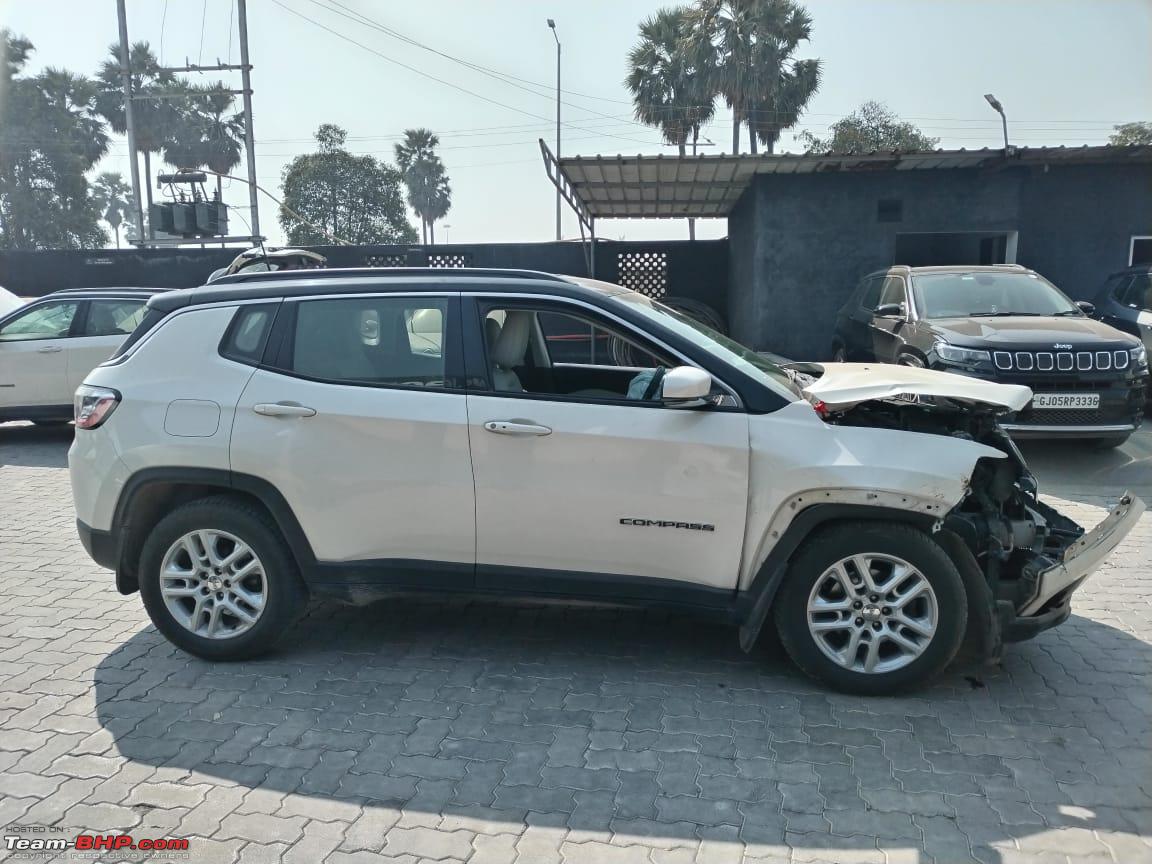 The past 6-7 days had been very difficult for me, I had mixed feelings of negativity and depression. From this incident I realized, life is very uncertain and no one is safe on road. I was driving sedately but some things in life are not in our control.
Bull collided from the extreme right side, if the collision happened from the centre then the damage could be much lesser.
Why did the people let their cattle roam around freely, risking the life of cattle plus the life of other people? Seriously, the government should take certain steps to stop this. It is also resulting in the loss of insurance companies + Emotional trauma for people like me, who had been in such accidents.
Jeep ASS gave me an estimate of Rs 7 lakh. On top of it, this is the first time I didn't opt for a zero dep insurance which means approx half of the cost I will have to bear.
I want some valuable advice from you in the repair process.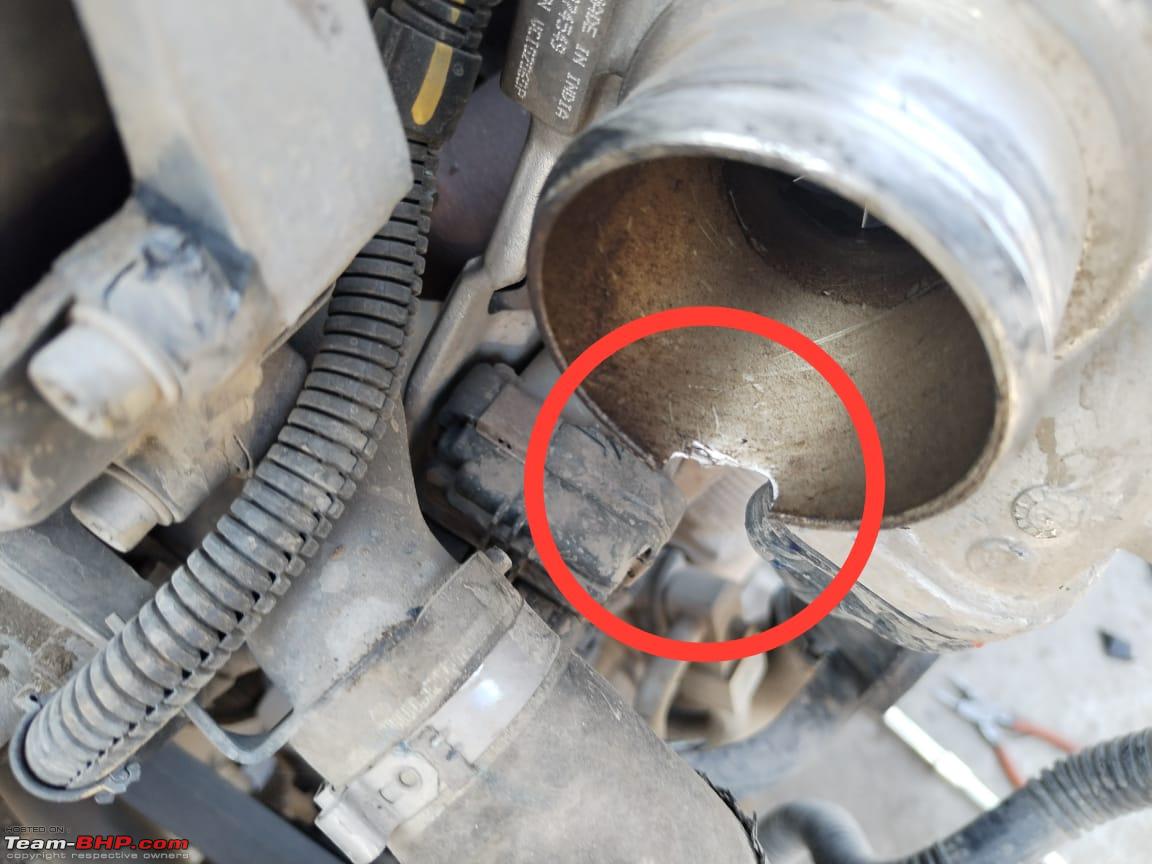 Jeep SA is saying that this part is turbo and the head where the pipe joins is damaged as shown in the pic. He is saying that he will fit the new pipe in such a way that it will overlap this damage and there will be no issues afterwards.
I want suggestions from you guys. Should I buy a new turbo and go with SA's advice? The new turbo is priced at 1.50 Lacs.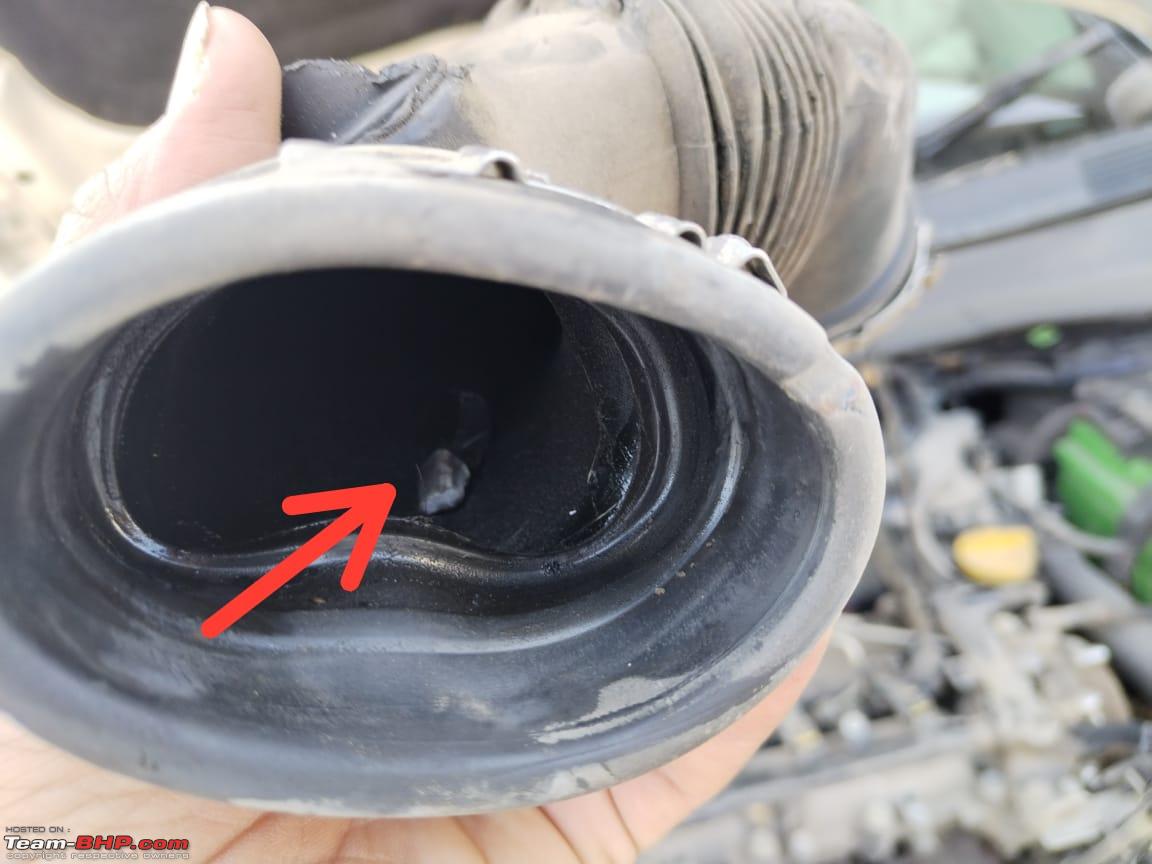 SA is saying this is a turbo pipe and it will be replaced.
Check out BHPian comments for more insights and information.
Source: Read Full Article