No doubt that the Kia Carens is an amazing vehicle and packs so many features, but it just doesn't tick the heart box as well as the Hexa does.

BHPian mixxer recently shared this with other enthusiasts.
Having been away from writing in the past 10 years, my grammar has been ruined by Indian IT.
But here we go:
The Prelude
I purchased my first bike – the Gixxer in April 2015. Rode it a lot ( 30,000 kms in 2 years). And she never once strained. I was a big fan of how it handled in the city, how stress free the engine was and whatnot. At the same time, I had absolutely no idea about cars. And once I got married, getting a car was the next step. I had always been a teenage fanboy of sedans and had never owned one, so I had no idea what practicality in a car meant. To me, a car was always about how fast it could go and how it made you feel.
Then came the day when we finally made up our mind to buy a car. The wife wanted a large 7-seater, but I was concerned about how much it would cost. I capped my budget at 7L Ex showroom. The thought of spending about 40% of my monthly salary on insurance was scary, and so was the fuel consumption, tyres, and other maintenance for any large car.
Due to the profile my wife works in, she had a lot of colleagues and seniors who had XUV, Innova, Scorpio and other 7 seater MPVs and SUVs
For a 7 seater, buying a used car was my choice, but since we had never owned a car before, we didn't really want to get ourselves in trouble with the issues that come up with used cars.
Back then, we visited Ford ( Aspire), Tata ( Nexon/Tigor), and Honda (Amaze). Aspire and Tigor were dropped due to the small rear seat. Nexon was dropped because of pathetic sales experience.
Imagine going for a pre-booked TD and the salesperson asks you to sit in a dirty car in a yard-like area. It was surrounded by 6 cars, so we couldn't move, and the SA went away for 20 minutes to get the keys to those 6 cars, while having the audacity to tell us that the car's AC and music system were excellent, so we should enjoy them while she gets the keys to the other 6 cars to move them. Frustrated, we dropped Tata, promising ourselves to never buy a Tata car.
The experience at Honda was surreal. A courteous SA greeted us, and a good test drive and answers to all of our questions sealed the deal for us. My wife liked the look of the Amaze, and the rear seat and boot were more generous than we thought.
We booked the car, got it delivered in 2 weeks (the colour of our choice was available) and have been using it for a good 3.5 years.
A Picture of our Amaze
The Pandemic
Thankfully for us, pandemic hit. Due to the nature of my wife's work, she was posted in Bathinda. I used to travel to and from Noida every week via train.
When work from home began, life became very easy for me. And as many of us did, we also got ourselves a pup and thankfully, this was the best decision ever. We wanted to get two of them, but the lack of a seven-seater meant that we could only get one.
We did a few road trips from Punjab to Bihar (my hometown). Each time we went to Bangalore ( her place), we would have to drop the pup to a friend's place as the Amaze just didn't have it to stretch till Bangalore. To my hometown, it would reach without issues, but the Amaze wasn't comfortable doing 120 on the expressway. The lack of underbody protection meant that all the gravels would hit the arches causing irritating sound. Road noise and tyre noise would simply prevent you from driving hard for longer distances. We had no choice but to listen to music. Also the body pain post short or long trips was noticeable. I started to realise the mistake. We could and should have pushed our budget to get the car she wanted, but didn't.
The Baby
Three months ago, we welcomed our first child, and a few trips to the doctor later, we realised that the dog (who was now a grown adult) and the baby could never adjust in the rear seat of the car. There would always be the risk of the dog stepping on the baby, and unintentionally hurting him.
Hence started the search for a used car. This time, we knew our priorities. We wanted to get a car that could munch miles without breaking a sweat. Fuel was not a concern as we do not live in Delhi. Space for the passengers and the dog was the priority.
Also, the car should be able to seat 5 people plus a dog (my parents, child, wife, and dog) and go wherever I want it to go.
In the past 2 years, I had driven a Marazzo – the manual was quite weird to use and the car didn't feel the best. Two of my friends were using Tata Hexa (one had a manual XM, other had an XTA – Both had dogs!).
I had ridden in them a few times, and loved the ride quality they offered. Having seen and read so much about the build of the Toyotas, Innova was on top of my list. But the Crysta was expensive, and a well kept used one would set me back by about 18 Lakhs – This was money I didn't have.
We really liked the Kia Carens too – and booked it as well. The Space and how it was utilised, was absolutely fantastic. Flat folding rear seats, enough space for the dog, decent engines and easy driveability were big pluses in our book.
A new one (turbo petrol) would cost us 16.5 lakhs, which was still a little out of our price range. But I was fine with it because the delivery was a while away and I could manage without taking out a loan.
The bigger problem (or opportunity) was my wife's maternity leave. It was 11 months, and she really wanted to go and visit places with the baby.
So what we really needed was an MPV that was safe, spacious, and would take all our luggage, dog, and us—and carry us all to places in comfort.
Even the Carens failed to tick the perceived safety box. The rest of it was fantastic!
Along came a used Hexa XTA from one of my Facebook posts in the Hexa Owners group (THOR). A gentleman informed me that he was the second (technically) owner of the 62K run car because it was a company lease car, and that he was selling it because he was moving to the United States.
The budget matched, allowing me to potentially upgrade from my Amaze for about 6L. The car was 2017 manufactured ( first batch of Hexas), and the long line of issues that Hexas had faced were in my head. Engine head gasket, EGR, air conditioning, and power windows were all issues that could have cost me my life.
I spoke to him, and took an overnight train to inspect the car.
He had smartly updated the alloys to 16 inchers and the Conti Cross contacts were almost new. The insurance was barely a month old and covered the engine separately. The sad part was the Extended Warranty was over.
The car had a few minor scratches and dents and he promptly showed me all of those. It had a clean service history, and had faced none of the issues that many Hexas had!
He claimed to have used it on the highways for about 50k kms out of 62k. This was good news, as a highway-running car would be prone to much less wear than a city runabout.
The owner was kind enough to include a box of car wax, a 12v tyre inflator, and an App Based TPMS (which I have yet to use) with the car because they would be useless to him once he left the country.
He took me on a test drive, and it was good! The Hexa is an absolute monster when the turbo kicks in, hurling the 2.2 tonne monster at a speed you don't expect it to go. The suspension was the best bit-probably next only to the one on the C5 Aircross.
To be honest- out of all my options, the Hexa was the only car that I was ready to 'name'. Others were too bland to be named, maybe a little too perfect.
I had read all the horror stories of Hexa owners-especially post warranty. This car had barely finished its warranty period. This was ( and somewhere, it still is)
"If you want to do something- look at the one reason why you should do it, instead of a thousand reasons why you shouldn't "
We made up our mind and decided to get hold of the beast.
The car was well loved-but had had a few niggles on its journey.
The sidesteps were broken, there were a couple of dents and a large scratch on the A-pillar, which was due to a flowerpot falling on the car.
There were minor scratches all around. One of the rear doors was very slightly damaged ( promptly notified by the owner) due to a kid opening the door while the car was being reversed.
Some poor pictures of the when I first saw it
I had made up my mind to get the car detailed ( inspired by the good folks at Brotomotiv).
I got the paperwork completed, and decided to drive the car home after a service at TASS( a minor service was pending)
After being used to one of the best service experiences at Honda, TASS was an absolute disaster. Multiple areas within the car were still dirty, they used a gooey material to clean up the dash, missed cleaning one alloy altogether, quoted the wrong price for a broken air con controller, forgot to remove the sidesteps, and i cannot even remember what else.
Having not driven a silent and powerful car like the Hexa, I ended up doing a speed violation on the Delhi-Rohtak Highway. But in the next 6 hours, I was home.
As expected, the Hexa didn't break a sweat on the journey. Cars like these can do 90-100 kmph all day long without a hint of strain. Unlike my Amaze, I was April fresh when I reached home.
The wife was excited to see the car, but didn't like the rusting chrome add-ons ( on the grill and the side mouldings).
The owner is a BHPian and Team-BHP stickers were all around-on the mirrors, rear window, and tailgate.
We drove to a friend's place in Jalandhar, and found a nice FNG ( very highly rated) and asked them for a quote to:
He took 5 days to give me the car back – and man was it worth every penny!!
We met a Navy Commander (Retd.) who paid compliments to the car and asked if the Hexa was still selling as he thought the car was brand new and I was getting it coated from the FNG instead of TASS.
This time, wife and a few other friends ( another fellow Hexa owner) were thoroughly impressed and loved the work done by the FNG!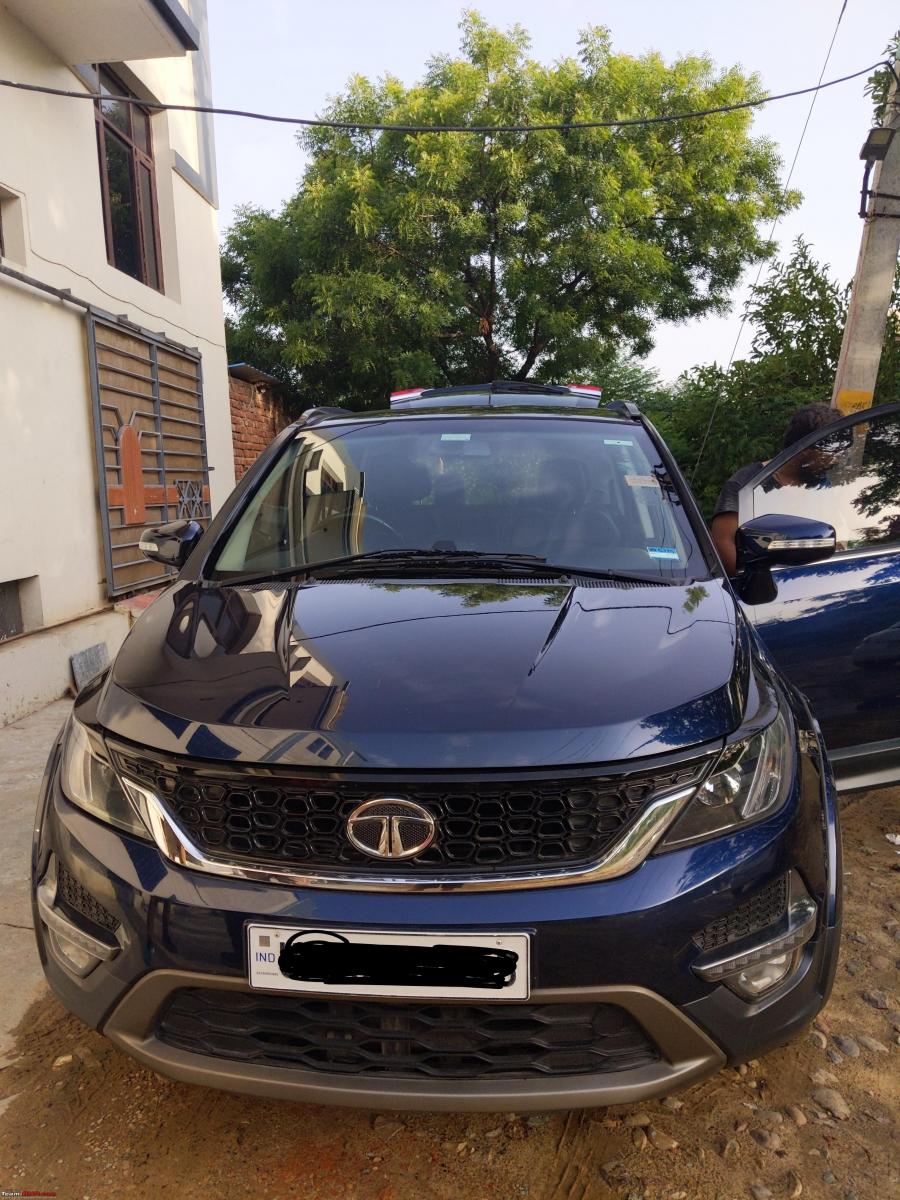 The last few days in Punjab have been rainy, and the next morning, this is what she looked like: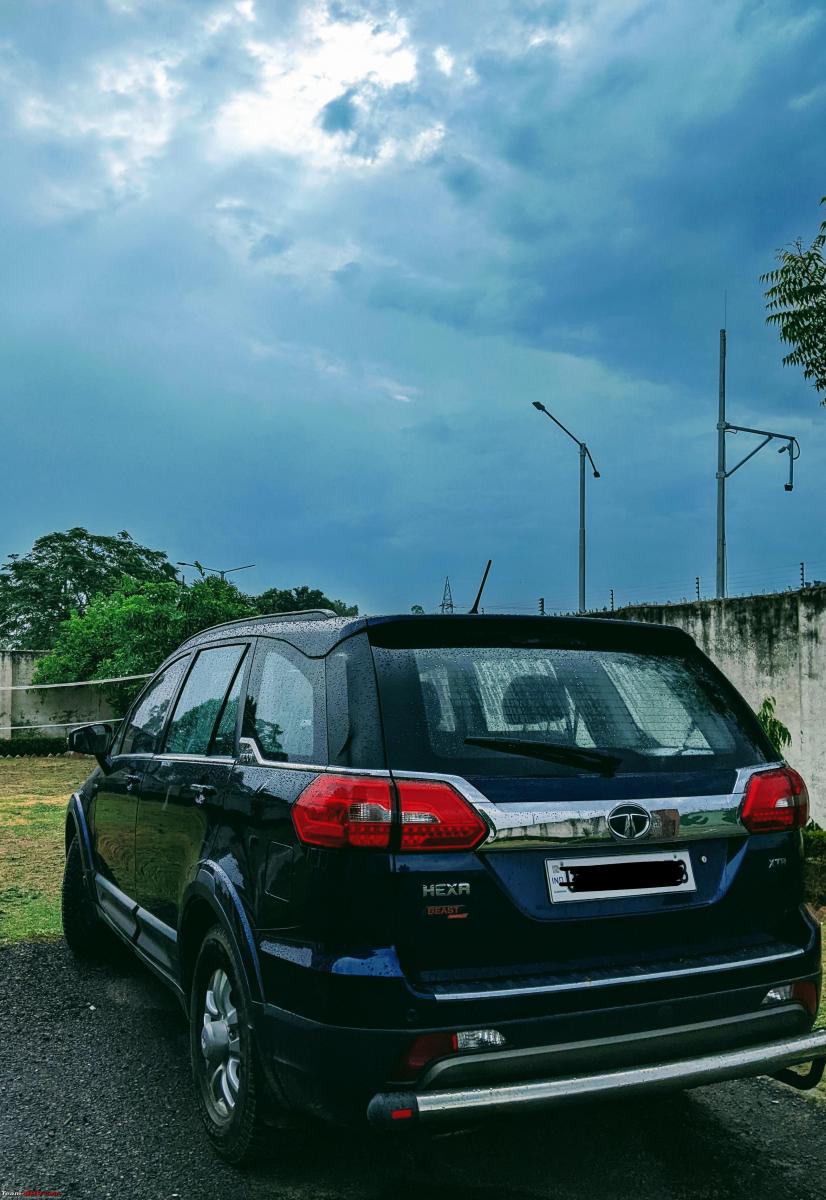 On the next day, we packed our luggage and left for Palampur for a trip. Me, Wife, our 3 Month old toddler and 2 year old dog- along with all sorts of luggage.
Needless to say , a slushbox is a boon in the mountains. I wasn't aware of how confident it made me feel.
The size of the beast reduces to half thanks to the autobox.
For your viewing pleasure
My final thoughts at the end of this article:
No doubt that the Kia Carens is an amazing vehicle and packs so much. Amazing VFM. But it just doesn't tick the heart box as well as the Hexa Does.
Read BHPian comments for more insights and information.
Source: Read Full Article