At the time of the sale, one engine mount was worn out & hence there were some vibrations in the 18-year-old car's cabin.
BHPian vigsom recently shared this with other enthusiasts.
Update as of Aug-2021 at 18 years of age and approx 1,20,000km
The blue Corolla that I once owned finally left the next owner after serving him faithfully for 9 years. He got approx INR 60k for the car, which was fair. In his period of ownership, the person who got the car from me had to do only the following:
Engine oil changes
AC compressor refurbish, and one change of tyres
Refitment of a link on the AT lever that came off
Status on the day of departure
No power steering fluid leaks
One worn out engine mount was causing vibrations in the cabin
Stock struts and shock absorbers
Lots of scratches on the bumpers but the paint finish was holding up very well
DEPO headlamps showed no sign of yellowing or cracking
Engine was flawless
All electricals working
Automatic transmission still on the original fluid with some top-up of T-IV fluid that I'd given him
When I parted with the car in 2012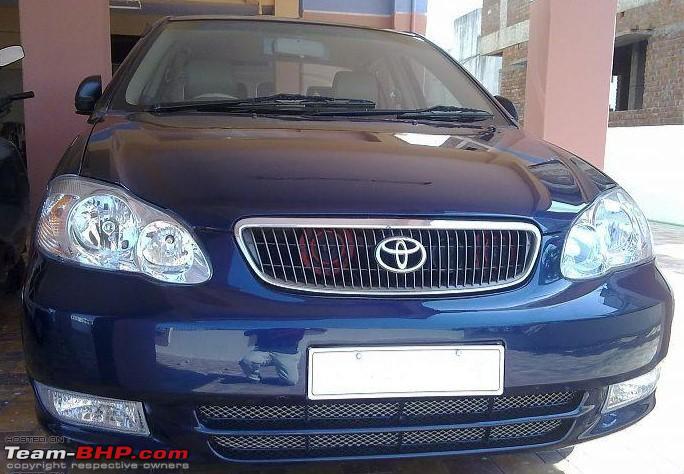 When the next owner parted with the car after nine years of ownership in 2021
Here's what BHPian AKSarkar1 had to say about the matter:
This iteration of the Corolla is extremely close to my heart since it was the car I learned driving on. There is a reason why Toyota can charge a bomb on their current cars these days and people yet pay for it without batting an eyelid and that is due to the heritage that cars like the Corolla have left in India. Back in the day, the heart wanted a Blue Corolla but the head made us go with a white. Looking at these pictures got back so many memories!
Here's what BHPian AJITHAAA had to say about the matter:
Looks like the last owner was cutting corners on all four ends. Bumpers have taken a beating.
Check out BHPian comments for more insights and information.
Source: Read Full Article