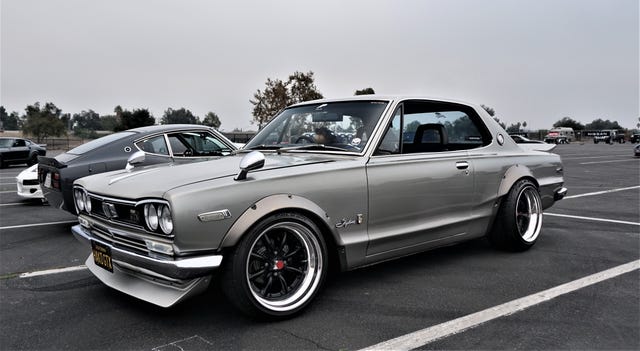 The Japanese Classic Car Show held its 16th annual gathering Saturday, at a new venue with twice as many cars and plenty of parking. Indeed, there were 12,500 parking spots available, because the venue was Angel Stadium of Anaheim. This was quite a change from the grassy knoll in Long Beach of more recent shows.
With only a matter of weeks to go before showtime, the City of Long Beach was still unable to guarantee the show's previous location at Marina Green Park between the ocean and the straightaway of the Long Beach Grand Prix. Marina Green Park was a nice location, but could only accommodate between 200 and 300 cars, more or less. So when organizers Koji and Terry Yamaguchi (along with legions of volunteers) had to make an executive decision, they decided to go south, to Angel Stadium. Plenty of room there.
"It's two times bigger than Marina Green," Koji said.
In theory, it could be hundreds of times bigger than Marina Green, depending on how much of the parking lot they wanted to rent out. (And unlike the recent Las Vegas Concours, it was not held inside the stadium). Turned out twice as big was plenty of space, especially since a few years ago they opened the show up to more recent-vintage cars, those built after 1985.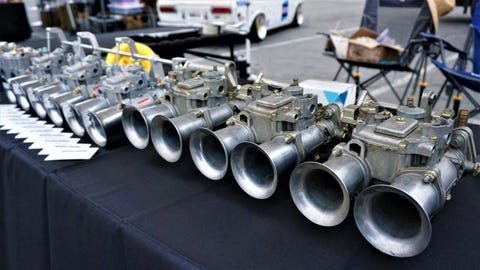 "I think that the venue is beside the point," said longtime show emcee and Japanese car enthusiast Patrick Strong. "I think that support for this show is so strong that the community will follow it anywhere. I hope so at least."
And it did seem well-supported, with hundreds—maybe thousands—of fans lined up for what seemed like blocks around the fencing that made up the show. Enthusiasm for Japanese cars as collectible items has skyrocketed.
Consider that even the Classic Car Auction Yearbook, which tracks sales of collector cars worldwide, now has entries for Honda, Toyota, and even Subaru. According to the yearbook, a pretty much standard Honda NSX went for $94,852 at an RM Sothebys auction; a 1972 Nissan Skyline GT sold at $98,208; a 1999 Subaru Impreza 22B-STI auctioned for $242,700; a Tommi Mäkinen Edition Mitsubishi Lancer Evo VI cost its buyer $204,253; a 1967 Toyota 2000 GT sold for $912,500, the orange Paul Walker-driven Supra from Fast & Furious ("More than you can afford, kid.") hammered for $550,000.
Prices were also steeper for lesser-fabulous Japanese cars in the last year: a Euro-spec Carlos Sainz Limited-Edition Celica Turbo 4WD went for $25,654; a 1993 Supra twin-turbo was $65,106; a 1972 240Z sold for $92,400 at RM Sothebys in Elkhart Lake; a 2015 Silvia S15 built for Formula Drift but never driven in that series crossed the block at $36,042 at a BHJ Company auction in Tokyo; and a 1969 Honda S800 roadster cost $50,400 at RM Sothebys Elkhart auction, to name a few.
So things are getting interesting.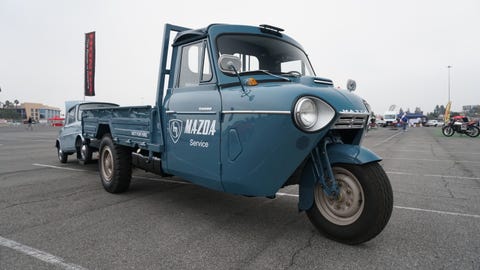 "Prices are shooting up," said Ben Hsu, founder of the website japanesenostalgiccar.com. "I'm very happy that I got my Land Cruisers and some of the other stuff before that happened. I mean, even just in the last two years prices have gone up extraordinary amounts."
Consider the following:
"I bought an FZJ 80 Land Cruiser 40th anniversary edition with triple locking differentials in 2018 for under $11,000, which was already high compared to where they were before," Hsu said. "Now, those are worth like $25,000 easy. And that's just in two years. FJ 60s have gone up, along with all the RX-7s and Supras. A fourth-gen Supra, many have been selling for between $150,000 and $200,000. There have been several sales in that amount. The stock turbos seem to be the most desirable ones. Unfortunately, many of them many of them are modded."
As in The Fast and the Furious?
"I saw a meme recently where someone had redone the scene where they (Dom and Brian) pulled up next to the Ferrari (in the original F&F film), and instead of the Ferrari guy saying, 'More than you can afford,' Paul Walker was saying, 'More than you can afford."
We're not talking Ferrari/Duesenberg/Delahaye prices. At least not yet. So while some cars at the Japanese Classic Car Show were trailered there, many—indeed, most—were driven. And their owners didn't have staff attending to the cars, but were just there themselves, talking with like-minded enthusiasts about the subject they loved most, their cars. It was like Pebble Beach but in about 1955.
Click through the gallery to see some of our favorites. And maybe buy something now… while it still costs less than your house.
Source: Read Full Article