A full used buyer's guide on the Hyundai Kona covering the Kona Mk1 (2017-date)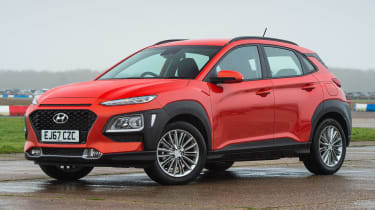 The Hyundai Kona is far from the standout member of the small SUV and crossover class, but it acquits itself well enough in a number of areas for it to be worth considering on the used market.
Its main strength is its refinement, with the most basic 1.0-litre petrol engine proving to be a quiet cruiser. Performance is decent in most situations, although the narrow range for peak torque (between 1,500 and 4,000rpm) means you'll have to keep one eye on the rev counter when overtaking.
Beyond that, the Kona is stellar rather than stupendous. The ride suffers on the bigger wheels that come with more expensive trims, and while there's plenty of space in the front for adults, rear legroom is less plentiful. And if you need to carry a lot of clobber around, boot space isn't exactly generous either.
The interior feels well built and functional, and the steering wheel adjusts for both height and length for your ideal driving position. The exterior boasts some eye-catching styling cues; whether or not they suit your tastes is another matter.
More reviews for Kona
Car group tests
Peugeot e-2008 vs Hyundai Kona Electric vs Kia Soul EV
DS 3 Crossback E-Tense vs Kia e-Niro
Hyundai Kona Hybrid vs Kia Niro Hybrid
In-depth reviews
Hyundai Kona Electric review
Hyundai Kona review
Road tests
New Hyundai Kona Electric 2020 review
New Hyundai Kona Hybrid 2019 review
Models covered
Hyundai Kona Mk1 (2017-present) – Hyundai's rival for the Juke, albeit several years after Nissan had helped give birth to the segment
History
The Hyundai Kona was launched in the latter part of 2017. Initially, it was available with a choice of two engines. The first was an entry-level, 1.0-litre, three-cylinder unit with 118bhp and 175Nm of torque, mated exclusively to a six-speed manual gearbox for front-wheel drive. The second was a 1.6-litre, four-cylinder engine producing 175bhp, which could do 0-62mph in 7.9 seconds and a top speed of 127mph.
A year later a pair of 1.6-litre diesels followed; the 113bhp version produced 280Nm and could hit 0-62mph in 10.7 seconds, while the 134bhp alternative managed 320Nm and could do the same sprint half a second quicker. The former was only available with a six-speed manual gearbox, while the latter came with a seven-speed DSG auto only. Emissions were rated at 111g/km and 114g/km respectively. The diesels were sold for a year in the UK before being dropped from the Kona line-up, with Hyundai citing a lack of customer interest.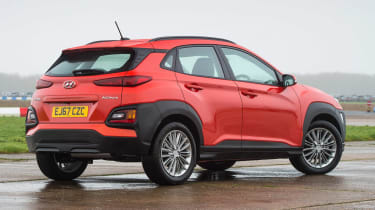 Early in 2019, a limited-edition 'Iron Man' variant was introduced, with Hyundai promising to only build 300 examples. It honoured the Iron Man film franchise with an exclusive paint palette, as well as Iron Man and 'STARK Industries' branding throughout. It got the same five-year, unlimited-mileage warranty as other Konas, as well as five years of annual health checks and a 12-year anti-corrosion warranty.
The Kona Hybrid joined the roster in September 2019, combining a 1.6-litre petrol engine with an electric motor for 139bhp and 265Nm. It covered 0-62mph in 11.2 seconds (11.8 on larger, 18-inch alloys), while fuel economy was rated at 66mpg.
Trim levels on the Hyundai Kona start at S, and move up through SE, Premium, Premium SE and Premium GT. A Play spec – based on the SE – was added in August 2019.
A facelifted Kona is due on sale at the end of 2020, with a new Hybrid coming in 2021.
Which one should I buy?
The Kona is very well equipped as standard, with S models getting 16-inch alloy wheels, body-coloured bumpers, door handles and mirrors, as well as automatic headlights with daytime running LEDs. Inside, in-car tech included cruise control with a speed-limiter function, DAB radio and Bluetooth connectivity, a five-inch LCD display and a 3.5-inch driver display behind the wheel, plus electric heated door mirrors, Driver Attention Alert, Lane Keep Assist, Hill Start Assist and Downhill Brake Control systems.
If you can stretch to it, SE cars gained 17-inch alloys, roof rails and fog lamps, but also added Apple CarPlay and Android Auto smartphone connectivity. A leather steering wheel and gearknob, electric lumbar support in the driver's seat, rear parking sensors and a camera were also added, as was a seven-inch infotainment touchscreen. This is the one we'd recommend.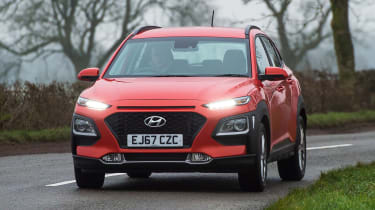 Further up the order, Premium cars got 18-inch alloys, climate control, keyless go, an eight-speaker audio system and sat-nav with 10 years of map updates, in addition to an eight-inch touchscreen. Premium SE added blind-spot detection, automatic emergency braking (AEB), front parking sensors and power-folding mirrors. Top-spec Premium GT introduced full LED headlights and tail-lights, high-beam assistance and a larger driver display.
The 1.0-litre petrol engine packs enough punch to suit the vast majority of drivers, although 45.6mpg is the best you can expect in terms of efficiency. If this is particularly important to you, aim for a Hybrid model.
Alternatives to the Hyundai Kona Mk1
Given that it sits in the small SUV sector, the Hyundai Kona has plenty of rivals. These include the Nissan Juke, Renault Captur and Citroen C3 Aircross, plus the likes of the Peugeot 2008, SEAT Arona and Vauxhall Crossland X. There's the Stonic too from sibling manufacturer Kia.
The best of these at the moment is arguably the Captur, with its blend of driving dynamics and efficient engines. The Ford Puma is also very good to drive. If it's room you're after, look no further than the Skoda Kamiq; it's flush with space for both passengers and luggage.
What to look for
Boot space
At launch, all cars except the entry-level S model got a spare wheel, which dropped boot space to 334 litres. Rivals will offer more practicality here.
Engine rattle
A handful of owners have reported a rattle on cold starts, with dealerships changing timing chains and their cover in a bid to fix the problem.
Live services
A few Kona owners have encountered issues with Live Services, which uses the Wi-Fi on your phone to operate the sat-nav, which is derived from TomTom. Make sure this has been set up properly and that functionality isn't impaired.
Interior
The Hyundai Kona's dashboard places functionality above all else, with an array of physical buttons – as well as dials for the climate control – for most of the features, in contrast to the touch-sensitive surfaces that are becoming ever more common on modern vehicles.
A 3.5-inch display forms part of the instrument cluster behind the wheel, while entry-level cars come equipped with a five-inch LCD on the centre console. This evolves into an intuitive, seven-inch touchscreen on SE cars, gaining another inch on Premium vehicles. Overall the quality of the materials is very good, with scratchy plastics few and far between.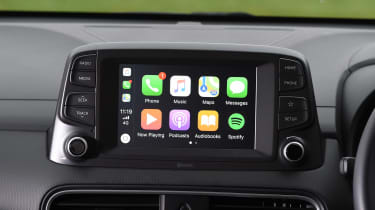 S cars offer 1,143 litres of boot space with the rear seats down, while all other models offer 1,116 litres. With the seats up, there's barely more luggage space than you'd find on the average supermini.
Prices
For the latest and best prices for used examples of the Hyundai Kona, visit our sister site BuyaCar.
Running costs
Running costs on the Hyundai Kona are nothing special; the entry-level 1.0-litre car achieves 45.6mpg on its 16-inch wheels, although those with 17- and 18-inch alloys only reach 44.1mpg. This is disappointing when you consider that the SEAT Arona and Citroen C3 Aircross manage in the region of 60mpg. To achieve this in the Kona, you'll have to look at the short-lived diesel variants. Meanwhile, the higher-powered petrol drops to 34mpg.
The Hybrid model manages a much more respectable 56.5mpg, with CO2 emissions of 114g/km. If it's low running costs and a small carbon footprint you're really after though, you need to go for the zero-emissions Kona Electric.
The Hyundai Kona was sold with a five-year, unlimited-mileage warranty (which also includes five years of roadside assistance), so used models should have a couple of years of this left to run. Services are scheduled for every 12 months.
Recalls
The Hyundai Kona was recalled twice in 2019. Some 1,522 cars were found to have faulty brake fluid lines and air-conditioning pipes that could leak. Later that year, 416 examples of the Kona were recalled over a fault that could cause the airbag to deploy incorrectly.
Driver Power owner satisfaction
The Hyundai Kona Mk1 ranked 60th out of 75 in the 2020 Driver Power Survey of the Best Cars to Own, scoring 88.99 per cent with owners. This was slightly higher than the Citroen C3 Aircross (66th place, 88.74 per cent), but well down on the Kia Niro Mk1, which finished fourth overall with 91.98 per cent.
Verdict
There isn't much wrong with the Hyundai Kona, but nor is there much that makes it stand out in a very competitive field. To its credit, it's very well equipped in the most affordable trim levels, and the remainder of the five-year warranty will be a comfort to those strongly considering a used model. It's not a car for the driving enthusiast, but how many people are genuinely after driving pleasure in this segment of the market? All things considered, it's definitely worth shopping around as plenty of the Kona's rivals offer more comfort, more space, more fuel economy, or more of all three.
Source: Read Full Article