A full used buyer's guide on the Fiat Tipo covering the Tipo Mk2 (2016-date)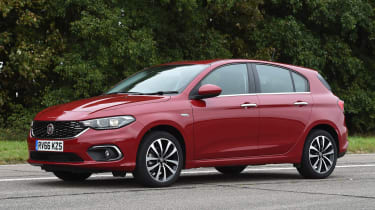 Not many of the current crop of car makers can claim to have started selling their wares in the 19th century, but Fiat is one of them. Unfortunately for this Italian brand, of the companies that are more than 120 years old, Fiat is at the back of the pile in terms of sales performance in the UK, beaten by companies such as Peugeot, Renault, Skoda and Mercedes.
In 2019 Fiat sold just under 30,000 cars in the UK, which was enough to claim a mere 1.29 per cent of the market, and virtually all of those cars were 500s. But a few of those sales were of the Tipo, a hatchback and estate which sells in small numbers and which looks rather smart, while also offering very good value on the used market.
Models covered
Fiat Tipo Mk2 (2016-date) – The second-generation Mk2 Tipo is rare sight on UK roads, but it shouldn't be discounted.
History
Fiat launched the original Tipo in January 1988 in the UK; it would take almost three decades for the successor to arrive. The Tipo Mk2 was launched in May 2016 in both estate (Station Wagon) and hatchback forms. Buyers could choose between 1.4-litre and 1.6-litre petrol engines, the former coming in 94bhp non-turbo and 119bhp turbocharged (T-Jet) guises, while the 1.6-litre engine was available only with a six-speed automatic transmission.
More reviews for Tipo
Car group tests
Skoda Rapid Spaceback vs Dacia Logan MCV vs Fiat Tipo
Fiat Tipo vs Skoda Rapid vs Citroen C4
In-depth reviews
Road tests
New Fiat Tipo 1.6 diesel review
New Fiat Tipo Station Wagon estate 2016 review
New Fiat Tipo 2016 review
Fiat Tipo 1.6 Multijet saloon review
Diesel fans could opt for a 94bhp 1.3-litre Multijet II unit or a 119bhp 1.6-litre Multijet II power plant; both came with a manual gearbox as standard, but the latter could be specified with a six-speed dual-clutch automatic transmission (DCT). Street and S-Design trims joined the range in February 2018, then in May 2019 both Mirror and Sport trims were also added, the former focusing on connectivity with an upgraded infotainment system.
Which one should I buy?
The non-turbo 1.4-litre petrol engine feels lacklustre, while the 1.3-litre diesel lacks refinement, but the other two engines blend economy, performance and refinement pretty well. The entry-level Tipo Easy hatchback came with 15-inch steel wheels, a DAB radio, Bluetooth, cruise control, air-con, a multifunction steering wheel and electrically adjustable door mirrors.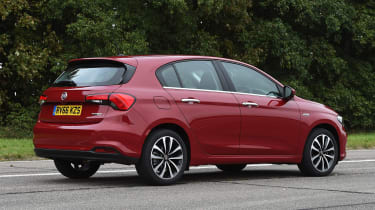 Buy a Tipo Easy estate and you'd also get electric rear windows to go with the powered front windows fitted to the hatch. Move up to a Tipo Easy Plus and Fiat threw in a seven-inch touchscreen, powered rear windows on the hatch, rear parking sensors plus 16-inch alloy wheels. The range-topping Tipo Lounge also came with climate control, navigation, automatic headlights and wipers, an auto-dipping rear-view mirror, a rear camera, 17-inch alloys, plus electrically adjustable lumbar support for the driver's seat.
Alternatives to the Fiat Tipo
Small family hatchbacks are rife, with models such as the Ford Focus, Vauxhall Astra, Kia Cee'd and Hyundai i30 all readily available with wide model ranges and which put value first. The Peugeot 308 is another strong contender as there are plenty to choose from, you get plenty for your money and the cabin is impressive. The Mazda 3 also has a superb cabin and is excellent to drive, much like the hugely talented Volkswagen Golf which is closely related to the SEAT Leon – another multitalented all-rounder.
Less obvious but worth a look if priced right are the Renault Mégane, Citroen C4 Cactus and the Nissan Pulsar, while the Toyota Auris is also worth shortlisting. Don't overlook the Skoda Scala either, as this small hatch is great value and has a roomy cabin.
What to look for
Spare wheel
The Tipo hatch gets a space saver spare wheel, but if you buy a Tipo estate you get a full-sized wheel.
Stop/start
The Tipo Easy didn't come with stop/start whereas posher models in the range got it as standard.
Keys
Normally we recommend that you get both remote keys with the car, but the Tipo came with only one.
Saloon
Fiat offered a Tipo saloon in some overseas markets, but that body style didn't come to the UK.
Prices
Check out the latest used prices for the Fiat Tipo on our sister site Buyacar.
Interior
Over the years Fiat has designed some brilliantly funky interiors, but the Tipo's isn't one of them. Instead it's all rather sober and functional, with impressive build quality but a combination of high-quality and cheap materials. There's plenty of space for four adults and the seats are both comfortable and supportive; all Tipos have height adjustment for the driver's seat, but not for the passenger's. Boot space is excellent too, at 440 litres (seats up) for the hatch, or 550 litres for the estate.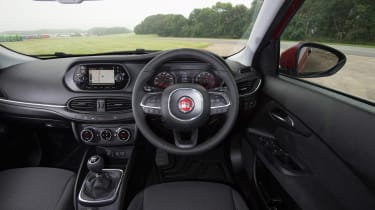 Running costs
All Tipos need to be serviced every 12 months, and in the case of diesel-engined models there's a 12,000-mile limit. The petrol-engined cars, however, have a cap of just 9,000 miles. The service regime runs on a four-service cycle, and while this effectively alternates between minor and major, the costs are set at £62.02, £301.81, £104.94 and then £349.35 before reverting back to £62.02; a standard oil and filter change is priced at £100.40.
All engines apart from the 1.3-litre Multijet diesel are fitted with a cambelt and this needs to be replaced every four years. There's no set mileage interval, but most Fiats have a 72,000-mile cap; expect to pay a very reasonable £211 to have the work done. Fresh brake fluid is also required every two years, at a cost of £63.72.
Recalls
Just two recalls so far is a pretty good record; some of the Tipo's rivals have notched several times that since Fiat issued the first recall in December 2016. This affected just 25 Tipos built between September 2015 and November 2016, which left the factory with faulty airbags which could fail to deploy correctly in the event of a collision. The problem was caused by faulty wiring, which could be rectified by dealers.
The second recall came in June 2017 and this time just 11 Tipos were involved, manufactured between November 2016 and April 2017. Once again the problem was faulty airbags, but this time the fault was caused by poorly made inflators; the fix was to replace the entire airbag unit.
Driver Power owner satisfaction
The Tipo isn't a big enough seller to have appeared in any of our new or used Driver Power surveys, and there aren't even any owner reviews on CarBuyer.co.uk to draw upon to get a picture of what it's like to live with one of these family cars. Fiat did appear in our 2020 Brands survey, however, in 23rd place (out of 30 entries), just ahead of Ford and above Mini as well as Vauxhall. Owners like the driving experience and efficient engines but not the safety kit, infotainment or seat comfort.
Verdict
In isolation the Tipo isn't a bad car. It's roomy, decent value (especially on the used market), genuinely fun to drive and it's also rather handsome, although it's hardly what you could call distinctive. The Fiat's problem is the large number of talented and more desirable small family hatchbacks that it's up against. Many of them have a higher profile so they sell in bigger numbers on the new market, and they're more in demand as used buys. But the Tipo's low profile doesn't make it a bad car or undesirable, which is why if you're the kind of person who buys with your head rather than your heart, and you need a small family hatchback that puts the emphasis on value for money rather than impressing the neighbours, the Tipo could well be a canny buy.
Source: Read Full Article