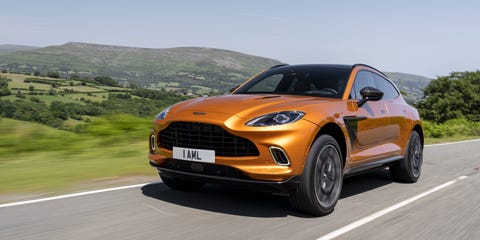 Remember when the Porsche Cayenne came out in 2003 and everyone went nuts? "How dare they!" "Porsche is supposed to make sports cars!" "The world is coming to an end! "I'm cancelling my subscription!" And then, suddenly, Porsche returned to profitability, Porsche kept making the Boxster, as well as a whole bunch of really cool 911s, and the world did not end (though one guy did cancel his subscription). The new reality is that carmakers, even sports car makers, have to be profitable to survive. And with most of the market being made up of crossovers, SUVs and pickup trucks, the new rules also are that sports car makers, like all carmakers, have to produce SUVs to survive. The upshot, especially at the top end of the market, is they are almost all great fun to drive, in addition to being practical. You can't haul lumber nor drive the carpool in a 911. So, dig in and pick your favorite.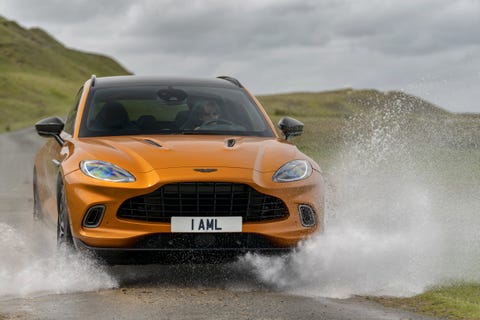 Aston Martin is the latest luxury marque to drive into the luxury SUV segment, and what a drive. The DBX rides on its own unique all-aluminum platform, powered by its own version of the 4.0-liter twin-turbo gasoline-fed V8 found in the DB11 and Vantage. That tune makes 542 hp and 516 lb ft of torque good for a 4.3-second 0-60 time and a 181-mph top speed. Those are numbers you'd expect in an Aston Martin, but a couple of new specs you might not include a 5,940-pound towing capacity and a ground clearance of 9.25 inches when set to its highest ride height. It represents a splendid contradiction.
And while so many SUVs lumber along with dowdy exteriors, this one might be the nicest of the lot, at least until the Ferrari Purosangue comes along in 2022.
I got to drive a U.S.-spec DBX last week in California on a 76-mile loop that included twisty mountain two-lanes, some bumpity off-road dirt and even a stretch of Interstate. While it did, technically handle the dirt with no trouble, those wide and low 22-inch wheels wrapped in Pirelli P Zeros, 285/40 in front and 325/35 rear, were definitely more at home on the pavement. There, it cornered faster than just about any SUV I've driven since the Lamborghini Urus. Combined with the hyper-robotic feel of the DBX's AMG-sourced 48-volt active anti-roll bars keeping the lean angle to no more than one degree, the luxo-ute's feel from behind the wheel took a little getting used to, like any super-sports car or SUV.
But once you get used to the lack of roll and the steering's immediacy your lap times will drop faster than your credit rating if you've overextended yourself to buy one of these. Like most supercar makers, Aston knew it had to make an SUV probably as soon as Porsche saved itself by adding the Cayenne to its lineup around 20 years ago. The program was launched in 2015 under the guidance of then-ceo Andy Palmer. The DBX, like many Aston Martins, benefits from the brand's increasing association with AMG. It may take the German's help, along with new-chairman Canadian Lawrence Stroll's additional money, to make Aston Martin profitable, but it surely takes an SUV to save this and any supercar maker.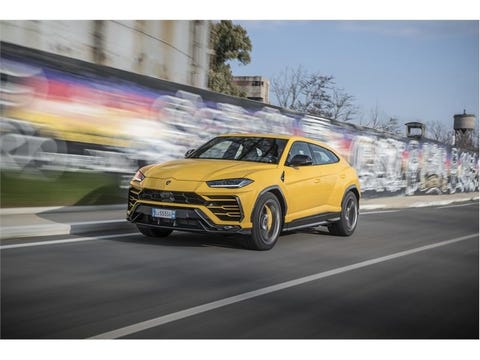 A Lamborghini SUV might have seemed about as far-fetched as a Ferrari Purosangue at one time, but here it is. And since Audi/VW owns Lamborghini, making a Lamborghini SUV was relatively easy, for the most part. It starts with a partially shared platform you find under the Porsche Cayenne, Audi Q7 and Bentley Bentayga, at least the section from the A-Pillar forward. That allows Lamborghini to start with the mighty 4.0-liter twin-turbo V8 which in this application makes a rip-snorting (bull reference) 641 hp and 627 lb ft of torque, among the most-powerful in the class. From there torque is routed through an eight-speed torque-converter automatic and to a four-wheel-drive system consisting of an integrated front differential, Torsen center differential and an active torque-vectoring rear. All of which launches you to 62 mph in just 3.6 seconds, not only remarkable for a 4844-pound SUV, but which is also quicker than the Aston Martin DBX. Top speed is listed at 190 mph, also beating the DBX. The drawback is price, starting, as you saw above, at $222,004. So you pay for all that performance. And does it ever perform – I lapped Vallelunga Circuit outside Rome in an Urus and the thing felt like an Huracan, only taller. It's an excellent swap to get practicality along with just about as much performance as Lamborghini's more traditional sports cars.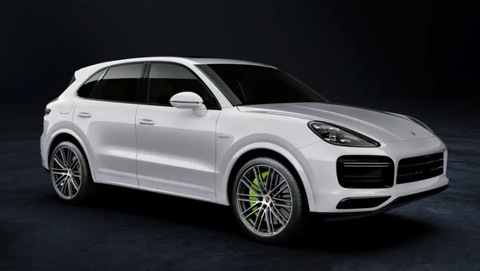 There is an embarrassment of riches in the Cayenne model, or rather models, since Porsche lists 12 versions of this company saving SUV. You can start with the base-model "Cayenne," with no suffixes or letters after the name, for the above 67 five, and for that you get 335 turbocharged horsepower and 332 lb ft of torque pushing around 4582 pounds, a combination that gets you from 0-60 in 5.9 seconds and to a 152-mph top speed. But above that are 11 more Cayennes including hybrids, S models, Turbos and topping it all off, pricewise, with the $166,200 Turbo S E-Hybrid Coupe, which actually has four doors. The difference is in the roofline, a slight difference. The quickest, fastest and most powerful models are the two Turbo SE Hybrids, which both offer 670 hp. The Turbo SE Hybrid is the best performer, with a 0-60 of 3.6 seconds, a tenth quicker than the Coupe, and it costs three grand less, at just $166,200. But feel free to browse through the Cayenne catalog and pick one that's right for you. You won't be disappointed.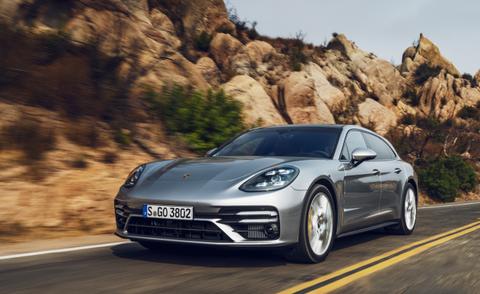 No, this is not an SUV, and no, it's not out till early next year, but hear me out. Nobody takes their SUVs off road, do they? Certainly not SUVs up in this end of the stratosphere. So why not enter into your SUV-buying mindset with that point of view? If you're going to be on-road but want the practicality of an SUV, and if you have $195,000, may I suggest the 2021 Porsche Panamera Turbo S Sport Turismo? This thing is amazing: it makes 620 hp, seats five, has room for cargo and gets from 0-60 in 2.9 seconds! Top speed is 196 mph. Who knows, maybe it'll hit 200 if you lean forward and hunch over the steering wheel? Crank the drive mode selector over to Sport Plus and just weld it in place right there. You will not only be fulfilling all your responsible-adult requirements, but you'll be having more fun than anything this practical has ever offered. At least think about it, will ya? Thank you.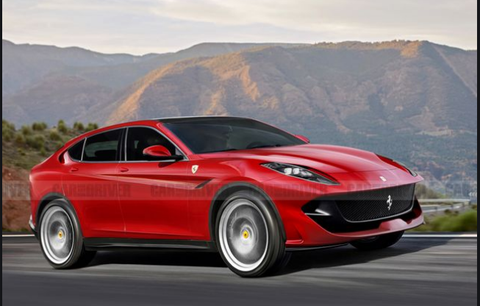 If you thought the Porsche Cayenne represented sports-purist blasphemy when it came out way back in 2003, the idea of a Ferrari SUV is downright sacrilege. Let's all go to confession. After we've done our penance, we might want to consider holding off on any ultra-luxury SUV purchasing decision until this red ripper comes out in 2022. Though details are scant, a recent Autocar interview with Ferrari's chief technical officer Michael Leiters provided some details. They weren't details all in order, so we still are left to piece them together into an SUV, but it's going to be 2022 by the time it comes out and no one will remember this item of speculation by then. The new Ferrari ute will be built off a new platform that will underpin all GT cars, those with the engine in the front. That engine could be a V6, V8, V12 or a hybrid electric drivetrain. Autocar speculated the powertrain would be a new turbo V6 currently in development, but the platform could accommodate up to a V12, which could come out later. It might also out-power current entries like the Bentley Bentayga Speed, which makes 626 hp, gets to 60 in 3.8 seconds and tops out at 190 mph. Can't wait.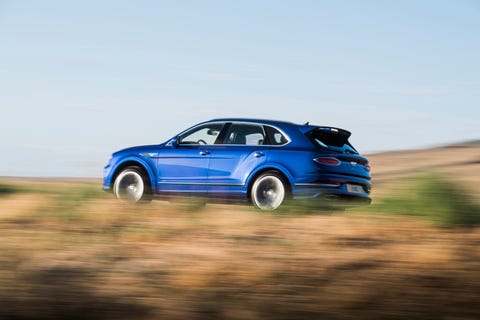 Practicality meets performance in the 2020 Bentley Bentayga. You can set up your Bentayga as a two-row four-seater or pack it with kids in the seven-seat three-row trim. Powertrains range from a 443-hp V6 hybrid, to a V8, to the mighty and all-conquering W12 in the Bentayga Speed. Prices range from the $166,425 entry level hybrid to $246,825 for the Speed. A few months ago I had a Bentayga Speed for a week or so and found that not only was it fast, with a 626-hp 6.0-liter W12 engine, but I could actually fold down the rear seats and use it to haul lumber from Home Depot. See the photos here. On twisty roads the Bentayga had those 48-volt anti-roll bars that made it corner flatter than road kill. As with anything sporting those powerful anti-roll bars, it took a few turns to recalibrate your brain to the lack of body roll, but once recalibrated, it became a pleasure to pilot, especially for something weighing 5,379 pounds. All those electronic controls take away a lot of what sports car designers call feel, but life is full of tradeoffs.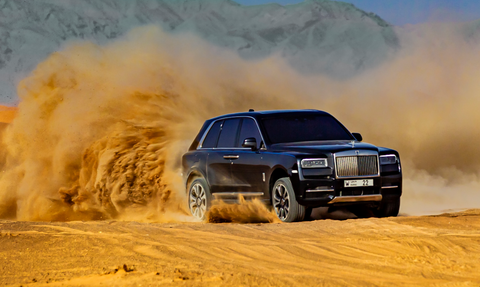 When even Rolls-Royce offers an SUV, you know the cycle's complete. As you might expect, the Cullinan is a mastery of luxury engineering. It rides on a version of the "architecture of luxury" sitting underneath the iconic Phantom, but it is actually shorter than the Phantom, and taller. The Cullinan is six feet tall, 17 and a half feet long and more than seven feet wide. It's longer, taller and 500 pounds heavier than a Bentayga, despite its aluminum everything. It's powered by a "BMW-based" 6.75-liter V12 making 627 hp and 563 lb ft of torque, enough to move the 5,864-pound behemoth to 60 mph in 5.7 seconds. Underway it maintains almost all of the wafting luxury ride as the Phantom, with an electronically controlled suspension that calculates body roll, acceleration, steering inputs and even camera shots to adjust for potholes and whoop-dee-doos. It offers an exquisite ride, better handling than you'd expect, and a look that won't be mistaken for anything else. It's also more than twice the price of even the Bentley Bentayga.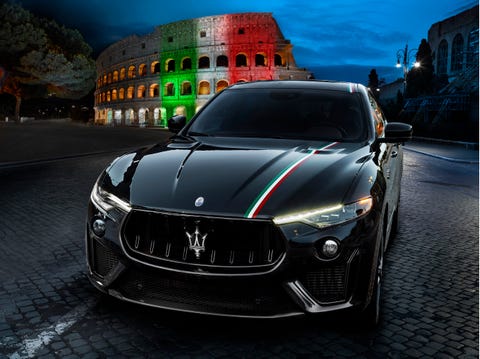 Since you have to wait almost two years to buy a Ferrari Purosangue, consider buying one of these while you're waiting. It's Italian, of course, but one trim level comes with a Ferrari-built engine. It starts with an entirely reasonable $77,185 base model sporting a 345-hp 3.0-liter V6 and goes all the way up to my recent-favorite the 590-hp 3.8-liter Levante Trofeo. Trofeo means trophy, obvs, and this one sure is worthy of an award. Of course, it ain't cheap. Starting price of a Trofeo is $171, 475 before you load it up, but what else are you going to spend the dough on, the kids' college tuition? Get your priorities straight, man! Want further advice? If you "long-press" the sport corsa button you get even sportier, more corsa-like driving. Throttle response snaps to, the exhaust valves flap open, gears shift even faster, the ride height drops by an inch and the Skyhook damping gets firmer. In addition, the Intelligent Q4 all-wheel drive is optimized at the same time the ESP and traction control are relaxed. Your life will get much more satisfying and exciting, while your cargo capacity increases commensurately.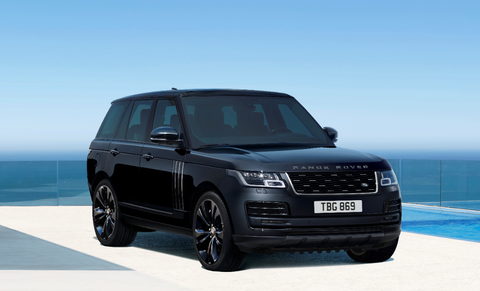 While you can get into a plain old Range Rover for $92,000, since I'm recommending that other people spend more of their own money, I'm recommending you get the Range Rover SVAutobiography. It's powered by a 5.0-liter V8 (just like the old Mustang! ha ha) making 557 hp that'll launch it to 60 mph in 5.2 seconds and to a 130-mph top speed. Sure, it stickers at $211,000, but you get "revised suspension geometry and chassis calibrations" for what RR says is "the ultimate combination of performance and comfort." I haven't driven it yet, but it looks nice in the videos.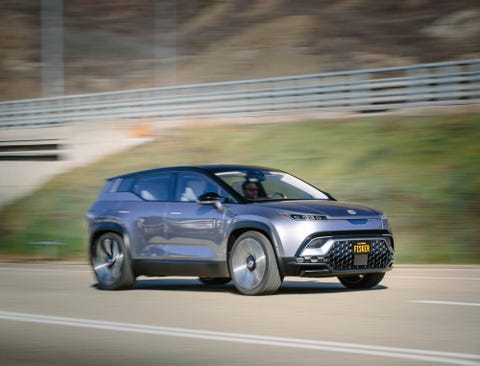 No, there is not a missing digit in that price. As of its most recent release mentioning vehicle pricing, April 13, Fisker lists the sticker for its Ocean all-electric SUV as $37,499. In the Silicon Valley, Seattle or Portland, and maybe even in LA and San Diego, where techno-yuppies jockey to outdo one another with their eco-friendly chic, the relatively affordable Fisker Ocean could rule them all for pennies on the dollar. Fisker says its SUV is on track to enter production by the end of next year with high-volume ramp up and deliveries to customers in the second half of 2022. So it could be out before the Ferrari. The Fisker Ocean promises 250-300 miles of range and the Force-E "extreme off-road package" will have "large amounts of torque," come in awd only, and offer "approximately" 300 hp. Looking forward to driving one.
Source: Read Full Article