From wacky concepts to rare collector cars and ground-shaking monster trucks – the humble pick-up has always inspired enthusiasts willing to take things to extremes…
Isuzu Como F1 Super Truck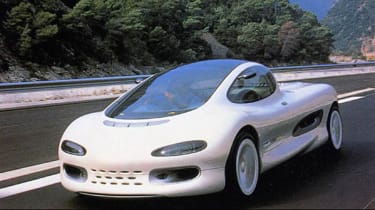 Isuzu
Not as practical as many in this list, the Como F1 was a concept designed to help showcase a 3.5-litre 640bhp V12 Formula 1 engine that Japanese firm Isuzu cooked up for a partnership with the Lotus F1 team. Unfortunately the F1 project was scrapped, leaving Isuzu with a redundant engine. That's when the company's British designer Simon Cox stepped up to the mark, developing the Como F1 as a 'super sports pick-up' able to whisk passengers and luggage to leisure destinations at high speed.
A mid-engined layout certainly helped with the handling, but compromised the load space more than a little. The four-seat cabin is accessed by scissor-style doors, which along with the swoopy design ensured the Como F1 wowed visitors to the 1991 Tokyo Motor Show.
Chevy SSR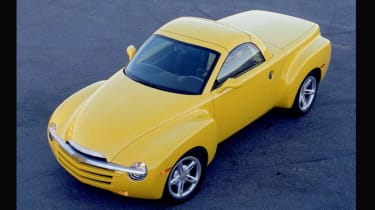 The Chevrolet SSR was a show car turned production pick-up that brought 1950s 'classic' styling themes back into fashion between 2004-6, and which was also notable for its retractable folding roof over the two seater cab.
In spite of the success of cars like the Chrysler PT Cruiser introduced in 2000, which had a similarly retro feel, the Chevy SSR pick-up was never a huge seller. It had lots going for it though, including a 5.3 LS2 V8 engine lifted from the Chevrolet Corvette giving most powerful SSR versions an impressive 0-60mph time of just over five seconds.
Dodge D-Series Custom Sports Special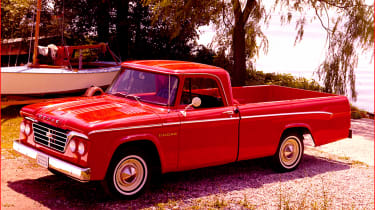 Once the muscle car craze hit America in the 1960s, it wasn't long before performance pick-up fans were looking for a piece of the action too. Dodge rode to the rescue with a hopped-up version of its D Series workhorse pick-up truck, which it billed as the D Series Custom Sports Special.
Available from 1964 with Chrysler's 426 cubic inch (7-litre) big block V8 making 365bhp, this ancestor of modern day mega-trucks also featured a twin exhaust system, uprated suspension, sporty gauges, bucket seats and racing stripes.
Read about the 'indestructible' Toyota Hilux that Top Gear destroyed on page 4…
Source: Read Full Article