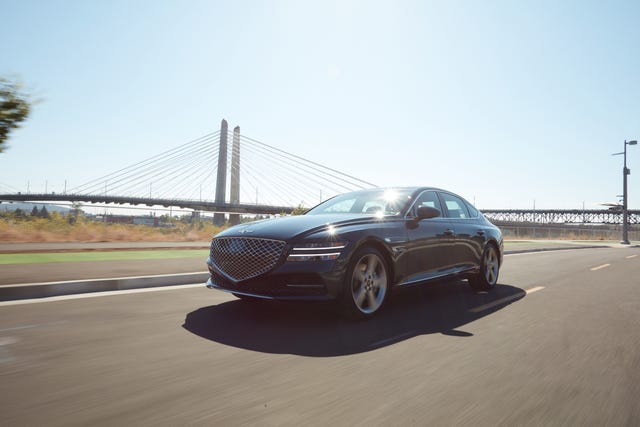 The 2021 Genesis G80 sedan, expected to arrive in showrooms as you read this, rides on a new platform named M3. It is Genesis,' and indeed parent company Hyundai's, first rear-wheel-drive based platform made to build an SUV upon, as this is also the foundation for the GV80. Compared to the outgoing G80 platform, Genesis claims M3 is lower, wider, has a lower center of gravity and is lighter.
To start, Genesis used aluminum to make 19 percent of the M3 platform to save 243 pounds, if those same components were made from steel. For the GV80 version of the M3 platform, aluminum is used for the hood, doors, and tailgate to save a total of 255 pounds, based on the same comparison. Furthermore, the strut brace as well as front and rear shock towers are also aluminum.
There are also several grades of steel. Compared to outgoing G80 platform, M3 has a 6% higher tensile strength thanks to using more high-strength steel, including in both the a and b pillars, floor cross-members and rocker panels. Different grades of high-strength steel are also used in the cowls, floor panels, and transmission tunnel. Furthermore, the new rear sub-frame is more rigid and uses larger bushings for improved NHV, according to Genesis. Overall, torsional rigidity increases three percent and the platform weighs 55 lbs less than the outgoing one.
And it holds up a beautiful car. Among its contemporaries at least, the large crest grille and narrow quad headlamps fall on the tasteful and elegant side of the ostentatiousness spectrum. In profile, you see Genesis followed the heard to a more fast-back style sloped roof, but, critically, kept the lines clean. And the small lip spoiler in back blends in more than it stands out.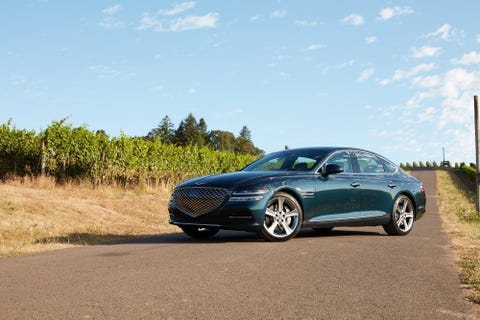 Look carefully back there and you find the trunk release button neatly tucked away just above the rearview camera and finished in silver like the surround trim to avoid drawing any extra attention. Sadly, it's also the same finish the faux tailpipes receive. No, the real exhaust pipes are not crest shaped and more than six inches long.
Regardless of actual diameter, those tailpipes emit exhaust from a turbocharged 2.5-liter inline-four-cylinder, producing a peak 300 horsepower at 5,800 rpm and 311 lb-ft of torque between 1,650 – 4,000 rpm. Many base engines in the premium midsize segment do with less. But if you want more, Genesis also offers a twin-turbocharged, 3.5-liter V6 producing 375 horsepower also at 5,800 rpm and 391 lb-ft of torque between 1,300 – 4,500 rpm.
Both engines use an eight-speed automatic transmission and both can send power to either the rear or all four wheels. In fact, Genesis plans to make 40 percent of G80s all-wheel-drive and also plans to make more of them with the 2.5-liter I4 than the 3.5-liter V6.
Inside, Genesis likes to use the phrase, "beauty of white space." The interior is clean, not cluttered, and elegant, with nice wood, leathers, and ambient light. You get a nice silver rimmed, clear and lit dial to replace your classic PRNDL and an original iPod (remember those?) style push pad with a rotary dial around the perimeter to manage various infotainment features.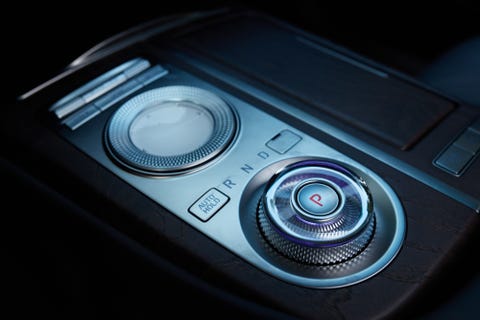 Such features are on display on extra wide screens. The instrument cluster itself is a 12.3-inch screen. And resting on top of the dash in the center is a 14.5-inch screen to observe climate control settings, navigation, and the rest. I must say I liked the detail of a displayed blue sky as background as the temperature and radio appeared on the left hand side, which faded into the NAV screen on the right. Having an ultra wide screen affords you such luxuries.
And yes, that wide screen also displays Android Auto and Apple Car Play as well. You can also wirelessly charge your smartphone while driving, if you're willing to pay a little extra.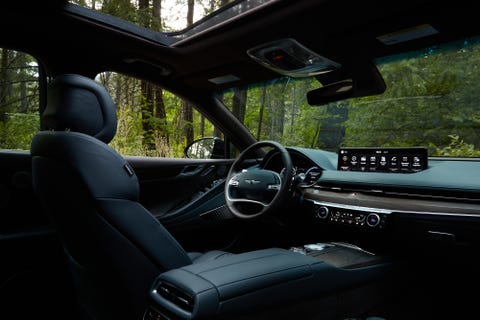 Moving back to the basics, I found the seats soft and comfortable and easy to adjust to a position that suited me. And I stayed warm thanks to standard heated seats. If you spend more, Genesis will add front seat ventilation and massage, as well as rear heated seats. Extra money buys a heated steering wheel, too. Regardless of spending, the wheel offers plenty of buttons to push as well as thick rim to hold to actually turn the car.
On the road, the comfort continues. The G80 proved a very pleasant place to spend time with a cushy ride and a cabin well insulated from noise, vibration, and harshness of the outside world. Some credit goes to standard acoustic glass used for the windshield and front door windows as well as audio systems "active sound design" system work to rid the cabin of unwanted noise. Also, the second row gets a lower seat height when compared to the outgoing model, improving both leg- and headroom. It's not as luxurious as a nicely equipped E-class Mercedes-Benz, but it's also not as expensive. It's also pretty darn close.
And while the sound of the 2.5-liter turbo four isn't as refined as, say, BMW's two-liter, it's also close and the propulsion you get is a pleasant surprise. The 2.5-liter's 300 horsepower and 311 lb-ft of torque proves plenty for brisk getaways from whatever scenario is thrown at it. The eight-speed transmission also generally does a good job choosing the correct gear for the circumstance and otherwise didn't stand out in any kind of negative way. The powertrain is generally quiet, but you can hustle if you want, even out in the country on a twisted two-lane.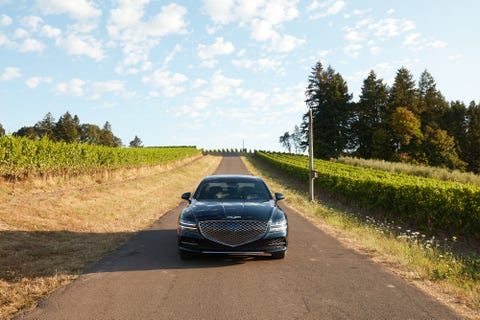 Unfortunately, this is where the chassis cannot quite keep up. Even with the drive mode set to sport, the G80 is under-damped and the body sways side-to-side as you carve through corners. Turn-in is lethargic, too, the G80 simply does not understand the need to rush or break a sweat, as it constantly encourages you to change the radio to café jazz and pour another cup of piping hot herbal tea. It'll be fine.
You'll get there.
And you know what G80? You're right. But you're no sport sedan and you need to be honest with yourself about it. All the body motions were competent and predictable and easy to manage, but they were also excessive. Once I tried sport mode, I stayed there the entire time. Comfort was simply too soft for me. Ironically enough, ultimate grip was surprisingly high from the Michelin Primacy tires. If you force the issue, the G80 carries reasonable speed through a corner, it just isn't much fun while doing it. If that is a high priority, you're much better off in a G70.
The 2021 G80 is a great car and shows how Genesis continues to improve in luxury while stiff offering great value; base price is $48,725. You get your typical helping of driving assistance, but with a novel twist. Adaptive cruise control comes with machine learning, artificial intelligence to learn how the driver drives and "assists" as necessary. But you also get 10 airbags, including one for the driver's knee and another in the center of the front two passengers to protect them from hitting each other.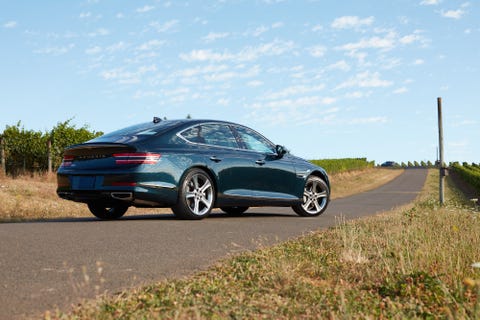 And, from a pure comfort point of view, you can remotely start the Genesis from your phone and adjust climate settings, available via Genesis Connected Services and free for the first three years. After that it costs a subscription fee. The car can also park itself, via Remote Parking Assist. Clearly, the G80's primary purpose is luxury, not sport, making it more a competitor to Lincoln and Lexus rather BMW and Mercedes and Audi.
It looks cool, feels comfortable inside and offers tons of luxury for the money. It's calming. Just don't go too fast, you might spill your herbal tea.
Source: Read Full Article