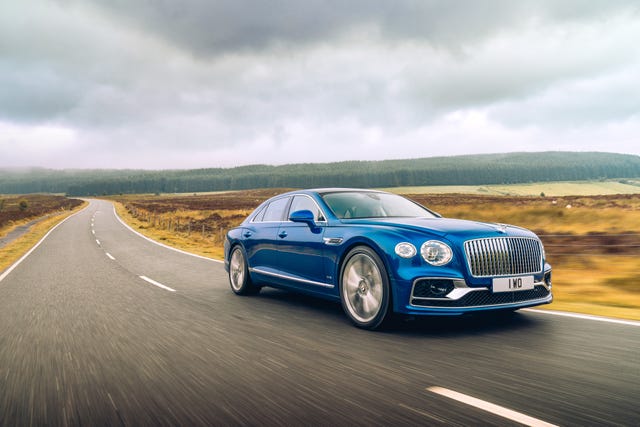 I suppose it's possible that the wealthy might need a sedan, too. Though, obviously, I can only guess. Presumably, it's for those occasions you want to have room for four and a limousine feels a bit much for the moment. If that happens to be the case, Bentley builds and will happily sell you a Flying Spur.
This generation Spur is built from the same Volkswagen platform Porsche used first for the Panamera and Bentley also uses for the two-door variant of this car, the Continental. And while those cars might feel a bit new money to you, the platform is a worthy place to start, especially when considering the last Flying Spur used one originating from the VW Phaeton.
Also like the Phaetons of yore, the Flying Spur gets a W12 engine. That's 12-cylinders in three rows of four. But similarities stop there and choke on the tire smoke as this W12 uses two-turbochargers and a lot of modern tech to make 626 hp and 664 lb-ft of torque.
And that's just the beginning. The Flying Spur is all-wheel-drive and has all-wheel-steering, adjustable air-suspension and adjustable anti-roll bars. The smallest wheels available are 21-inches around, but many owners, I imagine, will just go ahead and put on the 22s. And the tires wrapped around those have noise-cancellation foam near the bead to help keep road noise down. In fact the most mainstream thing about this car is its eight-speed dual-clutch transmission. And it's still quite good.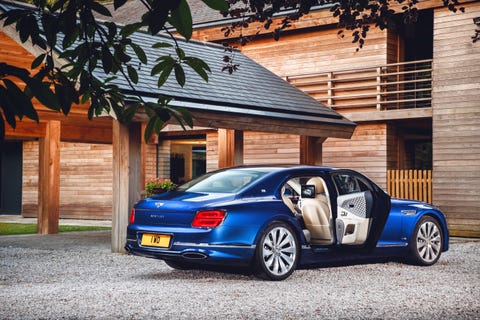 What you have is indeed new money in a way. Old-English tradition, at least mechanically speaking, was certainly shown the door. But the moment you approach the Flying Spur and step inside, you're enveloped in class and refinement and old money charm. Really, this is the love child between old and new money.
And that makes this Flying Spur an ornate den in a stone house that reaches 60 mph from rest in 3.7 seconds; a museum of leather and mahogany able to hit and easily sustains 207 mph because it is governed to that speed. Maybe the wealthy get a sedan like this because limousines simply aren't fast enough.
The irony is you don't have to move at all to enjoy it. To start, the Flying Spur bathes you in ambient light as you enter. "Bentley" lights up in blue on the sill and then the Flying B logo illuminates from a light hidden underneath the bottom of the door panel. Those are soft touch close doors, of course. It's also interesting that the rear seats get a much brighter light than the fronts, almost as if to say, the real luxury is back here.
Of course, the interior is phenomenal. You're surrounded in rich leather, beautiful stitching, and high quality metal buttons and switches. This example being a First Edition model, adding $44,735 to the total, includes "First Edition" badging both inside and out. First Editions come with the Mulliner Driving Specification, which, among other things, adds a uniquely designed 22-inch wheel.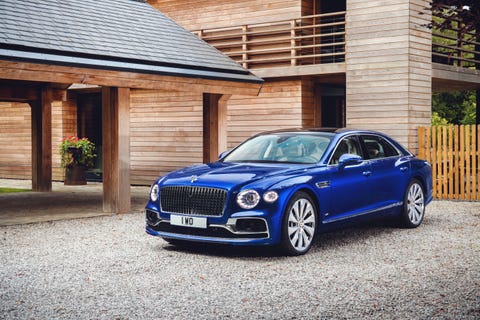 In back, you rest your head on pillow-cushion style headrests, lovely and soothing, as are the heated and cooled, seemingly infinitley adjustable, massaging seats. From there, you have access to a removable center control unit, held in place by magnets. At the push of a button the mount extends from its center console base and you remove it with no trouble.
From this remote control, of sorts, you have access to several features like seat comfort, climate control and audio choice. Interestingly enough, though, you can mute the music, but cannot change the volume, that's up to the driver. But you can conceal or reveal the Flying B hood ornament, which is just good clean fun. Don't want to deal with the screen? Seat adjustments and massage controls are on the door.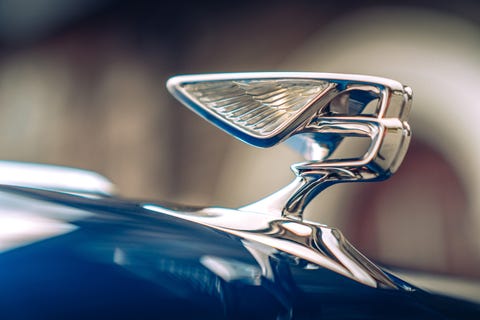 In summary, it's fantastic in back, quiet and tranquil. A place to meditate, whisk away the hours, and find Zen. Seriously, it feels less like a car's back seat and more like a small, warm, massage-therapy room. The only thing missing is a lit candle and incense.
Alas, most places of solitude include far fewer than 12-cylinders. That meant hopping in front and listening to the whirr as a dozen cylinders feel the reaction of fuel and air seeing a spark. It's a refined sound, more so than even the best in-line six out there. And then there's an unexpected vigor when this particular W configured engine fires. It's a little racy. It's subtle, but it's there.
Driving is, too. Which is weird. Obviously this thing is huge and heavy. And you feel the massive weight you're moving around while driving. At the same time all the controls work with precision and body control is very well behaved. It's not agile, but a lot closer to agile than your mind is prepared to give a nearly 19-foot long sedan credit for. Of course, specifics depend on the driving mode.
Comfort mode is exceedingly so, almost squishy, cloud like you could say. But that also means the car is under damped over bigger bumps and you get a couple extra bobs from the nose before it settles down. Bentley mode sorts that out. It's the middle ground between comfort and sport, also the default setting upon start-up.
Sport mode firms things up another step and allows the Flying Spur to use its adjustable air springs, anti-roll bars, and steering to start approaching agile, considering its size. That combined with confident feeling brakes and the ability to corner at sport sedan speeds is enough to surprise hot-hatch owners trying to lose you on the road.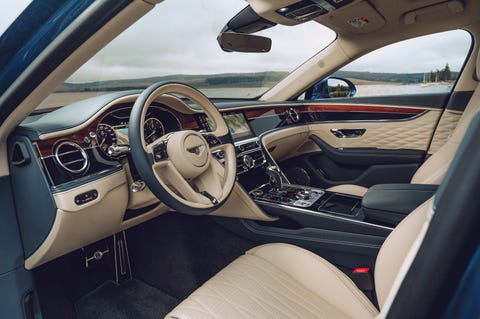 And it's not just body control, but also a good sense of driver control from the well weighted and precise steering. Furthermore, you get good and predictable reactions to your inputs. And then there's that barnburner motor. Not just abundant but linear acceleration from that freight-train-pulling-capable W12. Pull is effortless and endless. Ungoverned, this more than two and a half ton rocket can run close to 225 mph. Now that's power.
What's most surprising about it all is driving dynamics being a distant second to comfort. This is transportation for the wealthy, after all. And a big part of rolling comfort is quiet. Even when running down the interstate, cabin-noise isolation is impressive. Wind noise is muted on and road noise stays quiet, even on rough aggregate concrete roads, better than any car I've tested. That's in addition to exquisite seats for the driver and passenger, though it's even better in back.
The one caveat to all of it is the dual-clutch gearbox. On occasion, the DCT gets a little confused and forces in gear changes that snap in place and cause awkward surges in acceleration. Even in comfort mode, there are lurching moments. It belies the Flying Spur's otherwise immanently stress-free operation. For a car so thoroughly saturated in luxury, a torque converter makes sense here.
Then again, the DCT was as smooth as any transmission I've felt when the Bentley just sat idling in the driveway, offering up unlimited quantities of opulence on a silver platter to me in the back. And, really, with a nearly $220,000 base price, it's more fitting as a grand addition to your house than a car anyway. And, in that way, it's good value, because you can take this addition with you.
Specifications
2020 Bentley Flying Spur
2020 Bentley Flying Spur
On Sale:
now
Base Price:
$219,425
Price as Tested:
$279,770
Powertrain:
twin-turbocharged 6.0-liter W12 dual-clutch transmission, AWD
Output:
626 hp at 6,000 rpm, 664 lb-ft of torque between 1,350 – 4,500 rpm
Wheelbase:
125.8 inches
Length/Width/Height:
209.3/77.9/58.4 inches
Curb Weight:
5,373 lbs
Fuel Economy:
12/19/15 mpg (city/highway/combined)
Pros:
Exquisite interior, library quiet, freight train thrust.
Cons:
What is so wrong about a torque converter, anyway?
Source: Read Full Article