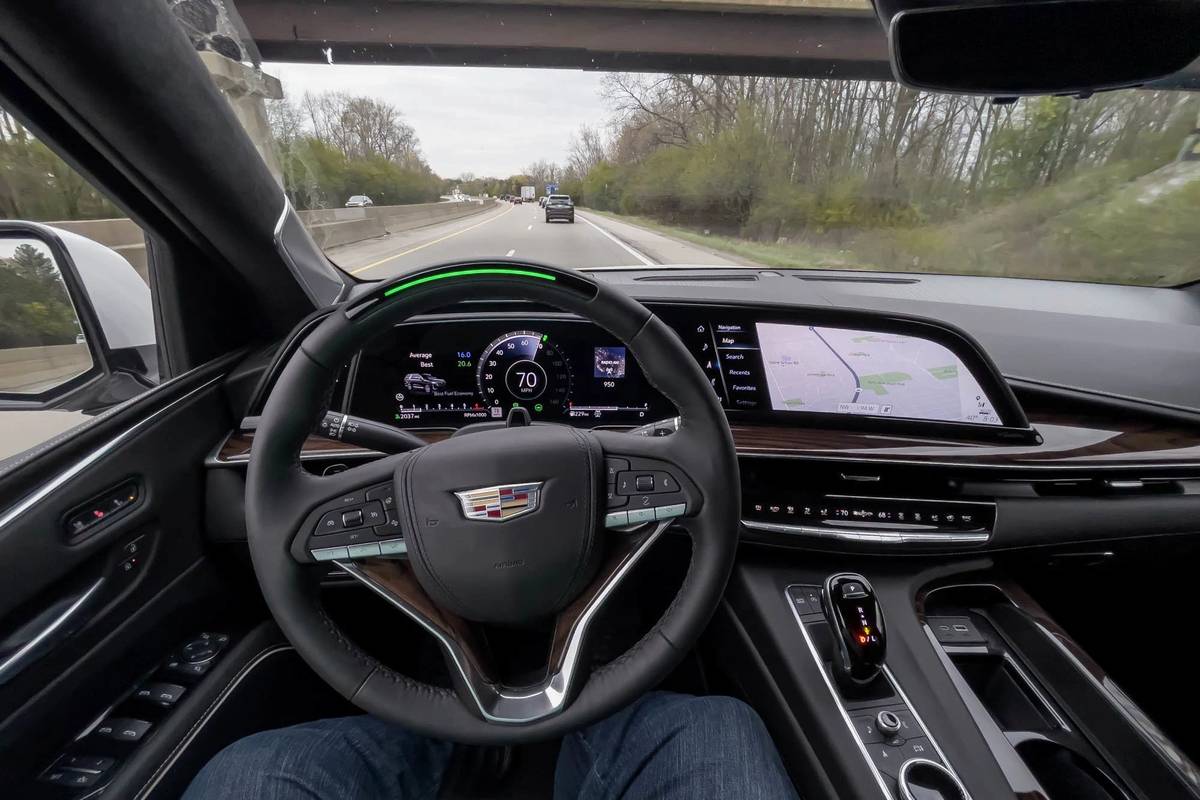 There's something both marvelous and terrifying about taking your hands off the steering wheel when you're barreling down a busy highway at 70 mph. It goes against every fiber of one's being to just let a car steer itself at such speeds after having been taught for decades that you must maintain absolute control, meticulous attention and be ready to react at a moment's notice to keep yourself and your passengers safe. That's why Cadillac's latest and greatest Super Cruise semi-autonomous hands-free driving system, tested in a sparkling white 2021 Escalade Sport Platinum SUV, will likely take some getting used to.
Related: Cadillac's Super Cruise Adds Automated Lane Change, New Vehicles for 2021
What Is Super Cruise?
GM introduced the system to Cadillac a couple of years ago on the CT6 sedan, a system that combines intricately detailed electronic maps of select American highways with onboard vehicle sensors, GPS receivers, cameras and servos to steer, brake and accelerate without drivers needing to keep their hands on the wheel. Infrared sensors continually monitor the driver to make sure they're paying attention to the road and surroundings — so there's no nodding off while the system is activated, no reading a book and no taking your eyes off the road for more than a few seconds. If you do, it'll yell at you, and if you still don't pay attention, it'll shut itself off and bring the car to a halt assuming that something's happened to you.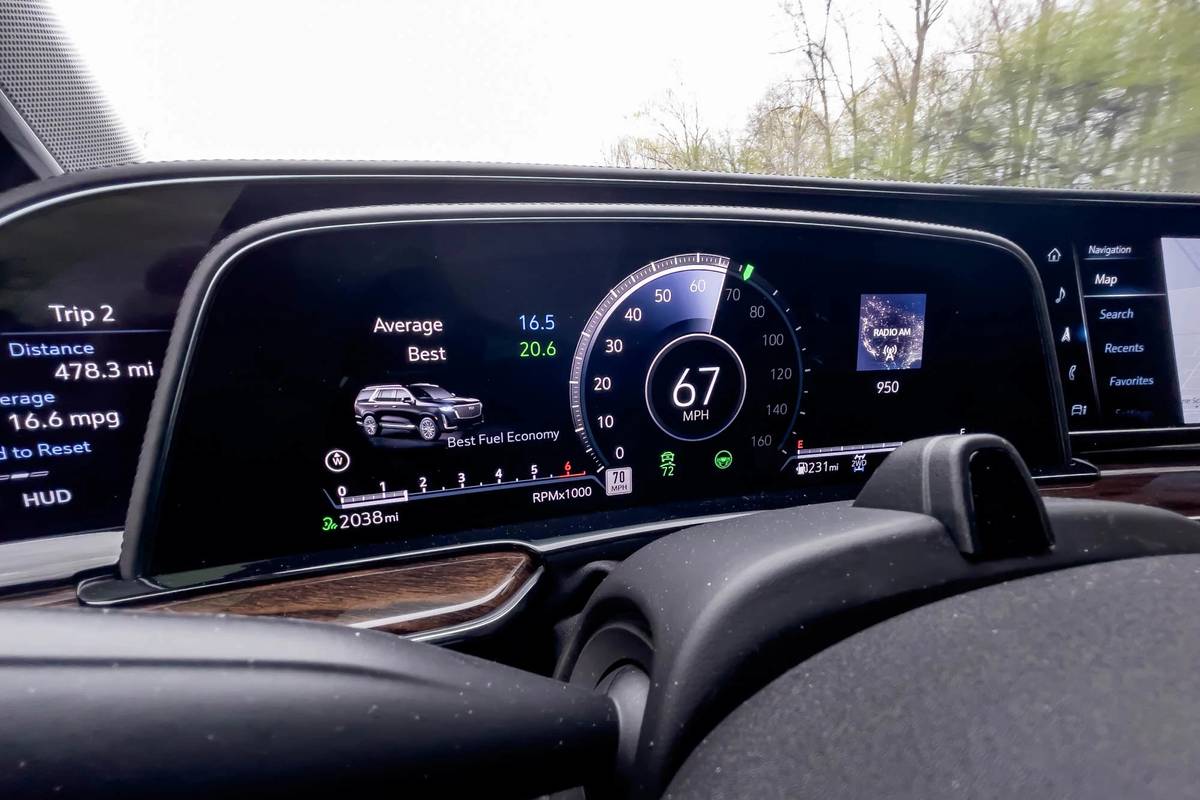 For 2021, GM updated Super Cruise and put it in the redesigned Escalade SUV adding hands-free lane-changing to its list of features. That means if you're tootling down the highway and come upon some slower traffic in your lane, you can change lanes and accelerate around the slower vehicle by simply pressing the turn signal lever. Enhanced Super Cruise will use the Escalade's sensors to make sure that the lane is clear (and that nothing is coming up on you quickly), move the vehicle over to the lane and then recenter it at the speed you had originally set. Mercedes-Benz was first to market with a system like this, but unlike the Cadillac system, it required you to have a hand on the wheel to prove you were still present and engaged.
What Does Super Cruise Not Do?
 This needs to be said as loudly and as many times as necessary to get the point across to the world: There is no such thing as a self-driving car. No system, anywhere, from any automaker (including Tesla with its questionably branded "Autopilot" system) has achieved full autonomy, meaning a car that doesn't require constant monitoring by a driver. As such, Cadillac Super Cruise only works under very specific conditions, the foremost being "only on roads of which the system has very detailed maps." This is a significant portion of American major interstate highways, but side roads, boulevards, backroads? No, sir. It's meant to be a highway cruising tool, not something that will drive you around the neighborhood. As such, it also does not work in construction zones, and there are occasional gaps in the coverage as well. But for most long road trips that involve a significant portion of highway driving, it has you covered.
How Well Does It Work?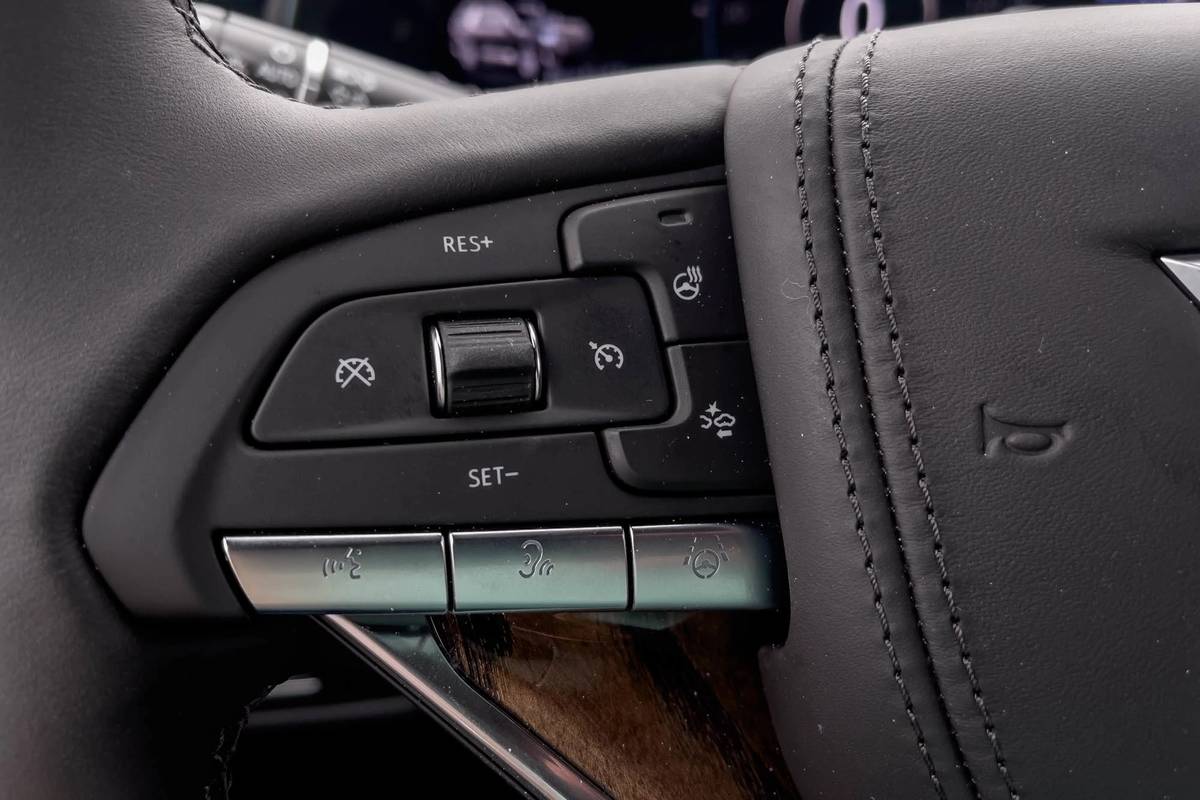 Astonishingly well. Super Cruise can engage with the push of one button on the steering wheel if the Escalade is on a compatible highway. It will let you know because the upper rim of the steering wheel will light up with green LEDs, and if it's not engaged but it's trying to, it'll light up blue. And if it can't engage for whatever reason, it will light up in red and instruct you to use cruise control instead.
Once Super Cruise is on and you're cruising along … well, that's it. That's all there is to it. Sit back, put your hands in your lap, listen to a podcast, chat with passengers, but pay attention. There's no gazing at your phone, no resting your eyes, no reading a book, no looking away from what's happening in front of you. The system can actually shut off or ask you to take over if it gets into a situation it doesn't like or enters an area that isn't covered by the system's maps. It will also disengage if someone in front of you does something boneheaded and unexpected. The vast majority of the time, the system performed flawlessly for me, cruising along at the speed I'd set. Super Cruise slowed when approaching slower traffic, accelerated when it cleared and even steered itself through tight, fast highway sweepers. It even works on interchanges between highways, but I recommend you adjust speed considerably if you plan on doing that.
I set the system at the start of Interstate 94 West in Port Huron, Mich., and didn't need to touch the steering wheel until we left the interstate system in Canton, Mich., 80 miles away on the other side of suburban Detroit. Super Cruise piloted my Escalade for over an hour with minimal intervention from me. I instructed it to change lanes when necessary, adjusted its speed on sweeping off-ramps and kept my attention on the other drivers. As the miles rolled on, I found myself more at ease with the system and how it was behaving. It's remarkably drama free once you come to grips with the idea that this 3-ton luxury barge is charging down the highway at 70 mph with no input from you.
Cadillac Super Cruise Pricing
Super Cruise is a $2,500 option on the Escalade Sport Platinum test vehicle I sampled, which might seem like a considerable sum, but it's a drop in the bucket on that SUV's $113,065 overall sticker price (including destination). On a long road trip it would be an interesting driving aide.  I won't necessarily call it something that eases stress or allows you to relax, as you're still sort of driving the vehicle without actually driving it. I found myself second-guessing what other drivers were about to do, and I still wasn't entirely comfortable with how the Escalade was being driven — it eased into a bend later than I would have and was just a little too close to that semi in the lane over than I think it should have been. All in all, however, it's a remarkable achievement and the next logical step on the path toward fully autonomous vehicles sometime this decade.
Related Video: 2021 Cadillac Escalade: Review
More From Cars.com:
Cadillac Super Cruise Expansion Means 200,000 Miles of Hands-Free Driving
How Cadillac's Super Cruise System Works
Look, Ma, No Hands! Cadillac's Hands-Free Super Cruise Tested
A Cadillac CT6 Drove Us to the Airport … Well, Most of the Way
2021 Cadillac Escalade Takes the Curves With Massive New Multimedia Screen
Cars.com's Editorial department is your source for automotive news and reviews. In line with Cars.com's long-standing ethics policy, editors and reviewers don't accept gifts or free trips from automakers. The Editorial department is independent of Cars.com's advertising, sales and sponsored content departments.
Source: Read Full Article