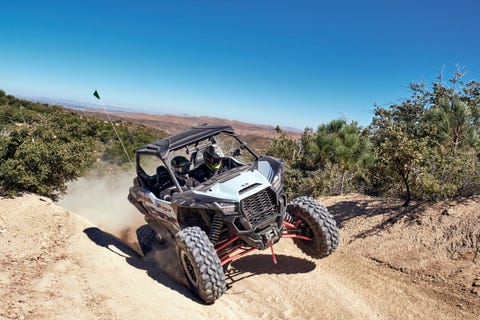 The side-by-side phenomenon probably started when two guys who worked in maintenance at some golf course decided to race. Golf course maintenance guys, ranch hands, landscapers, all got access to the first miniaturized flatbed micro-haulers that would blossom into what we now see as performance side-by-sides.
Let us turn back the off-road tires of time.
In the beginning, Polaris built the Ranger and Kawasaki the Mule. Both were released in 1988 to make yard work easier for cowboys. M-U-L-E was actually an acronym that stood for Multi-Use Light Equipment, words which could mean anything but which aptly described Kawasaki's versatile little sputtering pickuplet. The Ranger, meanwhile, sported six-wheel drive, which promised as much fun as a Tyrrell P34 car of Formula-1 fame, except off-road. Both were instantly popular among farmers, gardeners, foresters, nursery managers, surveyors and all kinds of people who had to carry things and get places, often in the dirt but usually not very fast.
The class of vehicle in which these contraptions evolved was called the Utility Terrain Vehicle or UTV. They were different from All Terrain Vehicles, or ATVs, in that you sat in a UTV, while you sat on an ATV. The UTV also allowed you to haul tools, bags of fertilizer and the occasional large item of roadkill. You could squeeze through much smaller spaces in a UTV than you could in a Jeep, too, and you could get over almost as much rugged terrain. Of course, you can't take a UTV on a public roadway, at least not legally.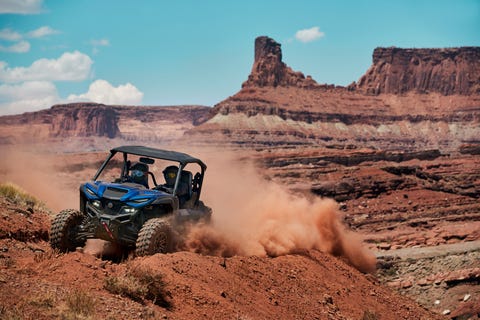 At some point, let's say it was 2004 with the introduction of the Yamaha Rhino, or 2006's Arctic Cat, or maybe the Polaris RZR in 2007, or maybe even the Honda Big Red in 2008, anyway at some point these things went from existing for a single, working purpose to being made for pure fun and recreation.
"Side-by-sides evolved from ATVs, they were more approachable because they had steering wheels and pedals (instead of handlebars and pegs)," said Honda Powersport's Ben Hoang. "They added utility and versatility with cargo or dump beds. The capability increased with larger wheels/tires, longer wheelbases and increased ground clearance. Safety was a big factor and these offer occupant protection structures (what non-lawyers would call roll cages, Ed.), seatbelts, door nets and interior grab handles. There is more of a social aspect, too, with side-by-side seating and additional passenger comfort features. That all gets us where we are today with a broad range of work and play machines with everything in between."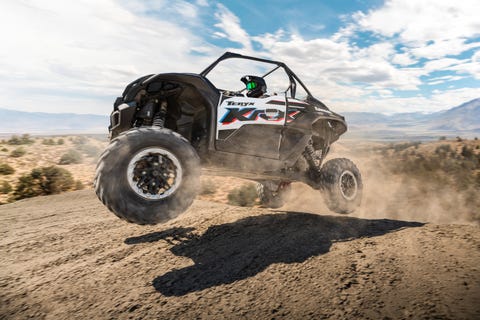 So when Kawasaki called and offered a day's off-roading in its new Teryx KRX 1000, I said "Sure!"
The Teryx KXR 1000 is the sport version of a side-by-side, or SxS, from Kawasaki. There is also the plain old Teryx, a $13,999 two-seater with an abbreviated truck bed on the back, and the $15,999 Teryx4 which, obviously, seats four. The utilitarian Mule still sits in the lineup, too, starting as low as $6,799.
"This is our first true venture in the sport side-by-side segment," said Ken Essex, Kawasaki SxS brand experience manager. "We've had recreational side-by-sides for a while. This is our true sport-oriented machine."
Kawasaki introduced the model last year and I would be driving the new Trail Edition, which is being introduced this year. It's powered by a 999-cc four-stroke dohc parallel twin mounted behind its two passenger seats. Kawasaki doesn't list horsepower but it does list – very specifically – the amount of torque, which is 76.7 lb ft at 7000 rpm. [It means we know that it makes 102 horsepower at 7,000 rpm, at least – ED]
That engine's mated to a CVT with a centrifugal clutch. The final drive is a selectable 2WD/4WD. It rides on double wishbones in front and a four-link trailing arm in back with fully adjustable Fox Podium LSC shocks all around. Tires are meaty Maxxis Carnivore 31×10. Steering is electric power-assist while disc brakes slow it down. Curb weight is 1896.3 pounds. Suspension travel is 18.6 inches in front and 21.1 rear.
So… it's a mid-engine super car!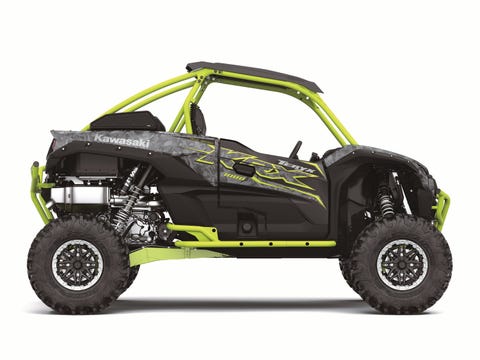 My Trail Edition was $22,999, which added front and rear bumpers, nerf bars, a Warn winch and special graphics. You can also get the Special Edition that comes with "high-grade" Hifonics audio, including Bluetooth/AM/FM as well as the Warn VRX 45 Winch and cool graphics package. It's almost like a luxury SUV in there.
I climbed in, adjusted the adjustable seat, noticed my rig did not have the optional rearview mirror or windshield, but it did have the audio system.
We took off from Pinnacles OHV Staging Area onto the Willow Creek Jeep Trail toward Lake Arrowhead in Southern California's San Gabriel mountains. Immediately I found out that, as with so many things in life, unless you're the lead vehicle, you're eating dust. I wasn't the lead vehicle. You want to wear a helmet in these things, they are usually required, and you might want to figure out some sort of Parker Pumper to filter out the dust, or at least wear a really good dust mask. Also, wear goggles, mere sunglasses don't protect you. Ask me how I know.
I was really impressed with the ride quality. All that wheel travel, combined with the remote-reservoir Fox Shocks just soaks up the bumps. This is not like the dune buggy you made in high school. This suspension is pretty sophisticated. The short 98.8-inch wheelbase meant there was some pitching motion, but it doesn't wear you out.
After a while we approached a meaty rock crawling section of trail. We were near Deep Creek, a spot I hadn't been to in years. Last time I was there it was just a dirt road. With increasing usage in recent years, it has been eaten away to expose huge boulders up which you must crawl. No problem for the Teryx, just twist the locking front differential switch and you are invincible. On long downhill crawls you get engine braking, a feature not available on all SxSs. Really, this is impressive.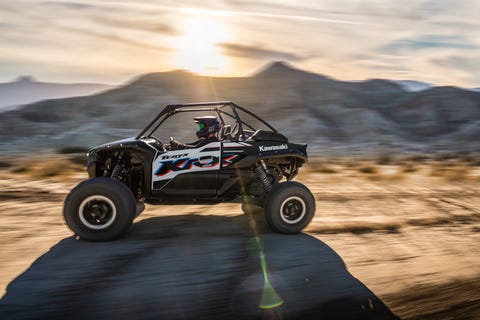 Since it was a hot day with direct blazing sun, I also appreciated the Teryx's roof. Just one more thing to check on the options list.
I have ridden more than a few adventure motorcycles and dirt bikes on terrain like this and I can really see the benefits of doing it in one of these. It doesn't take anywhere near as much skill, balance or concentration to negotiate the rocks in a SxS as it does on a dirt bike. Additionally, you don't have to constantly balance front and rear brakes correctly and make sure the transmission is in the right gear. In a SxS with an automatic transmission you can just sit there and enjoy the day. Maybe I'm getting old, but so is most of the population. They're getting old or they are buying a four-seater and bringing the whole family with them.
"The segment is gradually moving towards four-seaters and more families," said Polaris president Steve Menneto.
"There are definitely more four-seaters, which makes it a more social experience, and it's now more car-like with a greater number of comfort and convenience features," said Honda Powersport's Ben Hoang.
The total SxS market is somewhere between 400,000 and 450,000 units sold a year in North America. It hasn't surpassed motorcycle sales yet, but it is trending in that direction. As it does, expect to see more and more comfortable SxSs in the market, an evolution that could be seen as paralleling the SUV segment a couple decades ago, when those beasts went from metal dashboards, vinyl seats and zero sound insulation to equaling the best luxury sedans.
"Customers want more 'car-like' features like navigation and sound systems," said a statement from Kawasaki's Corporate Strategic Planning Team. "The most expensive models are growing at the fastest rate. Customers are continually seeking more performance – HP and top speed- better-handling chassis and suspensions, more creature comforts and ergonomics, and more conveniences like Bluetooth connectivity and electronic features."
But mostly they just want to be together and have fun. As Honda's Hoang said, "The core value is definitely outdoor family fun."
No no no. The story isn't over. You must share your thoughts on side-by-sides because you know you have them—and they're brilliant. Sign up and leave comments below.
Source: Read Full Article