Peugeot's SUV range will benefit from a new hybrid system that is making its debut in a Stellantis product, with better economy and performance promised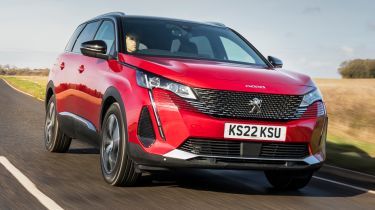 Peugeot's plan to become a pure-electric car maker in Europe by 2030 will take a big step next year as each of its models will have gained an electrified variant. The Peugeot 3008 and Peugeot 5008 will get new mild hybrid powertrains – the first time we've seen electric power come to the range-topping 5008.
The hybrid system itself consists of a 134bhp PureTech petrol engine, mated to a dual-clutch gearbox. A 48V battery is on hand and is recharged while driving. Peugeot says it allows for extra torque at low revs and a 15 per cent improvement in fuel consumption. There's also the possibility for zero-emission driving for short distances at low speeds.
Top 10 best large SUVs on sale 2022
Peugeot hasn't said how the new hybrid system will affect pricing, but on the 3008 we can expect the mild-hybrid to sit below the plug-in hybrid versions. On the 5008 there's no plug-in option so we expect the mild-hybrid offerings to be the most expensive versions of Peugeot's large SUV. Peugeot says the new 3008 and 5008 powertrain options will be available from the start of 2023.
The new hybrid units swiftly follow a revamp of the 3008 and 5008 trim level structure. Available to order now, the basic Active Premium 3008 and 5008 are now called Active Premium+ and both models get the 'Aluminium Pack' with aluminium front door sills and pedals, 18-inch 'Detroit' Storm Grey diamond-cut alloy wheels (for the 3008 models only) and aluminium roof rails. The rear window and rear side windows are now tinted. The Active Premium+ 3008 starts from £31,035 with the 5008 starting from £33,500.
As for the Allure Premium+ models, they both receive the 'Aluminium Pack' and the roof is now changed to a contrasting 'Black Diamond' finish. The Allure Premium+ 3008 costs from £33,335 and the 5008 in the same trim level starts at £35,900.
Looking for a small SUV on a budget? Check out our list of the best used small SUVs to buy now…
Source: Read Full Article