The new Bugatti Bolide weighs 1,240kg and can sprint from 0 to 311mph in just 20 seconds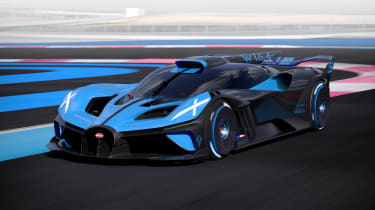 Have you ever wondered how fast a Bugatti Chiron could really go if its quad-turbo W16 engine wasn't forced to pull along a car that weighed as much as fully-loaded BMW 5 Series? Well, the brand has just answered that question with the reveal of the Bugatti Bolide, an 1,825bhp track-only supercar it claims can lap Le Mans faster than a 24hr racer, and accelerate from 0-311mph in just 20 seconds.
Bolide is French for racing car, and this machine is definitely not designed for road use. It uses elements of the Chiron, including its W16 engine, but freed from the need to make it road-legal, Bugatti was able to make radical changes to the power and weight, making those crazy performance feats possible.
SSC Tuatara claims title of world's fastest production car with 331mph run
The Chiron-derived 8.0-litre W16 gets four new turbochargers and swaps water-to-air intercooling for air-to-air intercooling to keep intake temperatures down and ensure power stays high under track conditions. Power climbs from the 1,479bhp of the standard Chiron and 1,578bhp of the record-setting Super Sport 300 to a massive 1,825bhp, backed up by 1,850Nm of torque.
Even by Bugatti's standard the performance figures are outrageous. From a standstill the Bolide will reach 0-62mph in 2.17 seconds, 0-124mph in 4.36 seconds, 0-186mph in 7.37 seconds, 0-249mph in 12.08 seconds and 311mph in only 20.16sec.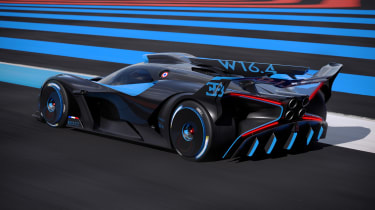 It can even get from 0-311mph and back to a stop in only 33.62 seconds, by which time an average supermini hasn't even hit three figures.
But the monster W16 can't claim all the credit for those numbers. A roughly 30 per cent reduction in overall weight versus a Chiron is every bit as important.
By creating a new lightweight carbon chassis, and using aerospace grade titanium alloy everywhere from the simplest screws and fastenings to the rear wing struts, Bugatti's engineers managed to get the Bolide down a dry weight of 1,240kg, which means an approximate kerb weight of 1,340kg, compared to 1,995kg for a Chiron.
Those rear wing struts weigh just 600g, despite being able to resist huge downwards pressures created by the spoiler above. In total the Bolide creates 800kg of downforce at 200mph at the front, and a massive 1,800kg at the rear – that's like having a Mercedes E-Class sitting over the rear bumper.
The Bolide's bodywork even changes shape according to speed. At high speeds the surface of the normally smooth roof scoop bulges out with a series of bubbles, reducing the drag caused by the scoop by 10 per cent, cutting lift by 17 per cent and optimising airflow onto the rear wing.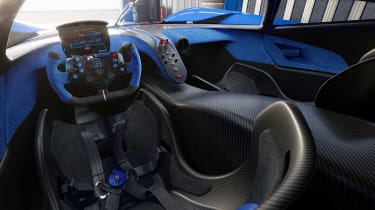 The cabin of the Bolide looks almost as race-ready as the exterior, though the lashings of Alcantara give it a traditional Bugatti luxury twist. A huge carbon tunnel separates a pair of carbon bucket seats while the driver gets a top-less steering wheel and a view framed by huge peaked wings.
Bugatti boss Stephan Winkelmann says 'driving the Bolide is like riding on a cannonball.' But cannonballs don't do corners and the Bolide definitely does, according to Bugatti's simulated lap times.
It claims the Bolide could lap the Le Mans 24hr circuit in 3:07.1, a full 7 seconds faster than the current lap record of 3:14.791 set by Toyota's TS050 hybrid. Bugatti also says the Bolide could lap the Nürburgring Nordschleife in 5:23.1, not quite enough to beat the 5:19.55 set by Porsche's 919 Evo racer, but a solid 80 seconds faster than the quickest production road car, the Lamborghini Aventador SVJ.
Bugatti claims the Bolide meets FIA safety requirements but it's not clear where it would be eligible to race. There's also no official confirmation that the car will even be built. But Bugatti isn't rich enough to afford to make one-off cars on a whim. Every project has to count towards the bottom line and you can guarantee there are enough wealthy Bugatti fans whole like the idea of the ultimate track day weapon to make the Bolide a reality. If that's you, don't expect much change from £15m.
What do you make of the Bugatti Bolide? Let us know in the comments section below…
Source: Read Full Article