Is the driver-focused Porsche Taycan GTS the best model in EV range? We find out…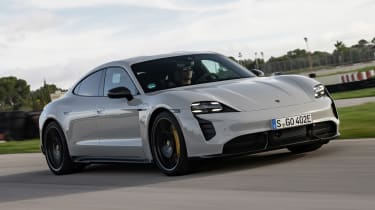 4.5 out of 5
Buy used for less at Buyacar
Verdict
In adding the new GTS model to the Taycan line-up Porsche has created its best-driving EV. As you'd expect, the performance is superb, but it's how the Taycan GTS rides, handles and steers that makes it such a lovely car to drive. With genuinely usable range, advanced charging, strong practicality and some great tech, it's no surprise the Taycan is one of Porsche's best-selling models.
It's the Porsche way to roll out a GTS model a few years into a car's life, and it often turns out to be the one to have, due to the variant's focus on driving dynamics with concessions to luxury and everyday usability. And so it is with the new Taycan GTS.
The GTS slots in between the Taycan 4S and the Taycan Turbo and uses the 93.4kWh Performance Battery Plus, which here offers a claimed range of up to 313 miles. As in the rest of the Taycan line-up, 270kW DC rapid charging means a five to 80 per cent charge takes 22 and a half minutes.
Best electric cars to buy 2021

The dual-motor set-up for the GTS serves up 590bhp on overboost and 850Nm of torque for a 3.7-second 0-62mph time. In a car weighing 2,370kg, that is impressive.

Given that high kerbweight, it's also incredibly impressive how agile the new variant is. The suspension obviously has a sportier set-up than in some other versions of Porsche's EV, with a bespoke tune for its air suspension, which features Porsche Adaptive Suspension Management.

More reviews

Car group tests

Audi e-tron GT vs Porsche Taycan 4S

In-depth reviews

Road tests

New Porsche Taycan 4S Cross Turismo 2021 review
New Porsche Taycan RWD 2021 review
New Porsche Taycan Cross Turismo 2021 review
New Porsche Taycan 4S 2021 review
New Porsche Taycan 2020 review
New Porsche Taycan Turbo S 2019 review

Porsche claims the new set-up has been developed to "benefit lateral dynamics", but with the car set in its Normal setting it still offers the long-distance, comfortable GT car feel that characterises all Taycans.

It's effortless, possesses an enormous surfeit of power on demand, and whisks its occupants along in serene silence. Then again, there are a number of high-end EVs that can also manage those feats, and it isn't what makes the Taycan GTS stand out from the rest. Rather, it's what happens when you start to adjust the drive modes.

If the road surface is smooth enough, you can simply toggle Sport Plus – the sportiest mode available – when the body lowers on its suspension and all the systems are set to maximum performance. There's more noise, too – fake noise, yes, but unlike other Taycans the GTS has a more obvious "voice".

It's still not trying to sound like an ICE car, but there's more of an automotive bent to the spaceship whine that comes into the cabin – and it's louder, too. Somehow, the presence of a definable noise gets the driver more in the mood for using the performance, and it's rapidly clear that although the GTS doesn't have quite the ultimate kick of the Turbo and Turbo S models, it's still phenomenally quick when you fully depress the accelerator pedal.

But there's subtlety too in the way it delivers its performance: a progressive feel to the way the power is delivered that encourages you to be more sensitive with your right foot, an accuracy and natural weighting to the steering – more than in other Taycans even – that are so redolent of the firm's traditionally powered sports cars, and a sense of fun to the chassis that makes you really want to drive the car.

You can adjust your line mid-corner with more or less power, and despite being such a big, heavy car, the Taycan GTS never feels inert on the road. It's agile, like a Porsche sports saloon should be. It's a brilliant driver-focused EV that proves the electric future holds plenty of promise.

| | |
| --- | --- |
| Model: | Porsche Taycan GTS |
| Price: | £104,190 |
| Batt./motor: | 93.4kWh/2x e-motor |
| Power/torque: | 590bhp/850Nm |
| Transmission: | Two-speed automatic, four-wheel drive  |
| 0-62mph: | 3.7 seconds |
| Top speed: | 155mph |
| Range: | 313 miles |
| Charging: | 270kW (5-80% 22.5mins) |
| On sale: | Now |

Next Steps

Source: Read Full Article