The new Defender Challenge is the first Bowler under JLR ownership, and it's a cracker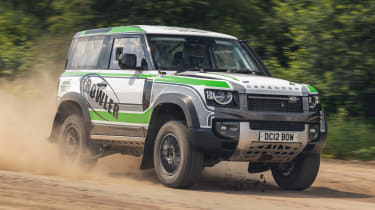 4.5 out of 5
Buy used for less at Buyacar
Verdict
Bowler has applied the knowledge its engineering team has gained through years of experience to create something quite brilliant and surprisingly approachable given how serious the Defender Challenge car looks, even if the character from a V8 would crown the package. However, the beauty of Bowler's experience and its new relationship with Land Rover shouldn't be underestimated. We can't wait to see what comes from this partnership in the future as both brands go from strength to strength.
Not all that long ago, Bowler – long-time builder of rally special Land Rovers – was bought by Jaguar Land Rover, and this is the first fruits of the collaboration between the two brands under the new relationship. It's called the Bowler Defender Challenge and it's excellent.
It's designed to give both novice and experienced competition drivers a thrill, as for the £99,500 this all-new Defender off-road competition vehicle costs, you also get entry into Bowler's one-make Defender Challenge series, with a calendar consisting of seven UK-based rounds. Driver tuition and vehicle support is also available.
Rally-prepped Bowler Defender Challenge car unveiled

The car is the star though. It's based on a new Land Rover Defender 90 fitted with the brand's 296bhp P300 2.0-litre turbocharged four-cylinder engine. It doesn't sound like all that much power, especially given that the Defender with modifications weighs around two tonnes, but it's still enough to exploit what Bowler has done to the package.

More reviews

In-depth reviews

Land Rover Defender Hard Top review
Land Rover Defender review

Road tests

New Land Rover Defender V8 2021 review
New Land Rover Defender P400e PHEV 2021 review
New Land Rover Defender 90 D250 2021 review
New Land Rover Defender 90 P400 2020 review
New Land Rover Defender 90 P300 2020 review

Much of the car uses standard components, including the engine and eight-speed transmission, which are completely unchanged, while the suspension arms are also standard. This helps keep cost down.

However, the brand has spent money where it counts, with a new cooling set-up, some new cosmetic components at the front and rear (which could be sold as aftermarket accessories to road-going Defender owners in the fullness of time), reinforced subframes and bespoke Fox suspension dampers valved to Bowler's specifications, which give superb damping capability off-road.

It rides rough terrain so well, soaking up huge inputs with minimal fuss, keeping the tyres in contact with the surface so the engine and transmission can relay maximum drive more of the time.

It's the suspension that really makes the package, hung from a super stiff monocoque platform compared with the previous Defender Challenge car based on the old iconic model, which utilised a separate chassis and body. It's also reinforced by an FIA-approved roll cage to help strengthen the body. Over lumps, bumps and jumps the Bowler stays resolutely composed, with a silky, cushioned landing as the big machine falls back to earth following its take off.

The steering is relatively quick and feels surprisingly direct, even on off-road tyres and a loose surface. The chassis inspires massive confidence regardless of grip levels and driver experience, pushing you to make the most of the P300 engine.

In a standard Defender 90 P300 0-60mph takes 6.7 seconds. It'll likely be longer off-road, but thanks to 400Nm of torque available from low down in the rev range it offers plenty of flexibility in tight turns and good grunt to pull the raised-up machine's bulk out of ruts.

Thanks to Bowler's own sports exhaust system it even sounds fruitier, with a deeper rumble that morphs into a rasp higher up in the rev range. Yes, a straight-six or V8 petrol would be nice, but they'd no doubt be heavier, harder to master and more expensive to buy and run – the latter is a serious consideration for a competition car and has been a big consideration with this project.

A 25mm higher ride height to accommodate light 18-inch alloys and big off-road tyres, and 6mm thick aluminium underbody protection means it offers plenty of rugged durability. It feels rugged from inside too. The interior is stripped out, with two big bucket seats featuring six-point harnesses put back in. Bowler has ditched the Defender's cross car beam and repositioned the climate control panel and gear selector to help ergonomics and improve the ease of use in manual mode when competing.

There's also a 3D-printed paddle shifter on the right-hand side of the steering column to more easily flick up and down the box, allowing drivers to always keep at least one hand on the wheel.

The standard brakes are easily up to the task as well, offering good power and decent feel. In fact, after a handful of laps of Land Rover's Fen End off-road test track it's clear that Bowler has developed areas of the Defender that were necessary to upgrade it to the level of performance required for rallying but retained standard parts where there was no need to improve them – even the air-conditioning has been retained to keep drivers and navigator cool in the heat of battle.

| | |
| --- | --- |
| Model: | Bowler Defender Challenge |
| Price:  | £99,500 (incl. championship entry) |
| Engine:  | 2.0-litre 4cyl turbo petrol |
| Power/torque:  | 296bhp/400Nm |
| Transmission:  | Eight-speed automatic, four-wheel drive |
| 0-60mph:  | 6.7 seconds (on-road) |
| Top speed:  | 119mph |
| Economy/CO2:  | N/A |
| On sale:  | Now |

Next Steps

Source: Read Full Article