Upcoming luxury BMW X8 behemoth has been spotted during the initial phases of its development programme – and it's hybrid powered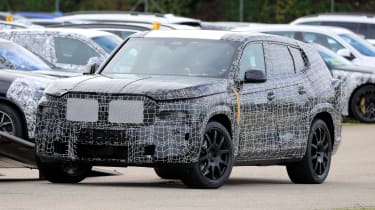 This is our first look at the new BMW X8 – a luxury Bentley Bentayga rival which will soon replace the X7 M50i as the German brand's most expensive SUV.
BMW first revealed its plans for a new high-riding flagship at the 2017 Frankfurt Motor Show. At the time, we got the impression that the company's engineers would top the X7 with outright size, building an even larger SUV that was loaded with even more technology.
Best SUVs to buy 2020
However, judging by these spy shots, BMW appears to have changed tack. This mule suggests the firm will adopt the same strategy with the X7 and X8 as it did with the X1 and X2, with the latter acting as a lower, sportier and slightly less practical version of the former.
This is neatly illustrated by the image in our gallery which features the new X8 mule and a production X7 being loaded onto a transporter. Like the X1 and X2 twins, the two SUVs are roughly the same width, but the roof on the prototype is far lower and tapers more sharply towards the tailgate.
Porsche has already pulled this trick with the Cayenne and the Cayenne Coupe – and a new X8 would allow BMW to compete directly with its Stuttgart rival, especially when specced with the company's range of M Performance extras.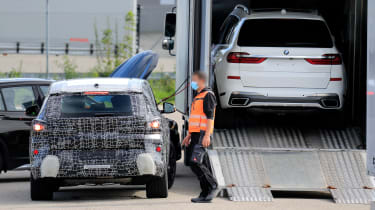 Most recently, BMW filed a patent for the "X8 M" nameplate suggesting that a performance focussed version of the new coupe-SUV is on the way. It'll likely be powered by the same 616bhp 4.4-litre V8 engine found in the BMW X5 M Competition, which should provide more than enough poke to compete with the Porsche Cayenne Coupe Turbo.
However, less powerful versions of the X8 will also be available, as hinted by the "hybrid test vehicle" stickers plastered along this mule's doors. So if, like the X7, this prototype shares similar CLAR underpinnings to the X5, it could easily be powered by the same plug-in hybrid powertrain used by the X5 xDrive45e.
In the X5, the system comprises a turbocharged 3.0-litre straight-six petrol engine, a 111bhp electric motor and a 24kWh lithium-ion battery pack, which provide a combined output of 394bhp and a maximum pure-electric range of 50 miles. There's also a healthy 600Nm of torque, which should help BMW compete with the Cayenne Coupe PHEV too.
At the Frankfurt Motor Show, BMW's Senior Vice President, Hildegard Wortmann explained: "The luxury segment is very important for us. We decided to create a different visual identity for the 7 Series, 8 Series and X7. It is modern luxury for customers who have achieved something in their lives."
What do you make of the new BMW X8? Let us know in the comments section below…
Source: Read Full Article