The new 503bhp BMW M3 Competition is here – will it be able to live up to its badge?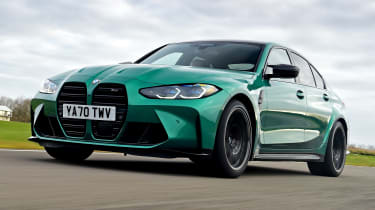 4.5 out of 5
Buy used for less at Buyacar
Verdict
More rounded, more versatile but still able to deliver the thunderous performance M cars are famous for, the new BMW M3 hits the mark. You might not be sold on the way it looks, but you can't argue with the fact that it has been refined and honed in every way and is more than worthy of that famous badge.
When you come from a bloodline as rich and as decorated as the BMW M3, there's always going to be a huge amount of pressure on whatever comes next. Playing it safe might seem like the most sensible option, but with this eight-generation M3 the Bavarian car firm has rolled the dice big time. 
A new twin-turbo six-cylinder engine, the introduction of four-wheel drive for the first time and, well, that face. BMW really isn't tiptoeing around with the new M3; it's the most comprehensive overhaul we've seen from the compact super saloon in its history, but has it worked?
New BMW M4 Competition 2021 review

Before we answer that, here's a quick overview of exactly what we have. Under the bonnet is BMW's new S58 motor first used in the X3 M SUV, but its proper home is right here in the M3. In the standard car it develops 473bhp, while in the M3 Competition – the only version we'll get here in the UK – power climbs to 503bhp.

A six-speed manual gearbox is found on the standard cars, but Competition variants are equipped with an eight-speed automatic torque converter – not a dual-clutch. That's unconventional in modern performance cars, but was necessary, says BMW, because of the optional four-wheel drive system. 

More reviews

Car group tests

BMW 3 Series Touring vs Mercedes C-Class Estate vs Volvo V60
BMW 330e vs Volvo S60 T8

In-depth reviews

BMW 3 Series Touring review
BMW 3 Series review

Long-term tests

BMW 320d M Sport: long-term test review

Road tests

New BMW M340i xDrive 2019 review
New BMW 3 Series Touring 2019 review

On base M3s the wheels are 18-inches at the front and 19-inches at the rear, growing to 19 and 20-inches respectively on Competition models and shod with Michelin Pilot Sport 4S rubber. Carbon ceramic brakes are optional, but be ready to cough up almost £8,000 for them. 

Climb in and one of the first things you notice is the improved seating position; it's much lower than before, and feels more purposeful especially if you add the excellent, but costly (£6,750) M Carbon pack that brings the front sports seats.  

Then there's the steering and turn-in. There's a slight numbness to the steering but it's fast and sharp allowing you to point the nose of the car into a corner with more aggression and accuracy than before. It's not quite as sweet as the steering in an Alfa Romeo Giulia Quadrifoglio, but it's much sharper than it was. 

Which is most welcome, because the M3 now weighs a whopping 1,805kg. However, the saloon masks its weight incredibly well, feeling light on its feet and more nimble than that portly kerbweight would lead you to believe.  

The 3.0-litre engine certainly plays a part in that as it delivers a thunderous punch of torque once the revs climb beyond 2,500rpm. It's ferociously quick on the road, and despite the vast amount of power going through the rear wheels, there's excellent traction. 

Such is its chassis balance, the new model never feels wayward or uncontrollable like the old M3 could, yet BMW has introduced a new piece of tech to help manage the car's power. M Traction control allows the driver to set the system to one of 10 positions which dictate how much slip is allowed at the rear axle; it works very well and allows you time to familiarise yourself with the car's balance and learn how the car behaves the more enthusiastically you drive. 

At its core, however, the M3 remains a 3 Series so despite the way it looks and its thumping performance, it's a reasonably practical car. The 480-litre boot is a decent size and there's plenty of space in the back for two adults. But if you need a little extra space, then you're in luck – next summer an M3 Touring arrives.

| | |
| --- | --- |
| Model: | BMW M3 Competition saloon |
| Price: | £74,755 |
| Engine: | 3.0-litre 6cyl twin turbo |
| Transmission: | Eight-speed automatic, rear-wheel drive |
| Power/torque: | 503bhp/650Nm  |
| 0-62mph: | 3.9 seconds |
| Top speed: | 155mph |
| Economy: | 27.7mpg |
| CO2: | 234g/km |
| On sale: | Now |

Next Steps

Source: Read Full Article