The new BMW iX electric SUV will get two battery sizes in the UK, with ranges of 249 miles and 373 miles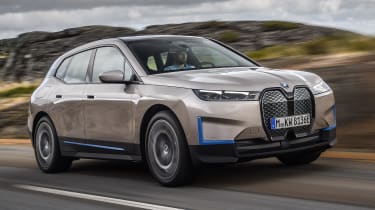 BMW has revealed details of the launch line-up for its iX SUV – the company's all-electric Tesla Model X rival – which will go on sale in the UK towards the end of 2021. 
Two versions will be available, both with different-sized battery packs, different power outputs and charging standards. The range kicks off with the BMW iX xDrive40, which will be priced from £69,000 RRP in the UK – an on-the-road price has not been revealed yet.
Electric cars with the longest range
The iX makes use of BMW's fifth-generation eDrive electric motors, which are more compact and power dense than the units you'll find in an i3, for example.
The xDrive40 model uses a battery with 'more than' 70kWh of usable capacity, providing power to a four-wheel-drive electric motor system with around 300bhp. BMW claims that 0-62mph takes six seconds, and there's a WLTP range of 249 miles from a full battery. Rapid charging at 150kW will be standard, so a 10-80 per cent recharge in 40 minutes is possible. 
A price hasn't been revealed for the more potent, longer-range xDrive50 model, but it's likely to start from around £100,000 when it goes on sale. It uses a 100kWh (net) battery pack mounted under the floor of the car, while the four-wheel-drive motor system has a maximum output of 500bhp. The 0-62mph sprint takes less than five seconds, according to BMW. 
BMW claims a range of 373 miles on a full battery according to WLTP, eclipsing the 360 miles that Tesla claims for the Model X Long Range.
In addition, rapid-charging capability is increased to 200kW, so while the xDrive50 has a larger battery than the xDrive40, it can also reclaim a 10-80 per cent charge in around 40 minutes when plugged in to a chargepoint capable of that output.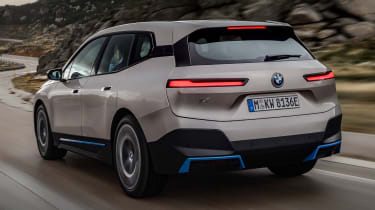 A more conventional 11kW wallbox charger, the type of system people may have installed at home, will charge the battery from flat to 100 per cent in 11 hours. 
The iX, is described as the "dawn of a new era" for the brand. Essentially a production version of the iNext concept that was first showcased back in 2018, the iX is the first model from BMW to be based on an all-new, scalable architecture that will go on to underpin a range of future vehicles.
Sophisticated software, greater computing power and 5G capability have also enabled BMW to integrate improved automated driving and parking functions.
New 2021 BMW iX: platform and automated driving 
The platform beneath the iX, based around an aluminium spaceframe and carbon-fibre core, has been developed with a focus on electric vehicles and greater levels of automated driving functions. BMW says the level of computing power in the iX is 20 times greater than anything it has previously developed for a production vehicle, and that this allows the SUV to process double the amount of data from sensors. 
"We are setting new industry standards with the technology in the BMW iX," says Frank Weber, BMW board member for vehicle development. "The iX has more computing power for data processing and more powerful sensor technology than the newest vehicles in our current line-up, is 5G-capable, and will be given new and improved automated driving and parking functions."
New 2021 BMW iX: design and technology 
BMW has issued no dimensions for the iX other than a wheelbase of 3,000mm. However, the firm has said that the SUV is comparable to that of an X5 in terms of length and width, and is as tall as an X6.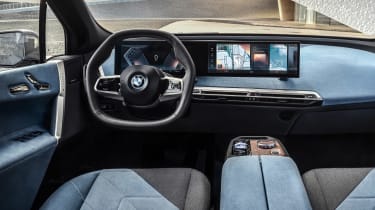 An interpretation of BMW's new kidney grille design features prominently on the front end, but the grille has been blanked off as a way of indicating that the iX is an electric vehicle. It also houses the vehicle's camera, radar and sensor technology that is required for automated driving.
A polyurethane coating has also been applied to the grille that BMW claims can automatically repair minor scratches. 
The LED headlamps are the slimmest BMW has ever fitted to a production vehicle, while flush door handles are a first for BMW. They are one of a number of aerodynamically-optimised design cues that help increase the range of the iX by 40 miles alone. 
Inside, there is seating for five and an electrochromic panoramic glass roof BMW that automatically adjusts its shading depending on the level of direct sunlight. As the iX was developed from the outset as an electric vehicle, there is no transmission tunnel running through the centre of the vehicle, and BMW says this improves passenger space in the front and rear. 
The look of the cabin is intentionally stripped back; the car's audio speakers, air vents and head-up display have all been integrated so that they blend into the cabin rather than standing out. 
A bank of curved digital screens, one 14.9-inch driver's display and one 12.3-inch infotainment screen, sits on top of the dash and features BMW's next-generation operating system, which features new voice and gesture control plus a redesigned interface. A hexagonal steering wheel and new rocker switch for the gear selector are two other firsts for the iX.
What do you think of the new BMW iX SUV? Let us know your thoughts in the comments section below…
Source: Read Full Article