Information on how to pay the Mersey Gateway Toll, and what to do if you want to appeal a fine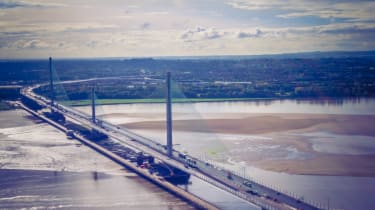 Road pricing is an option that's very much on the radar for UK drivers in future years, as planners and politicians explore ways of recouping fuel duty revenues lost by the switch to electric vehicles. There's been debate for donkeys' years over whether pay-as-you-go schemes are the fairest way forward, but they've been a feature of life on the road here since 1663 when the first turnpike or toll road was authorised on a section of the Great North Road.
Turnpike toll roads disappeared around the end of the 1800s when local authorities took over maintenance of roads. However the Turnpike tolls funded a succession of roadbuilding projects across the country, and a similar concept has been applied to financing more recent infrastructure projects like the Humber and Severn Bridges, Dartford Crossing, the M6 Toll and most recently the Merseyflow toll crossing.
The Dartford Crossing: how to pay the Dart Charge toll and appeal a fine
This latest toll is a charge for crossing the impressive Mersey Gateway Bridge that was completed and opened in 2017. It's located to the East of the 1977 Silver Jubilee Bridge, and has three lanes in both directions that cross both the River Mersey and the Manchester Ship Canal. It was built to ease congestion on the Silver Jubilee Bridge which was designed for 8,000 cars per day but ended up having to cope with 80,000 cars driving between the north and south sides of the Borough of Halton in Cheshire. 
Following the opening of the Mersey Gateway, a toll charge was introduced with the new bridge. The charge was subsequently also applied to the Silver Jubilee Bridge once upgrade works were completed on it by March 2018, as part of the Merseyflow scheme.
Because these toll bridges are the only crossings of the Mersey between Liverpool in the west and Warrington in the east – they connect the towns of Widnes and Runcorn – local residents who live in the Borough of Halton can apply for an electronic windscreen sticker that qualifies them for free crossings, subject to a £10 annual administrative fee.
Mersey Gateway Toll charges
The Mersey Gateway Bridge opened on 14 October 2017, and the tolls have have been in place since then. The toll charges are in operation 24 hours a day, 365 days a year, so if you use the crossing at any time of the day, you will have to pay a toll. The charges vary depending on what you are driving, and are broken down as follows:
Class 1: Motorcycles: Free
Class 2: Cars/vans and CVs under 3.5 tonnes/8-seat minibuses: £2
Class 3: Lorries 3.5-12 tonnes/minibuses under 5 tonnes: £6
Class 4: HGVs (over 12 tonnes)/Coaches (over 5 tonnes): £8
You can pay the toll in advance of your crossing, or you have until midnight of the following day to pay. There are discounts available if you register with Merseyflow, the company that manages the charges. Register and pay the one-off fee of £5, and you can get 10 per cent off unregistered tolls. So you pay as follows:
Class 2: Cars/vans and CVs under 3.5 tonnes/8-seat minibuses: £1.80
Class 3: Lorries 3.5-12 tonnes/minibuses under 5 tonnes: £5.40
Class 4: HGVs (over 12 tonnes)/Coaches (over 5 tonnes): £7.20
Another option for Class 2 vehicles is to buy a monthly pass. There are two types on offer, the Unlimited travel pass that allows you to do exactly that for £90 a month, or there's the Off-peak pass. This costs £60, but you can't use the bridges during rush hour, which is between 7am-10am and 4pm-7pm, Monday to Friday.
UK speed cameras explained
Mersey Gateway toll exemptions
As mentioned, local residents who live in the Borough of Halton can benefit from free crossings, as long as they meet the qualifying requirements. They must:
Live in a property in Halton that is registered in Council Tax Bands A-F (there are also special concessions for certain residents in Bands G & H properties).
Hold a valid UK driving licence.
Be the keeper of a vehicle that is registered to an address in Halton. Again, if you lease a vehicle or run a company car, equivalent proof will be required.
Local residents will then receive an electronic tag that sticks to the inside of the windscreen behind the rear-view mirror which can be detected by sensors on the bridges. As with other modern toll charge systems like the Dartford Crossing and London C-Charge, there are no toll booths to pay at, and the onus is on the driver to ensure the toll is paid.
If you are a Blue Badge holder, you can make unlimited crossings once you have registered and paid a one-off £5 admin fee.
Merseyflow fines
If you fail to pay the Merseyflow charge before midnight on the day after you use the crossing, you will be liable to a Penalty Charge Notice (PCN). This is fixed at £40, although it's only £20 if you pay the PCN within 14 days. There is an appeal process which passes through the Merseyflow team first, then to an independent adjudicator should the initial outcome be considered unsatisfactory.
It might seem like an uphill struggle if you are trying to get an appeal heard, but remember that more than half of all PCN appeals are successful for the motorist, while most cases are closed within three weeks.
Are you affected by the Mersey Gateway changes? Do you feel the tolls are fair or justified? Let us know below.
Source: Read Full Article