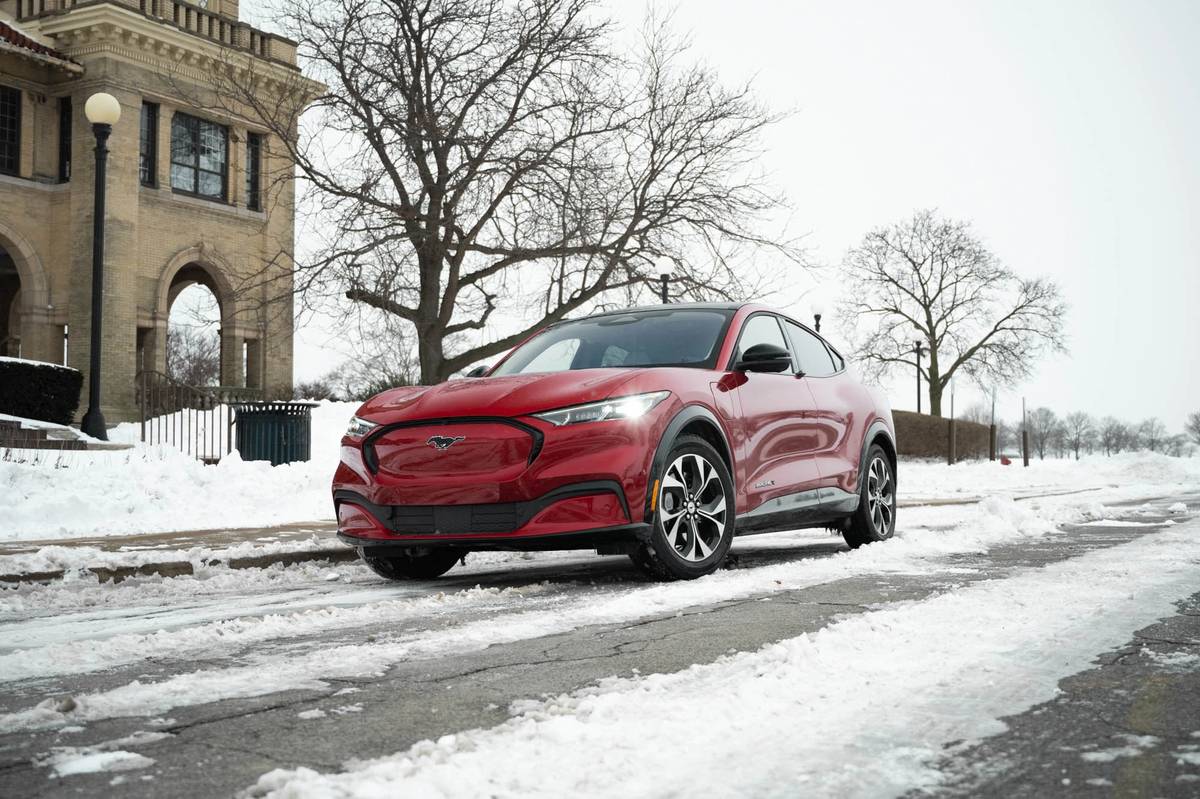 Our first taste of Ford's new fully electric, sort-of-an-SUV, sort-of-a-pony-car 2021 Mustang Mach-E came when two of our reviewers got to spend 48 hours with one late last year. That's not a long time to spend with a car for evaluations, but they drove the tires off it and came away with the idea that it's a fantastic achievement on Ford's part, yet not quite the "electric car that does it all." There were concerns about the ride quality, myriad glitchy electronic systems in their early production test vehicle, issues with charging on public chargers, all of it largely tempered by the excellent acceleration, useful space and mostly pleasing dynamics of the new Mach-E. So when I had an opportunity to spend a slightly longer four days in Ford's new electro-wagon, I jumped at the chance. Of course, those four days came in the cold, dead middle of a Michigan winter, so I had the added benefit of evaluating how the Mach-E handles plummeting temperatures.
Related: 2021 Ford Mustang Mach-E First Drive Review: Good Numbers, Harsh Ride
The Issues Addressed
Our past exposure to the Mustang Mach-E saw a few areas of concern, most notably nonfunctioning Apple CarPlay and Android Auto, glitchy Propulsion Sound activation and issues using smartphones as a key through the FordPass smartphone app. I'm pleased to say that my test vehicle exhibited none of these issues. The Propulsion Sound option is a bit odd, in that when you activate it, fake engine noise is piped into the cabin through the speakers — presumably so you feel like you bought a real Mustang instead of a battery-powered one. But I never had any problem turning it on or off, unlike my colleagues' experience. And while I don't own an Android device, my iPhone XS synced up to the Mach-E's multimedia system flawlessly via a USB cable, no glitches detected.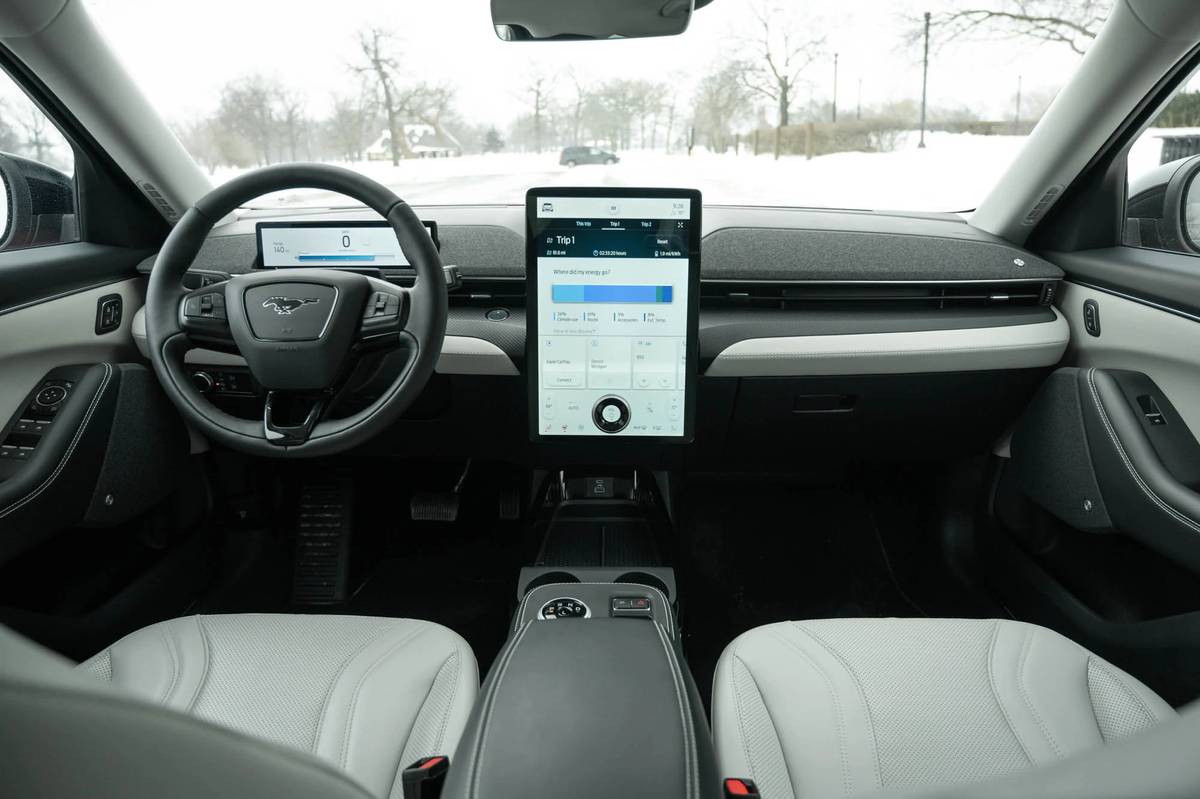 I also had no issues at all activating the phone-as-key feature through the FordPass app. This is a bit more critical, in my opinion, as the app truly is a useful feature for the Mach-E, especially in winter temperatures. It allows you to monitor charging status, to start and warm the car while it's still plugged into a home outlet, or just set a typical departure time so that it automatically warms the car prior to your departure without you having to think about it. This is a truly essential function in cold temperatures, as few things kill electric-vehicle range like running an onboard heater — consider that there's no gas engine already generating heat that can be siphoned off to heat the cabin. The only heat onboard comes from an electric heater, and few things are a less efficient use of electricity than running it through a high-resistance wire to make it hot. (Some EVs now use a heat pump instead of resistive heat, but the Mach-E doesn't.) Preheating the cabin while it's still plugged into a charger allows the car to heat itself using juice from the grid, not its batteries, reserving that power for driving range.
But the app and the phone-as-key feature do more than just control startup. To open the rear hatch from outside the car, you have the option to use your phone, the key fob or touch the "plipper" button on the tailgate (or wave your foot under the bumper on models equipped with that opening method). There's no dedicated button for the hatch in the cabin either. The place where it'd normally be, next to the headlight switch to the left of the steering column, instead has a dedicated button for maximum windshield defrost. In order to pop the hatch from the driver's seat, you have to touch several points on the touchscreen, as it's buried in the Access menu in the multimedia system.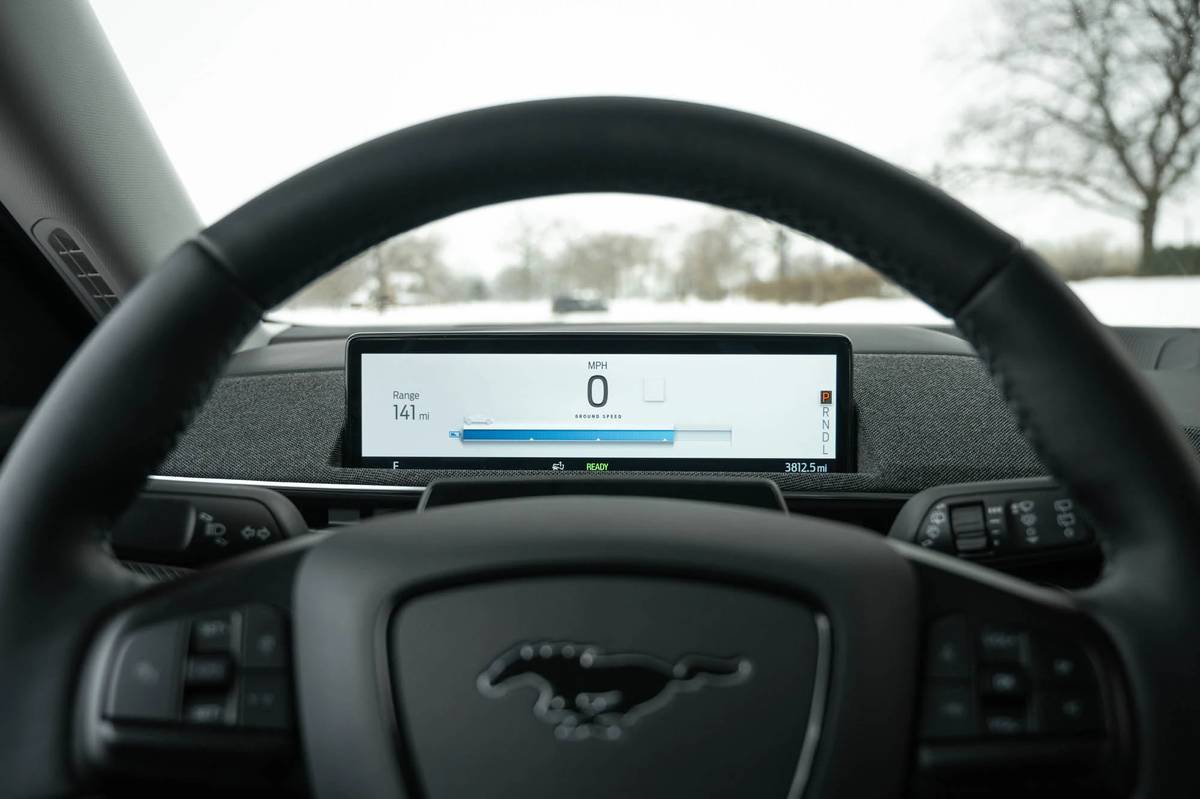 But all of this might seem favorable compared with the frunk, which doesn't have a remote release at all, which is rather annoying. The only way to access that compartment is by pulling the lever in the driver's footwell twice.
Will It Winter?
Driving an EV in the wintertime is an excellent way to reveal the shortcomings of electric cars. My test Mach-E was a dual-motor Premium trim level with all-wheel drive and the extended-range battery option. That means that it should've been good for 270 miles of range on a full charge, but its predictive algorithm never saw that meter go above 205 miles. Low temperatures play a part in this estimate, and the other culprits were a combination of climate control use and highway driving, both of which will bleed an EV dry in short order. Of course, the old saying "your mileage may vary" is definitely appropriate here, as sticking to shorter, low-speed, around-town jaunts; minimizing climate control use; and making the most of plugged-in preheating all can extend range. I was not able to test the limits of this range during my time with the Mach-E, but I did notice that the predictive number was creeping up every time I got done giving it a full charge. It started at 195 miles when it was first dropped off, and rose to 205 miles by the time I gave it back, so again, much depends on your driving style.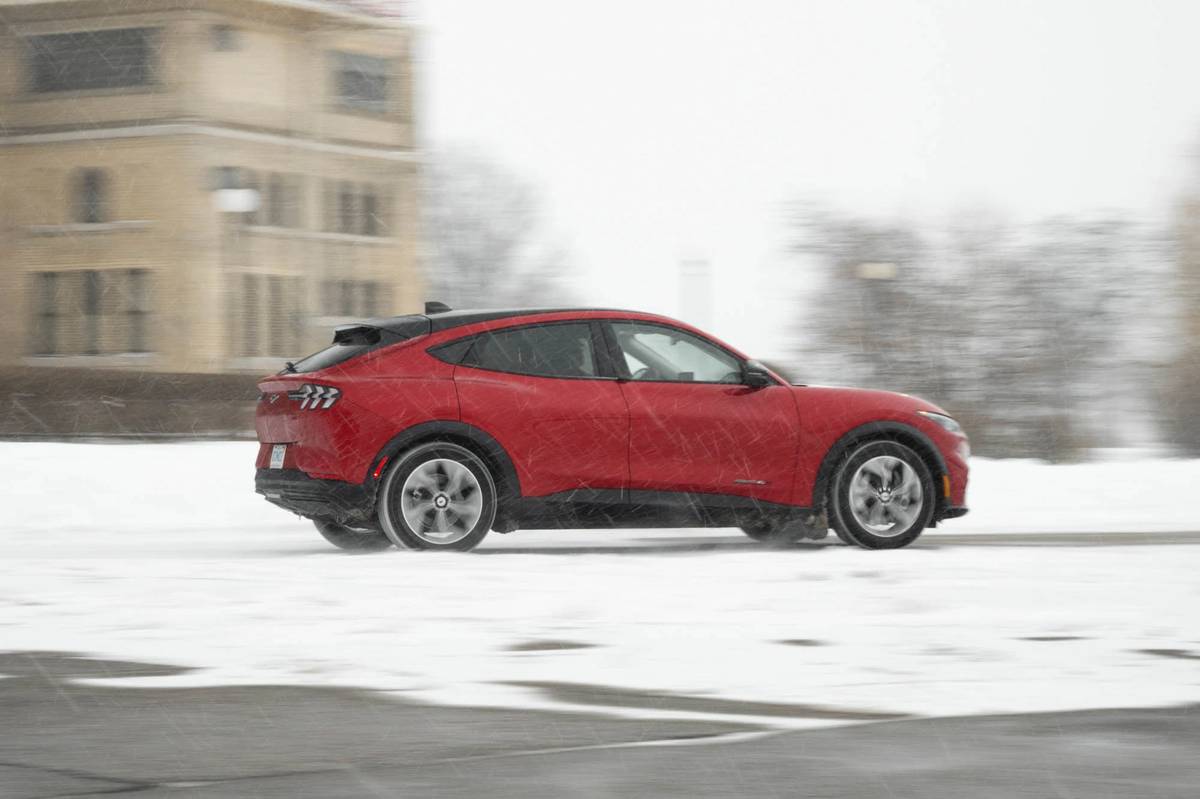 The Mach-E handles the snow and ice just fine, thanks to the dual-motor all-wheel-drive system, and it's even fun to throw around in a slippery parking lot. It allows a little tail happiness in low-speed slippery conditions, making for some wintery fun, but the stability control kicks in fairly quickly to keep things under control. With some proper winter tires, it would be just as surefooted as any SUV on the market, and it sits high enough that it's not likely to act like a snowplow, like many other EVs with low aerodynamic chin spoilers do. 
What's Left Unfixed
I can confirm that the ride quality is terrible. It's not sporty like a Mustang coupe, or plush like a Lincoln Navigator, but oddly bouncy like a Ford Bronco. Impacts aren't harsh, but road imperfections set occupants bouncing and bobbing in the cabin as if you were driving a dedicated off-road vehicle, not a premium mid-size SUV. One wonders if the Mach-E's prodigious weight (nearly 5,000 pounds, due to its big, heavy battery and extra motor) is the culprit here, with Ford struggling to balance acceptable ride quality with controlling the inertia of that much mass. Whatever the reason, it quickly becomes the Mach-E's most defining characteristic, and the one people comment on when riding in the thing. If you live in a locale with excellent, glass-smooth tarmac, it won't be a problem. On the cratered hellscape of the American Midwest road system, it's unpleasant, to say the least.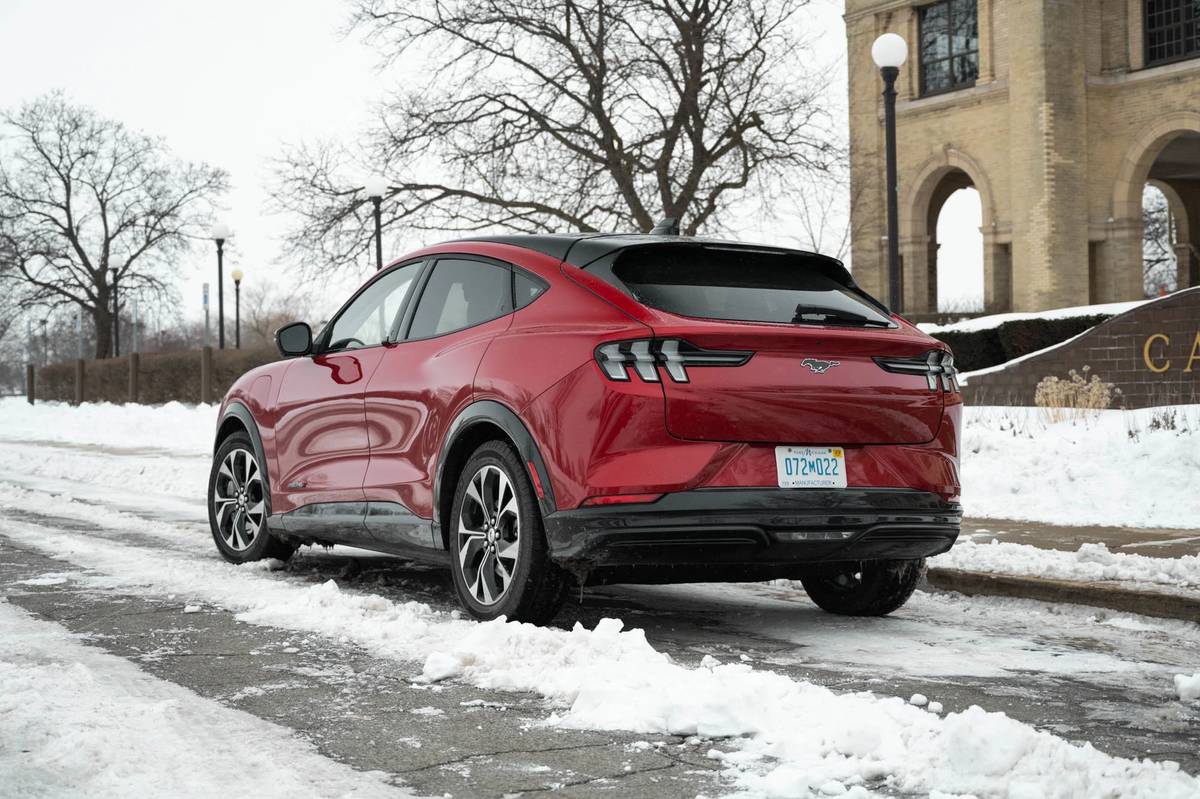 Overall, I concur with my colleagues' assessment of the 2021 Mustang Mach-E. It's a fantastic achievement, an excellent effort to counter the Tesla Model Y with something more distinctive, hopefully better built and that still delivers the tailpipe-emissions-free driving that its owners enjoy. There are still a couple of quirks to iron out, but it's a solid, competitive entry into an increasingly full field of mid-size electric SUVs, even in winter weather.
More From Cars.com:
Ford Mustang Mach-E Leans Into Muscle-Car Moniker
2021 Ford Mustang Mach-E Video: Electric SUV With Pony Car Spirit
2021 Ford Mustang Mach-E: 'Electric Mustang SUV' Is Not a Typo
Auto Show Face-off: 2021 Ford Mustang Mach-E vs 2020 Audi E-Tron Sportback
6 Things You Should Know About Ford's Next-Generation Sync 4
Find Your Next Car
Related Video:
Cars.com's Editorial department is your source for automotive news and reviews. In line with Cars.com's long-standing ethics policy, editors and reviewers don't accept gifts or free trips from automakers. The Editorial department is independent of Cars.com's advertising, sales and sponsored content departments.
Source: Read Full Article