The Ineos Grenadier could soon feature a hydrogen fuel cell powertrain alongside BMW-sourced petrol and diesels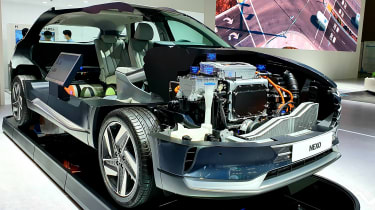 New British 4×4 manufacturer Ineos has signed a memorandum of understanding with Korean giant Hyundai, that will see the two companies work together on developing hydrogen technologies, both in cars and in the production and supply of the gas for industrial purposes.
The agreement also includes a deal that will see Ineos evaluate the possible inclusion of Hyundai's fuel-cell drivetrain technology into its tough Grenadier off-roader, currently due to launch in 2021 with 3.0-litre six-cylinder petrol and diesel power from BMW.
New Hyundai Nexo fuel-cell SUV 2018 UK review
Ineos will leverage the technology already employed on the road in the Hyundai Nexo hydrogen fuel cell SUV, and the company calls its consideration of the technology as "an important step in Ineos' efforts to diversity its powertrain options at an early stage."
The SUV venture is just a small part of the Ineos brand, with the bulk of Sir Jim Ratcliffe's multinational empire grown from within the chemicals industry.
The firm already creates 300,000 tonnes of hydrogen a year, mainly as a by-product of its chemical manufacturing operations. It's also one of Europe's largest electrolysis specialists, so for Ineos, exploring hydrogen power for its car makes strong sense.
Ineos technology director Peter Williams said: "The agreement between Ineos and Hyundai presents both companies with new opportunities to extend a leading role in the clean hydrogen economy. Evaluating new production processes, technology and applications, combined with our existing capabilities puts us in a unique position to meet emerging demand for affordable, low-carbon energy sources and the needs of demanding 4×4 owners in the future."
Click here to learn more about the new Ineos Grenadier 4×4…
Source: Read Full Article