A new set of GT Sport Daily Races starts today, with something of a focus on cars with the engine in the middle. There's three races as usual, with two mid-engined one-makes, and a racing car class that features the mid-mounted cars prominently.
Race A features a road car that's so invested in the mid-engine, rear-wheel drive layout that it's quite literally in the name. The Toyota MR2 was Japan's first full series production mid-engined road car when it arrived in 1984, though the car you'll be using in Race A is the bigger brother, second-generation model.
This race takes you to the challenging Brands Hatch circuit in the UK. It's only a three-lap affair, but the nature of the circuit and the slightly tail happy attitude of the car will make for an interesting race — particularly with 11 other MR2s in close quarters.
Meanwhile Race B involves the Gr.3 race car class. These are vehicles loosely based on road cars, commonly sharing an engine capacity, layout, and position, and body shell silhouette, and not much else. All are rear-wheel drive, and there's a good mix of front- and mid-engined vehicles; even Porsche's famously rear-engined 911 is converted to mid-engined for the category.
You'll be heading to a fictional course on the island of Sardinia, also known in its native language as Sardegna. The Sardegna Road Track A is the longest of the three added last year to accompany the Windmills dirt course, and you'll be racing a four-lap event around it in the reverse direction.
Finally there's a return to mandatory mid-engined cars in Race C. This event takes you to a third European course, in the shape of Austria's Red Bull Ring. There you'll be racing in the very quick Super Formula cars, more specifically the Honda-engined variety.
That means there's a few special considerations for this event. Firstly, the SF19 car has an Overtake boost function, which you'll need to deploy during the race; you'll need a button mapped for the purpose. In addition, there's mandatory tire requirements to manage, with both Racing Hard and Racing Medium necessary during the race — or suffer a one-minute post-race penalty. If that weren't enough, there's also a false-start check on the grid start, so be sure to launch appropriately!
These three races will run through to Monday, October 19th, when another new set of three will replace them.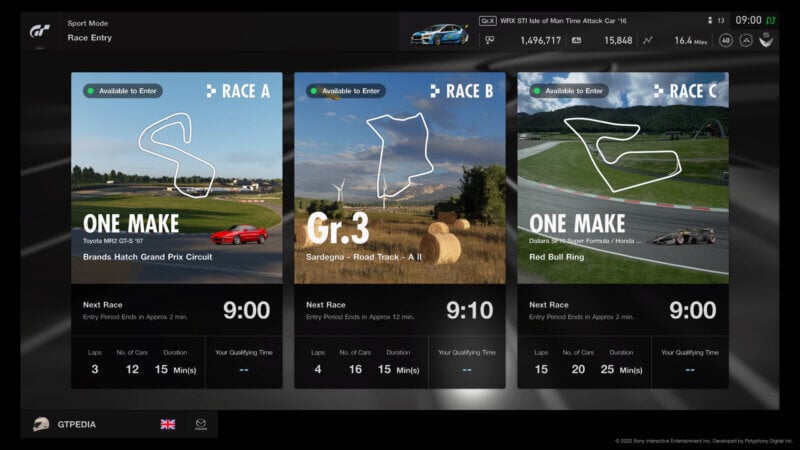 Race A
Track: Brands Hatch – Grand Prix Circuit, 3 laps
Car: Toyota MR2 GT-S '97 – Provided Car
Tires: Sports Hard
Start Type: Grid Start
Fuel use: Off
Tire use: Off
Race B
Track: Sardegna – Road Track A II, 4 laps
Car: Gr.3 – Garage Car
Tires: Racing Hard
Start Type: Rolling Start
Fuel use: Off
Tire use: Off
Race C
Track: Red Bull Ring, 15 laps
Car: Dallara SF19 Super Formula/Honda '20 – Garage Car
Tires: Racing Hard*, Racing Medium*
Start Type: Grid Start with False Start Check
Fuel use: 3x
Tire use: 10x
Source: Read Full Article