Listen up! Our supermini's voice recognition system has proven a massive hit…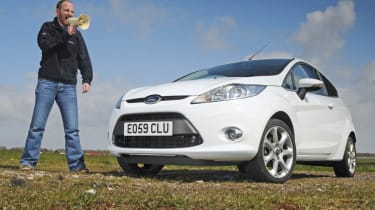 WHILE it lacks hot hatch pace, the Fiesta is a riot to drive. The perfectly weighted and precise steering combines with an agile chassis to serve up plenty of smiles per mile. Adding to the fun is the free-revving 1.4-litre engine and slick gearshift. Voice controls (right) work well, while standard cruise control is great for motorway journeys.
THERE'S little to dislike about the Fiesta, although it's not without fault. For instance, the backlighting for the stylish dials can't be adjusted, and the display is too bright at night for my eyes. And the Easy Fuel filler flap often causes petrol to spill when you're at the pumps. Plus, at £15,145, it is expensive for its class.
Do you ever get the feeling that nobody's listening to you? Even when you shout as loud as you can, your message never gets through.
On days like these, it's always a relief to climb back into our long-term Fiesta. You see, no matter how many breakdowns in communication I've endured, our Ford is always ready to listen.
As part of its optional Technology Pack (£150), the Fiesta is equipped with voice controls – and the sophisticated kit works surprisingly well. Normally reserved for bigger cars, it allows you to adjust the Ford's audio and climate controls, without taking your hands off the steering wheel.
Operating the system couldn't be easier: you simply press a button on the indicator stalk and speak. Using a pre-selected list of voice commands you can switch between radio, CD and iPod, as well as skipping music tracks. If it's too hot, then ask for a reduction in temperature and, as if by magic, the air-con kicks in! It takes a little while to get used to, but once you've learnt the prompts for the various functions, the kit really helps to take the strain out of driving.
More reviews for Fiesta Hatchback
Car group tests
Mazda 2 vs Ford Fiesta
Audi A1 Citycarver vs Ford Fiesta Active
Renault Clio vs Ford Fiesta vs SEAT Ibiza
In-depth reviews
Ford Fiesta review
Ford Fiesta ST review
Road tests
New Ford Fiesta Trend 2020 review
New Ford Fiesta ST Performance Edition 2019 review
Used car tests
However, even this is overshadowed by the Technology Pack's neatest inclusion: Mobile Navigation. Instead of an expensive built-in sat-nav, the Fiesta comes with an SD memory card, which contains mapping for most of Europe. This is plugged into a compatible mobile phone that is then paired to the Ford's standard Bluetooth system.
There's also a GPS receiver unit, mounted in the windscreen above the rear view mirror. To plan a route, you punch the destination into your handset, then follow the spoken commands and direction arrows, which are displayed in the centre console-mounted screen. At £150 this addition is a lot cheaper than traditional built-in units, and much less messy than aftermarket devices that leave wires trailing across your dashboard.
The sat-nav has been a boon in recent weeks, as the Fiesta has been criss-crossing the country on numerous assignments. In fact, the white machine has been so popular with colleagues, I've barely seen it, which is a cause of constant disappointment.
As a road tester, I'm in and out of lots of cars, but few match the Fiesta's driving thrills. Mind you, Ford's pricing policy means the supermini almost costs as much as models from the class above. Our flagship Titanium is £15,145 (before you add any options). And our fuel return of 35.8mpg is 11.1mpg down on its 1.6-litre diesel predecessor.
This doesn't detract from the Fiesta experience. But by the time you read this, our white three-door will be back at Ford. I tried asking the blue oval bosses to extend its stay, but I don't think they were listening…
Extra Info
"It's not hard to see why the Fiesta is at the top of the sales charts. Even on my short commute, the Ford feels great to drive, thanks to its light and responsive controls and perky 1.4-litre engine. My only criticism is the poor rear visibility, which makes parking tricky."Dawn Tennant- Picture Editor
Source: Read Full Article