Government plans mandate for zero-emission cars to make up a certain proportion of manufacturer's sales in the UK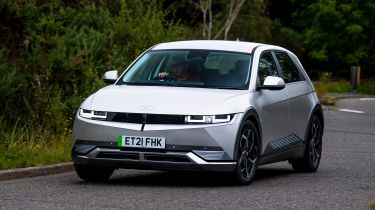 The Government will impose a mandate on car manufacturers for a certain proportion of cars they sell to be zero-emission in order to help meet net-zero carbon targets.
The exact proportion has not yet been decided, with the Department for Transport intending to hold a consultation on the matter, but the aim is to "improve consumer choice" and help deliver on the commitment to end the sale of new conventional petrol and diesel cars by 2030 and hybrid sales by 2035.
2030 petrol and diesel ban: what is it and which cars are affected?
The announcement comes as part of the publication of the Government's net-zero strategy, which also includes £620million of additional funding for the plug-in car grant and EV charging infrastructure, particularly the on-street residential chargepoint scheme.
A further £350 million will be allocated for supporting the UK automotive sector in electrifying its vehicles and supply chains.
The plug-in car grant was controversially cut earlier this year from £3,000 to £2,500, applying only to electric vehicles costing up to £35,000. Previous funding for kerbside EV chargers, meanwhile, has proved somewhat ineffective in the face of hesitancy from some local authorities to invest in the technology.
AA president Edmund King deemed the zero-emission vehicle mandate to be "probably unnecessary". He explained: "Manufacturers are already taking big steps in order to meet the 2030 ban on new [conventional] petrol and diesel cars and vans, but bringing in this 'red tape' exercise could harm car production plans already in place."
King welcomed the rest of the investment, however, commenting: "This new chargepoint funding targeted more at the eight million households without dedicated off-street parking is a welcome step, which will give power to electric drivers.
"With the cost of petrol and diesel rising, the desire to switch to electric is stronger than ever before. Should the Chancellor go a step further next week and scrap VAT on targeted new EV sales, he would deliver a truly electrifying Budget that could 'Get Electric Done'."
The Society of Motor Manufacturers and Traders (SMMT) said a "well-designed, flexible regulatory framework" had the potential to increase the pace at which electric vehicles arrive on UK roads.
Vauxhall was the first major manufacturer to respond to the news, saying it "welcomes" the mandate and the "clarity" it would bring for the industry. In order for the mandate to work, however, the brand said there would need to be "complementary targets on the other key parts of the electric vehicle ecosystem".
Click here for our list of the best electric cars on sale right now…
Source: Read Full Article