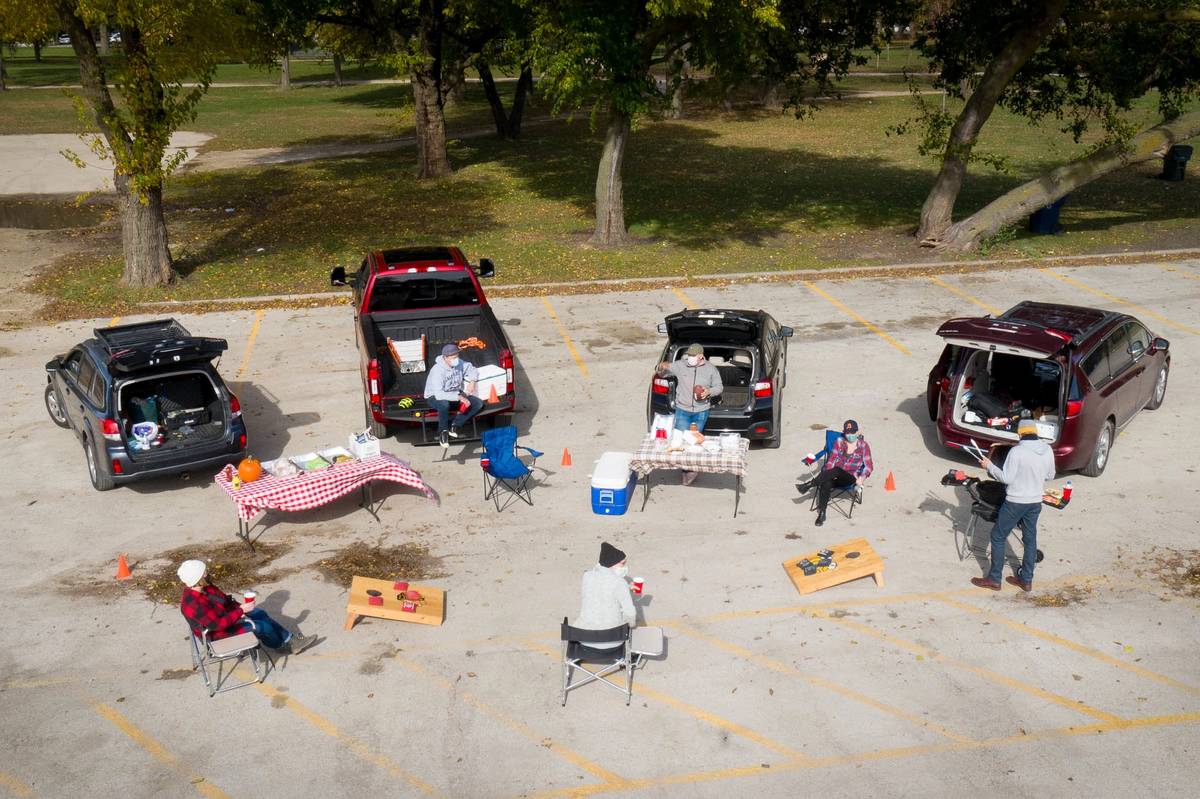 From office space to movie theaters, and from road trips to restaurants, American industry and individuals alike have had to reimagine how we work and play amid the COVID-19 pandemic that's kept us keeping a safe social distance from one another for more than six months now. Given significantly lower coronavirus transmission risks outdoors as opposed to, say, crowded into an eatery or cinema, you'd think that the time-honored tradition of tailgating before a major sporting event might carry on relatively unchallenged — to which we must inquire: Where do you get that bottomless font of bright-eyed optimism?
Related: Rollin' Like a Baller: 10 Affordable Alternatives to Super Bowl Stars' Cars
Still, the practice of tailgating outside stadiums at professional and collegiate-level sporting events across the country has either been banned outright, heavily limited or, in the case of 2020 Super Bowl champions the Kansas City Chiefs, truncated (or is it trunk-ated in this context?), much to the dismay of some fans. As football season kicks into high gear, these health and safety restrictions have forced die-hard tailgaters to call an audible in order to keep the spirit alive. Newly retired New York Giants veteran quarterback Eli Manning, for example, recently promoted "homegating," basically a Zoom-assisted gameday event bringing revelers together virtually.
Meanwhile, bein' in the business we're in at Cars.com, and the direct relationship between tailgating and the vehicles those tailgates are attached to, we got to thinkin': Is there a way in these times to carry on the tailgating torch without getting burned? The answer, of course, depends on your personal threshold for risking spreading or contracting COVID-19. Although we do get sciencey from time to time, now and again, we're not scientists, so we turned to the recommendations of public health officials to craft out advice for a pigskin-party pivot.
In a study cited by the New York Times, an examination of 7,300 COVID-19 cases in China showed that just one was linked to outdoors transmission — so while the risk of transmission isn't zero, experts generally agree that the likelihood of giving or getting the coronavirus outside is much lower than inside where there's limited ventilation.
In its guidelines for assessing the risk of attending sporting events, the Centers for Disease Control and Prevention advises:
The event is held outdoors

All attendees wear masks

All attendees stay at least 6 feet away from people they do not live with

Attendees do not share food, drinks or personal items, such as noisemakers, with people they don't live with

Mitigation strategies are used, such as visual cues on the ground to identify social distancing boundaries

Attendees are discouraged from yelling, chanting or singing
OK, admittedly, that last one's gonna be tough due to the characteristic vocal nature of sports fandom — but maybe, for example, K.C. fans could skip the accompanying chant while you're doing the "tomahawk chop" (or maybe even skip it altogether)?
That aside but with the aforementioned safety precautions front of mind at all times, in the spirit of applying a creative approach to approximate this beloved, car-centric tradition, here are our 10 tips for tailgating during COVID-19:
1. Use the Home-Field Advantage
Choose a gathering spot that can spatially, legally and neighborly accommodate all the invitees and their strategically positioned cars, such as an open field, public parking lot or large backyard the owners don't mind people driving into and parking their cars on for a few hours. Have a good idea of the amount of space you're working with, and be sure only to invite the number of people, cars, grills and other regalia.
2. Play Zone Defense
Have everyone park a minimum distance apart to ensure they can move comfortably around the vicinity of their vehicle while still engaging in revelry. You'll also want to have them park so that the rear of their vehicles face toward a common center point, allowing everyone to see their fellow tailgaters while remaining in their zones.
3. Don't Go Outta Bounds
Be it with chairs, colorful crepe-paper streamers or some other means, setting up visually identifiable boundaries will help remind members of individual party pods to stay on the ball and in bounds as they inevitably loosen up and possibly start to slack off on social distancing.
4. Rep Yo' Team!
Have everyone deck out their car and safe space in their team's colors and regalia. Similar to increasingly popular Halloween "trunk-or-treat" events (which Cars.com knows a thing or two about), it'll enhance both your team spirit and the car-flavored fun to see what clever decorating ideas your guests come up with — and give you something to flex on the 'Gram.
5. Do an Equipment Check
Facemasks? Check. Extra facemasks? Check. Hand sanitizer with at least 60% alcohol? Check. Disinfectant wipes? Check. Secret stash of emergency-extra facemasks? You get the picture …
6. Keep Your Head in the Game
… And speaking of getting the picture, wasn't there some sort of, um, game we were supposed to be watching at this party? In the old days, tailgaters just tuned into the game broadcast on their transistor radio with retractable rabbit-ear antennas. But these days, you can pretty much re-create the living-room viewing experience if you invest in just a few items, namely a flat-screen TV you don't mind exposing to the unpredictable outdoors elements, an HDTV antenna and a compatible power source such as a generator, along with a tailgate TV mount. A Bluetooth speaker to play music on when the game's not going might not be a bad idea, either — you can even get one that's conveniently built into a cooler. 
7. Don't Complete That Pass!
While you should definitely haul your grills, burgers 'n' brats, crockpots full of chili, chips 'n' Rotel dips, ambrosia salads, soda pops and brewskis to this literal moveable feast — like avoiding airing your dirty laundry, keep it in the family. No sharing food, drinks or anything else among cars containing tailgaters not from the same household. Everyone should bring their own snacks and bevies — and a little culinary one-upmanship will only make those left with mouthwatering envy over your spread try harder next time.
8. Care to Make It Interesting?
Organize a bit of friendly, non-monetary (wink-wink) wagering among the cars at your party to keep the separate groups engaged with one another and the game at the same time. It's all in good fun, so maybe channel your inner-Adam Sandler in "Uncut Gems" and concoct an absurdly against-the-odds, Rube Goldberg-ian parlay bet.
9. Beware the Water, Boy
"Now that's what I call high-quality H2O," Bobby Boucher once said (sorry, I don't know where all these Sandler references are coming from). And while you do indeed want to stay hydrated during the game, you'll also want to be sure to have a bathroom plan. Many beverages will be consumed by the time the clock runs out, and you don't necessarily want to be traipsing in and out of someone's house if you can avoid it. Consider this: A basic port-a-potty rental can be rented for less than $200 a day, if your group is willing to, um, throw in on the pot to help defray the cost.
10. Make the Safe Call
Relatedly — and even more importantly — on the beverage-consumption front, as always, if you're consuming alcohol, do so responsibly and have a designated driver to make sure everyone gets home safe. The pandemic will eventually end, but drinking and driving is a danger that, sadly, never seems to go away.
Cars.com's Editorial department is your source for automotive news and reviews. In line with Cars.com's long-standing ethics policy, editors and reviewers don't accept gifts or free trips from automakers. The Editorial department is independent of Cars.com's advertising, sales and sponsored content departments.
Source: Read Full Article