If it's open-top thrills that you're after, the best used convertibles offer incredible value for money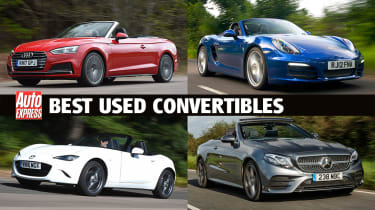 Convertibles have always been popular in the UK, despite the fact that our weather and climate don't really lend themselves to roofless driving.
This is because there are so many other reasons why convertible cars appeal to drivers. For one thing they're good fun, and when the rain holds off, having the roof down can add a sense of occasion to even the dullest journey.
Best convertibles and cabriolets 2021
They don't have to be completely impractical either: the latest collapsing roofs have been engineered to fold down into the smallest possible space, leaving as much room as possible for everything from luggage to passengers' legs.
There's no getting away from the fact that convertibles do tend to be more expensive than their hard-top equivalents, which is where the second-hand market comes into play. The best used convertibles can offer amazing value for money compared to the newest metal, giving you a broader choice of models to pick from.
We've rounded up our favourites to show you exactly how strong your options are…
Best used convertible cars
Mazda MX-5
MINI Convertible
Mercedes C-Class Cabriolet
Audi TT Roadster
Audi A5 Cabriolet
BMW 4 Series Convertible
Porsche Boxster
Mercedes E-Class Cabriolet
1. Mazda MX-5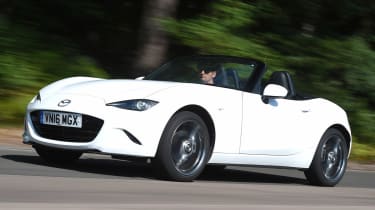 The Mazda MX-5 is the world's best-selling two-seat roadster, and that's no surprise: no car comes close to delivering as much fun for your money. We think the current ND-generation is the pick of the bunch when factoring in reliability, running costs and the sheer availability of good, low-mileage cars.
Almost all of the fourth-generation models we found advertised for sale have covered fewer than 35,000 miles, because they're now more weekend playthings than daily commuter cars; the complete lack of interior storage clearly has its upsides. A recent new-car price increase makes the sub-£10,000 starting point for used MX-5s look like even more of a bargain.
As such, you're more likely to find a cared-for model that's never seen race-track tarmac with many more years of motoring ahead of it. Of course, if you feel like breaking its track-day duck, then you'll have a ball.
While roadsters like this often feel like a throwback, the latest MX-5 has moved with the times. Yet in a world of spiralling power, increasing weight and extreme running costs, the Mazda remains a breath of fresh air.
No matter whether you go for a 1.5- or 2.0-litre model, they both love to be revved and use one of the slickest, most positive six-speed manual gearboxes available.
The car is as easy to live with as stripped-back driver's cars get, bearing comparisons with the likes of the Caterham Seven and Lotus Elise, but with modern-car kit like air-conditioning, sat-nav, leather seats and myriad safety systems. There's even a boot that is just big enough for a weekend's luggage, and if you choose the slightly heavier RF model, you'll get a folding hard top and a fixed, but retractable, rear screen for improved refinement and security.
See the latest Mazda MX-5 prices on our sister site BuyaCar…
2. MINI Convertible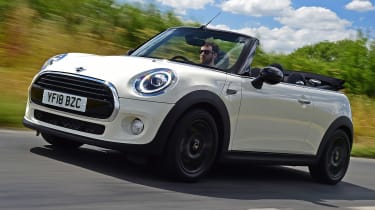 It's been on sale for a good few years, but thanks to a number of updates the MINI Convertible remains a firm favourite. A bewildering array of personalisation options is available, so choose a car that you like the look of, but it's hard to look beyond a £10,000 Cooper for all-round appeal.
The first examples of the current, third-generation car arrived on these shores in 2014. A range of turbocharged, three-cylinder engines were offered in addition to the four-cylinder, 192bhp unit in the Cooper S. The range has simplified since then, with the diesel variant no longer available.
Automatic gearboxes have always been optional, but the six-speed manuals work best if it's a fun, engaging drive that you're after. It's often been said that the MINI handles like a go kart in corners, and this remains true of the Convertible despite losing the rigidity that comes with having a fixed roof.
The entry-level One trim doesn't bring much in the way of kit, so we'd recommend getting a Cooper-badged model at the very least. Check that air-con is included too, as this had to be specced as a no-cost option when new.
See the latest MINI Convertible prices on our sister site BuyaCar…
3. Mercedes C-Class Cabriolet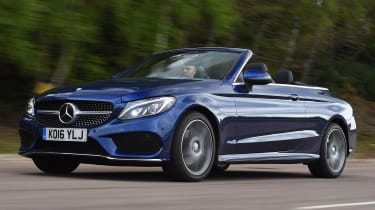 If you want a drop-top that's comfortable on the move, then look no further than the Mercedes C-Class Cabriolet. It's the smallest four-seat convertible that Mercedes makes, replacing the CLK Convertible in this section of the car market when it arrived in 2016.
The chassis has been stiffened in order to compensate for the absence of the hard-top roof, and as a result the Convertible is almost as composed when it comes to handling as the coupe. The steering is direct and while the C-Class doesn't corner as sharply as some rivals, the excellent levels of refinement make this a car for leisure rather than sport.
There's a range of engines to choose from, but the most popular is the entry level C 220 d diesel, which achieves almost 50mpg on the latest WLTP test cycle; an impressive figure for a car of this scope. As is the case with most convertibles, there's some extra wind noise caused by the fabric roof, but it doesn't intrude into the cabin too much.
See the latest Mercedes C-Class Cabriolet prices on our sister site BuyaCar…
4. Audi TT Roadster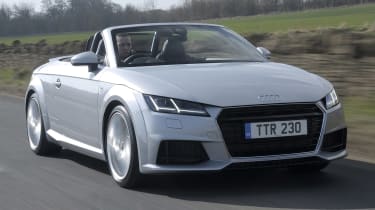 It might have the reputation of being a car driven by hairdressers, but the Audi TT Roadster has the qualities of a miniature supercar: it combines aggressive sporty looks with staggering performance in some guises, and the soft-top only adds to the thrills.
Early versions of the current-generation car include a 2.0-litre diesel capable of 65.7mpg on paper, with the 1.8-litre, 178bhp and 2.0-litre, 227bhp units sat either side. The 306bhp TTS model briefly topped the range prior to the arrival of the TT RS in 2016, which packed a mighty 394bhp from its 2.5-litre engine. In this guise, the TT Roadster could manage 0-62mph in under four seconds on its way to a top speed of 170mph.
At that speed you could do with a hairdresser to sort out your windswept barnet, although at conventional velocities the TT Roadster is largely very refined. There's some wind and road noise as you'd expect, although you'll be far more distracted by the disappointing ratio changes on examples with the manual gearbox: six-speed S tronic autos are much sharper in this department.
See the latest Audi TT Roadster prices on our sister site BuyaCar…
5. Audi A5 Cabriolet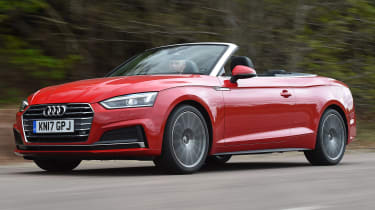 Another convertible Audi worth considering is the A5 Cabriolet: it's a bit more spacious and practical than the TT Roadster, although it doesn't have quite the same credentials when it comes to outright performance.
Now in its second generation, this A5 Cabriolet first appeared in 2016, building on the success of its predecessor. A new platform reduced the weight of the car by some 40kg, although Audi still managed to make the A5 Cab 40 per cent stiffer too. The electric system for the fabric roof means it can collapse in 15 seconds and operates at speeds up to 31mph. Inside there's plenty of room for four adults, while the 380-litre boot (320 litres with the roof down) is more generous than you'll find in some family hatchbacks.
If the A5 Cabriolet falls short anywhere it's on price, with new models costing more than a pretty penny. However, used examples aren't held back by the heft of the price tag: 17-reg cars can be found for less than £18,000 these days, which is a lot of car for the money.
See the latest Audi A5 Cabriolet prices on our sister site BuyaCar…
6. BMW 4 Series Convertible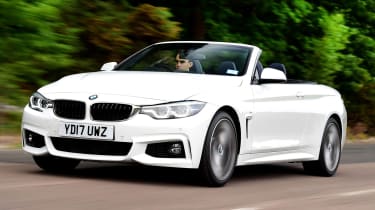 BMW revealed its latest 4 Series Convertible in the latter stages of 2020, but with a price tag of more than £45,000, it's not the most accessible vehicle in the world. To that end, early examples of the model that came before it – the first-generation 4 Series – can be bought for a much more palatable £16,000 or so.
As you'd expect, the older car isn't quite as sharp to drive or as fast in a straight line, but much of that can be put down to its heavier, hard-top roof. While the extra weight dampens acceleration a little, you will at least benefit from the added security that comes with such a mechanism. This will be an important factor to consider if you're likely to park on the street from time to time.
The old BMW 4 Series Convertible came with more engine options than you could shake a stick at, so our advice is to get the most powerful variant you can afford, as this suits the car's character on the road. Automatic versions and those with adaptive suspension are worth it too if your finances allow.
See the latest BMW 4 Series Convertible prices on our sister site BuyaCar…
7. Porsche Boxster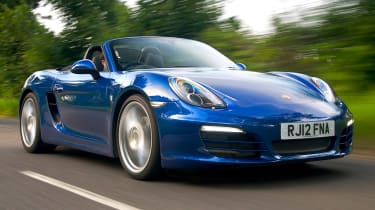 The Porsche Boxster is one of the finest two-seater sports cars money can buy, rolling supreme performance and handling, stand-out styling and excellent build quality into one, ultra-desirable package. It's been on the block for almost a quarter of a century, which means there's a Boxster on the used-car market for virtually every budget.
The third-generation Boxster – replaced by the latest model in 2016 – was a stupendously good car to drive, with a chassis that turned cornering into something of an art form. Power came from a 2.7-litre engine producing 261bhp, with the Boxster S housing a 3.4-litre engine capable of 310bhp. A GTS model was soon added, bringing even more power to the party.
The interior was built to the highest standards, and well-kept examples will feel as luxurious now as they did when new. Both the manual and automatic gearboxes are great to use, so you can let personal preference dictate your choice here. Reliability has been strong over the years too: servicing is recommended every two years or 20,000 miles.
See the latest Porsche Boxster prices on our sister site BuyaCar…
8. Mercedes E-Class Cabriolet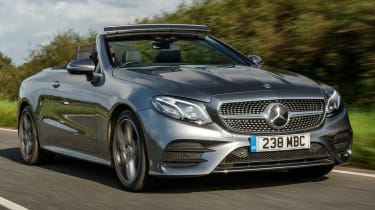 If there's one complaint you could make about the Mercedes C-Class Cabriolet, it's that there's not a huge amount of legroom in the rear seats. This is an issue that the E-Class Cabriolet addresses with its longer body, affording more space to those sat inside and making it more comfortable for tall adults.
While it's never been cheap, it makes much more sense if viewed as a baby version of the luxurious S-Class limousine. The entry-level diesel engine is the most popular in the UK, although there are a range of more powerful petrols and diesels above this to cater for those who want a bit more shove from the throttle. All-wheel drive became an option on the E-Class Cab when it arrived in 2017, while air suspension works wonders for the ride if fitted.
The roof comes in four different colours, and opens and closes in around 20 seconds. It's insulated too, so you needn't be worried about how it'll cope in the depths of winter when the temperature plummets.
See the latest Mercedes E-Class Cabriolet prices on our sister site BuyaCar…
Source: Read Full Article