From electric cars to supercars, this is our list of the best new cars coming in 2021
Best new cars coming in 2021 – Audi to Dacia

Best new cars coming in 2021 – DS to McLaren

Best new cars coming in 2021 – Mercedes to Porsche

Best new cars coming in 2021 – Range Rover to Volvo

Best new cars coming in 2022 and beyond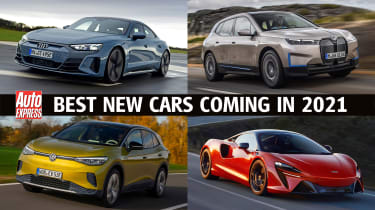 Mercedes-AMG GT 73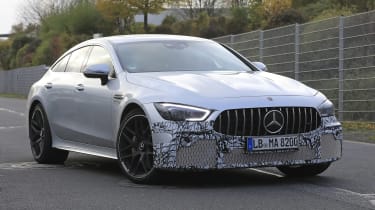 Price: £135,000 (est)
On sale: Summer 2021
If this new car's name had you hoping AMG had managed to shoe-horn a big 7.3-litre V8 under the svelte AMG GT 4-Door's bonnet, prepare to be disappointed. 
Instead, any lack of displacement is made up for by an advanced plug-in hybrid based around the same, glorious 4.0-litre twin-turbo V8 that powers the GT 63 S. It's paired with at least one electric motor, so total power is expected to exceed a ludicrous 800bhp – giving the big Benz a 120bhp advantage over the supercar-quick Porsche Panamera Turbo S E-Hybrid. 
With all-wheel drive, a predicted 0-62mph time of less than 3.0 seconds, and a top speed of at least 200mph, the AMG GT 73 could quite easily become the world's fastest four-door production car.
Mercedes-AMG One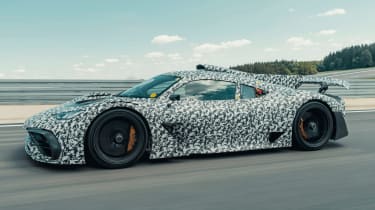 Price: £2.4million
On sale: Winter 2021
Even in the elevated world of hypercars, the 986bhp Mercedes-AMG One is quite a remarkable creation. It's shaping up to be the first modern road car to be powered by a genuine Formula 1 engine, and a car so complicated to bring to production that Mercedes has had to delay it by two years. 
As cutting edge as the sport it borrows from, its championship-winning 1.6-litre V6 turbo-hybrid engine provides levels of performance that once required Sir Lewis-levels of talent to manhandle. 
Only on track will it ever be possible to uncork the AMG One's full potential. Here its trick all-wheel-drive system, active aero and advanced chassis tech should help it see off a serious challenge from the equally outlandish Aston Martin Valkyrie.
Mercedes C-Class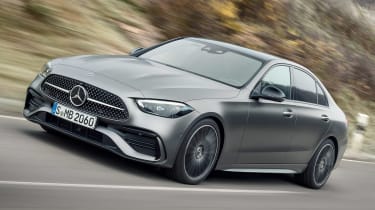 Price: £38,000 (est)
On sale: Summer 2021
With 2.5 million sold, the last-generation C-Class was clearly a winner. But for the new version, the German brand will inject some sportiness back into its BMW 3 Series rival. 
We've already driven it and can confirm that when it arrives later this year, it will be the best C-Class ever to drive. Inside, the good news continues, because Mercedes has shrunken the S-Class's cabin, fitting a dash and infotainment system with a similar roster of clever new features. 
Throw in advanced powertrains (including new plug-in hybrid options that are capable of 62 miles on battery power alone), a comfortable ride, a fractionally more spacious cabin and a long list of new tech, and it looks (and feels) as if Mercedes has a winner on its hands.
Mercedes CLS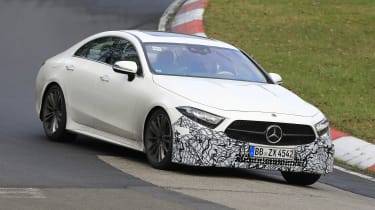 Price: £70,000 (est)
On sale: Summer 2021
Just three years into the life of the third-generation CLS, Mercedes' four-door coupé is getting ready to go under the knife. Our spy shots suggest the odd nip and tuck here and there, but no big design changes on the outside.
That's because Mercedes engineers have spent the majority of their time under the bonnet, developing a new plug-in hybrid powertrain option, plus a full range of updated 48-volt mild-hybrid petrol and diesel engines.
Inside, the CLS is likely to adopt the brand's latest MBUX infotainment system that's based around two 10.25-inch screens. A new steering wheel design with neat capacitive touch controls will also be introduced to the Audi A7 rival.
Mercedes EQA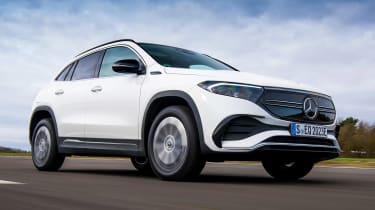 Price: £40,495
On sale: May 2021
Stealing a march on the Tesla Model Y that still hasn't arrived in the UK, the EQA will establish the German car maker in the growing premium electric SUV segment. 
From launch just a single powertrain will be offered – the EQA 250 – which gets a 66.5kWh (usable) battery that provides a decent 263-mile range. Initially, just a single 188bhp motor mounted on the front axle will be available. That's enough for an 8.9-second 0-62mph dash and a top speed limited to 99mph. 
Boosting the EQA's usability is an 11kW on-board charger and a battery that is compatible with 100kW DC charging. Generous standard equipment will help to make the EQA a compelling alternative to petrol or diesel SUVs.
Mercedes EQS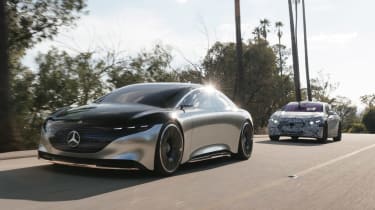 Price: £80,000 (est)
On sale: Autumn 2021
Think of the wild-looking EQS as a futuristic electric take on the Mercedes S-Class. It's based on Mercedes's EVA architecture that places the battery low in the platform for maximum space and dramatic looks. 
It has also allowed the firm's engineers to pack a huge 100kWh battery to give a 435-mile range. Perhaps more astonishing is that the battery can be charged with 350kW rapid chargers that will add some 350 miles of range in less than 20 minutes. Throw in widescreen infotainment that stretches from door-to-door, and a medical-grade air-filtration system, and the EQS will be one of the most advanced cars that money can buy.
Mercedes S-Class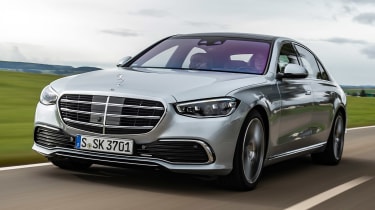 Price: £78,705
On sale: Now
Historically the S-Class has always been a real pioneer when it comes to advancing the automobile, and the latest seventh-generation Mercedes limo is no exception. 
Not only is it claimed to be the world's safest car, introducing airbags for those sitting in the second row, it will also be the first car ever to offer Level 3 autonomous cruise control that allows you to read, watch TV and relax while it takes care of the driving. If that's not enough, the levels of refinement and luxury now encroach into Rolls-Royce territory, while its epic 12.8-inch infotainment system is among the best in the industry. 
Under the bonnet there are electrified petrol and diesel engines, plus a plug-in hybrid that offers a 62-mile EV range.
Mercedes SL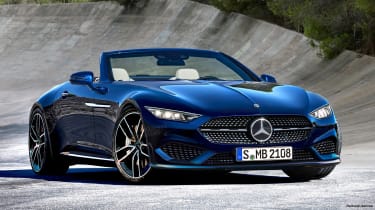 Price: £80,000 (est)
On sale: December 2021
When the glamorous SL convertible arrives, it will transition from a two-seat roadster to a fractionally more practical 2+2. The trade-off is that it misses out on the folding hard-top the last car came with, but few will care because our exclusive image here suggests the SL will have gorgeous looks. 
Under the bonnet, the new model will be no less appealing. Expect a mild-hybrid 3.0-litre six-cylinder for the SL 43 to pump out at least 430bhp, while the new plug-in hybrid SL 73 is set to muster a barely believable 800bhp, giving it near hypercar-levels of acceleration. Throw in a cossetting, beautifully trimmed cabin, and the SL is shaping up to be one of the most desirable cars of 2021.
Mercedes-Maybach GLS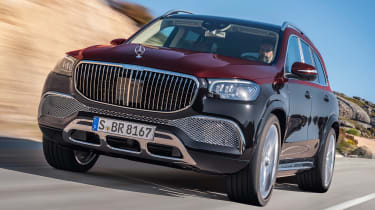 Price: £164,800
On sale: Now
In 2021 the Maybach wing of the Mercedes brand launches its first Bentley Bentayga and Rolls-Royce Cullinan rival. However, it's far more than a re-badged Mercedes GLS. Climb up into the leather-lined cabin and the Mercedes-Maybach feels a world away from a usual limousine. 
Most buyers will opt for the £7,000 First Class pack that adds a pair of airline-style rear armchairs that recline and fold into a bed at the touch of a button. AMG's twin-turbo 4.0-litre V8 engine packs 48-volt mild-hybrid tech and a muscular 549bhp output, which allows the two-tonne GLS to cover 0-62mph in just 4.9 seconds. 
The air suspension, meanwhile, has been retuned to such an extent you'll feel you're in a limo, just one with a better view.
MINI Hatch facelift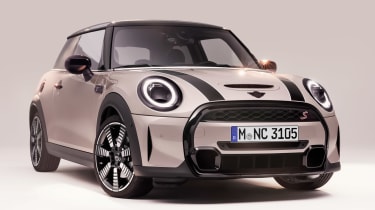 Price: £16,045
On sale: Now
As the third-generation MINI enters its eighth year of production, its replacement is just around the corner, but that hasn't stopped the British car maker from giving it one final facelift. 
Now featuring a larger grille, a pair of lower hexagonal air intakes, plus gloss black trim where its predecessor featured chrome, the refreshed Hatch does just enough to distance itself from the old. Inside, there's an updated 8.8-inch infotainment system, and yet more piano-black trim. 
A new sports steering wheel and five-inch digital instrument cluster appear, while new adaptive suspension is available as an option. The facelift applies across the whole MINI Hatch line-up, including the Electric and Convertible versions.
Nissan 400Z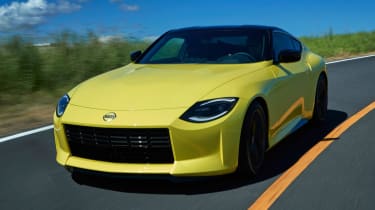 Price: N/A
On sale: Autumn 2021
One of the most anticipated performance cars of 2021 is the all-new 400Z. It's a two-door coupé that's a replacement for the ancient 370Z that will allow Nissan to square up against the Toyota GR Supra. 
The styling was previewed by the Z Proto concept, and it clearly pays tribute to the legendary 240Z. Under the bonnet a twin-turbocharged 3.0-litre V6 that pumps out upwards of 400bhp is promised, while power is sent to the rear wheels via a traditional six-speed manual gearbox. 
The 400Z has the makings of a modern classic. The only problem is that it's not coming to the UK. What could be the final Z isn't intended for the European market because its emissions would raise Nissan's fleet average, making it liable for a hefty fine.
Nissan Ariya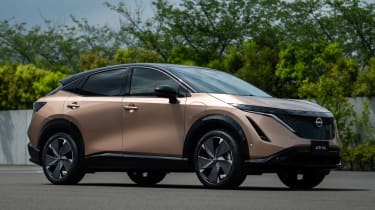 Price: £37,500 (est)
On sale: Autumn 2021
Nissan will expand its EV range with the addition of the smart-suited Ariya. The company hopes you'll be seduced by its looks – and from its 'shield' grille and ultra-slim LED headlamps, to its large wheels, rakish lines and aerodynamically honed skin, it makes quite the impression. 
The car is based on the all-new CMF-EV platform, and its battery sits low under the floor, liberating far more space than in a similarly sized X-Trail. Powering it is either a 65kWh or 90kWh battery, with the latter offering a range of up to 310 miles. 
Range-topping versions get all-wheel drive thanks to twin motors that produce up to 302bhp. That allows for a 0-62mph dash in just 5.9 seconds. New semi-autonomous cruise control appears, too.
Nissan Qashqai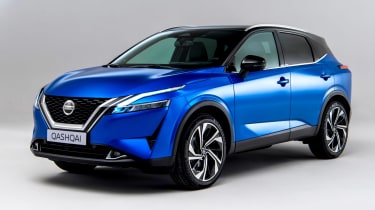 Price: £22,000 (est)
On sale: Summer 2021
With more than 620,000 Qashqais sold in the UK alone, Nissan's SUV has been a runaway success. So it's no surprise that the firm has done everything it can to ensure the new model is also a smash hit. 
That includes giving it sharper looks and more generous exterior dimensions that liberate more space inside. Under the bonnet the Qashqai gets a full range of electrified engines, including a mild-hybrid 1.3-litre turbo and Nissan's latest e-Power hybrid. This uses a 1.5-litre petrol unit to charge a battery, which powers a 188bhp electric motor that drives the front wheels. 
New tech such as Nissan's ProPilot semi-autonomous cruise control should ensure the Sunderland-built SUV remains at the top of the sales charts.
Peugeot 508 Sport Engineered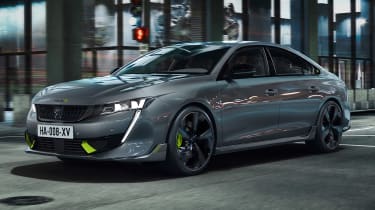 Price: £55,000 (est)
On sale: Spring 2021
Joining an ever-growing band of high-performance plug-in hybrids, the 355bhp 508 Sport Engineered is Peugeot's most powerful road car ever. 
Combining the firm's punchy 1.6-litre turbo petrol engine with an electric motor mounted on each axle, the French missile can dispatch the 0-62mph sprint in just 5.2 seconds and has a top speed of 155mph. When you're not in the mood, it offers a near-silent 26 miles of EV range and is said to be capable of 139mpg. If you are, the comprehensive chassis tweaks that include adjustable dampers plus big brakes ensure the Peugeot is up for it. 
Set to rival both the BMW 330e and Volkswagen Passat GTE, the fastest 508 is also available as a family-friendly wagon.
Porsche 911 GT3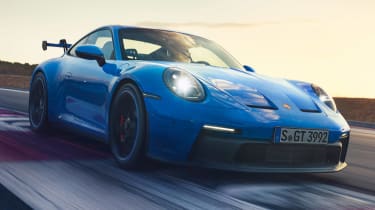 Price: £123,100
On sale: May 2021
Few road cars are as hardcore as the Porsche 911 GT3, and from May there will be an all-new version to fight the Ferrari F8 Tributo and Mercedes-AMG GTR. 
The headline news is Porsche hasn't messed with a winning recipe; the GT3 keeps its 4.0-litre flat-six-cylinder engine, missing out on the turbo the rest of the 992 series uses. The new GT3's unit spins to 9,000rpm producing 503bhp and emitting an incredible soundtrack. 
With a seven-speed PDK dual-clutch auto and launch control, 0-62mph takes 3.4 seconds and the top speed is 199mph. Motorsport-inspired aero maximises downforce on track, while the GT3 keeps weight down to a bare minimum thanks to kilo-cutting parts like a carbon-fibre bonnet.
Porsche Taycan Cross Turismo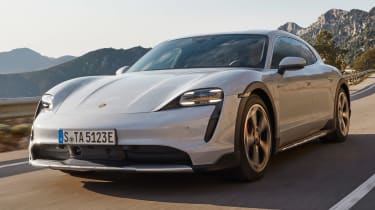 Price: £80,000 (est)
On sale: Spring 2021
Porsche will expand its Taycan range with the addition of the stunning Cross Turismo estate. Originally designed to snare lifestyle buyers, the Cross Turismo was destined to feature the concept's jacked-up ride height and plastic cladding, but all that has been abandoned for a sleeker, classier look. 
Set to square up to the petrol-powered Audi RS 6 Avant and the Mercedes-AMG E 63 estate, the Cross Turismo will be fitted with regular Taycan powertrains.
That means there will be a 751bhp Turbo S version that should be able to dismiss the 0-62mph sprint in just 2.9 seconds. 
Who cares that, for the small extra outlay it costs over the standard Porsche Taycan, you only actually get a small increase in boot space when it looks this good?
Continue Reading
1

Best new cars coming in 2021 – Audi to Dacia

From electric cars to supercars, this is our list of the best new cars coming in 2021

2

Best new cars coming in 2021 – DS to McLaren

From electric cars to supercars, this is our list of the best new cars coming in 2021

3

Best new cars coming in 2021 – Mercedes to Porsche

– currently reading

From electric cars to supercars, this is our list of the best new cars coming in 2021

4

Best new cars coming in 2021 – Range Rover to Volvo

From electric cars to supercars, this is our list of the best new cars coming in 2021

5

Best new cars coming in 2022 and beyond

The world may be changing all the time but that doesn't stop manufacturers planning ahead. From electric crossovers to hatchbacks, these are the new models set for debut in 2022
Source: Read Full Article