From electric SUVs to exotic supercars, we look at the best cars coming in 2020
Best new cars coming in 2020 – Aston Martin to Cupra

Best new cars coming in 2020 – Ferrari to Kia

Best new cars coming in 2020 – Land Rover to Peugeot

Best new cars coming in 2020 – Porsche to Volvo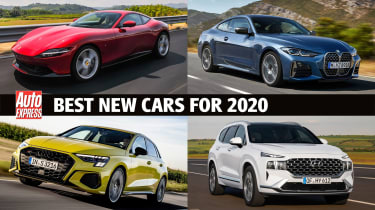 It's been a rather tumultuous start to the automotive year, with the Coronavirus outbreak cancelling motor shows and closing dealerships. But one thing is still certain – there's a wave of new cars coming to showrooms in the next few months to get excited about.
From convertibles to £2m hypercars, and everything in between, there has never been a more varied or exciting time if you're in the market for a new motor.
The electric cars scene is set to expand with the introduction of the Audi e-tron Sportback, Lexus UX 300e, Volvo XC40 Recharge, Ford Mustang Mach-E and the hotly-anticipated Volkswagen ID.3.
Best electric cars to buy 2020
Of course, SUVs are still more popular than ever with the likes of the Cupra Formentor joining updated versions of the Hyundai Santa Fe, Jaguar F-Pace, Kia Sorento and Volkswagen Tiguan.
Plus, performance car fans won't be disappointed with the arrival of the Audi S3, BMW M3, Toyota GR Yaris and Volkswagen Golf R.
Scroll down below to find out about these cars and many more that are set to make cars an impact over the rest of the year.
Aston Martin Vantage Roadster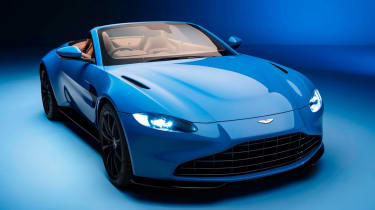 Price: £128,550
On sale: Now
A new convertible Aston Martin is here in the form of the latest Vantage Roadster. As with the coupé, the Roadster uses a turbocharged 503bhp 4.0-litre V8 engine from Mercedes-AMG, and it sends drive to the rear wheels via an eight-speed automatic gearbox.
Aston Martin claims that the 0-62mph sprint takes 3.8 seconds and the top speed is 190mph, so despite the Roadster being 60kg heavier than the hard-top, the loss in straight-line performance is minimal. The chassis set-up is bespoke to cater for the loss of roof, but the coupé's electronic differential and adaptive dampers are carried over.
Audi e-tron S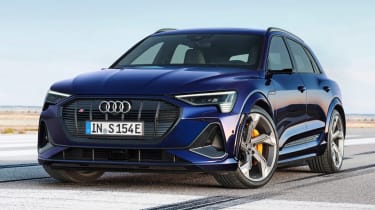 Price: From £87,000
On sale: Autumn
Arriving soon is a performance version of the e-tron SUV, called the e-tron S. Available in both normal SUV and coupé-inspired Sportback body styles, the e-tron S uses a triple electric-motor set-up developing 489bhp and a huge 973Nm of torque. Chassis tweaks also include torque vectoring, six-piston front brake calipers and a sport differential on the rear axle, which should help maximise traction when cornering.
The S can rattle off 0-62mph in 4.5 seconds, and reach a top speed of 130mph. Power is provided by a 95kWh battery, and Audi claims ranges of 223 miles for the regular e-tron S and 226 for the sleeker Sportback.
Audi e-tron Sportback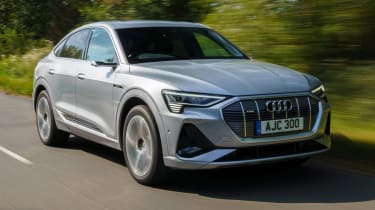 Price: From £79,900
On sale: Now
Sportback derivatives of Audi's large SUVs are becoming increasingly popular, and even the electric e-tron can't escape a coupé-inspired version.
The new e-tron Sportback loses 35 litres of boot space over the normal e-tron, but this electric SUV still has a maximum range of 278 miles, thanks to a huge 95kWh battery. However, the cheaper 50 quattro version, which uses a smaller 71kWh battery, is still capable of 216 miles.
Audi Q5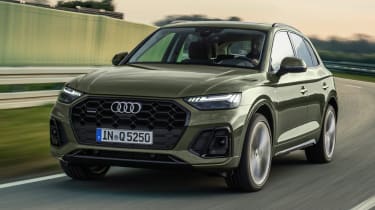 Price: £43,625
On sale: Now
A facelifted Q5 is arriving in Audi showrooms right now, with styling, engine and technology updates all on offer. The look of the updated model has evolved subtly, with brand-new LED headlights and a reshaped grille at the front and a different bumper at the rear.
Inside, the infotainment system has been updated to the brand's latest MMI system, with a larger central touchscreen display that's 10.1 inches in size. Both 2.0-litre TFSI petrol and TDI diesel options are now supported by mild-hybrid tech, as is the 3.0-litre six-cylinder diesel in the facelifted SQ5. Two plug-in hybrid versions are also available.
Audi S3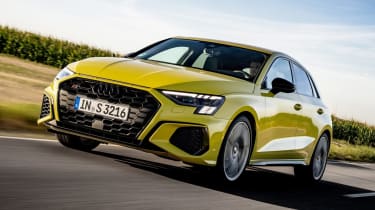 Price: From £36,315
On sale: Now
The new A3 Sportback is probably the most important Audi of 2020, so unsurprisingly the brand's engineers have wasted no time in releasing a new S3 hot hatch.
The new VW Golf R rival sticks with turbocharged 2.0-litre four-cylinder petrol power, but now the engine develops 306bhp. Drive is sent to a quattro all-wheel-drive set-up via a seven-speed dual-clutch automatic gearbox.
Audi SQ7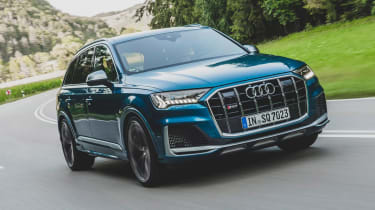 Price: From £80,000 (est)
On sale: Autumn
You'd be forgiven for not knowing quite what powers the latest version of the Audi SQ7 performance SUV, given that Audi seems to be caught in a cycle of swapping petrol for diesel power in its latest S models.
Here, diesel has been removed from the German brand's large hot SUV, and a 500bhp 4.0-litre turbocharged V8 petrol engine is now found under the bonnet instead. Drive is sent to the quattro system via an eight-speed automatic gearbox, and Audi claims a 0-62mph time of 4.1 seconds, plus an electronically-limited top speed of 155mph. A few minor cosmetic revisions for 2020 appear inside and out.
Audi SQ8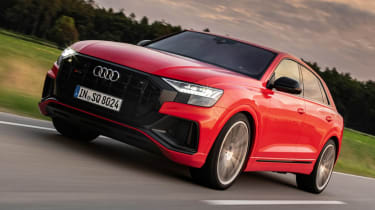 Price: £85,000 (est)
On sale: Autumn
The Q8 is one of the newer members of Audi's SUV line-up and, like the SQ7, the hot SQ8 receives a new 4.0-litre turbo petrol V8 for 2020, developing 500bhp and 770Nm.
As with the SQ7, the 0-62mph sprint is dispatched in 4.1 seconds, with a top speed electronically limited to 155mph. But despite the new powertrain, the looks of the SQ8 remain largely unchanged.
The range-topping Vorsprung version SQ8 is fitted with a sports rear differential and an electromechanical active roll stabilisation system, which Audi says improves ride comfort while reducing body roll in fast corners.
Bentley Bentayga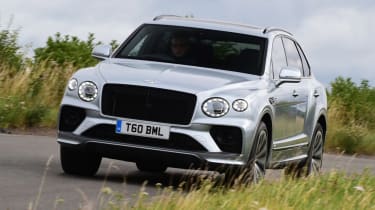 Price: £146,700
On sale: Now
Bentley has given its big- selling Bentayga SUV a makeover for 2020, bringing its look closer to newer models in the brand's line-up. The front end is more squared off than before, and the rear is totally new, with tail-lights that are similar to those on the Continental GT.
For now, the range consists of a 4.0-litre V8 petrol option developing 542bhp and a Bentayga Speed model with a 626bhp W12 motor and a top speed of 190mph.
BMW 4 Series Coupe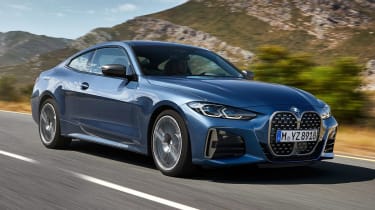 Price: From £39,870
On sale: Now
The 4 Series is one of the most talked about new models from BMW in years, and the topic of discussion is, unsurprisingly, the controversial new kidney grille at the front.
Like it or loathe it, the next 4 Series promises to be a more polished product than ever. It shares its platform with the sharp-driving 3 Series saloon, and will benefit from many of the four-door's range of petrol and diesel engines. Inside, it'll make the most of BMW's latest infotainment set-up.
The manufacturer is already taking orders for the car in UK dealerships, with prices ranging from £39,870 to £48,555.
BMW 5 Series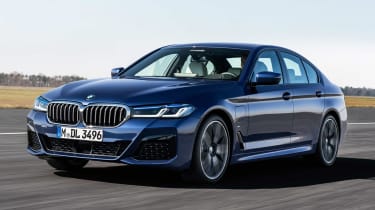 Price: From £37,480
On sale: Now
The BMW 5 Series gets a refresh for 2020, introducing revised styling, improved in-car tech and powertrain efficiency tweaks – including the introduction of a performance plug-in hybrid.
The 545e mixes a 3.0-litre straight-six turbocharged petrol engine with an electric motor and 11.2kWh battery pack, delivering hot hatch pace while emitting just 38-54g/km of CO2.
BMW M3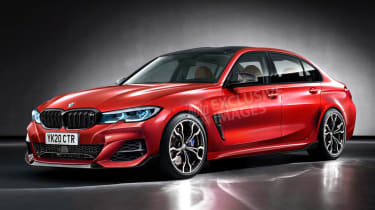 Price: £65,000 (est)
On sale: Late 2020
An all-new M3 will arrive for 2021 – and the latest model will see a couple of premieres for Munich's defining super-saloon. For the first time, M3 buyers will be able to benefit from the extra traction of a four-wheel-drive system. And the latest-generation offering will mark the debut of an estate-bodied M3 Touring, giving BMW a practical performance wagon to take on the Audi RS 4 Avant.
Power comes courtesy of a new 3.0-litre twin-turbocharged straight-six – a unit we've already sampled in the X3 M. UK buyers are likely to get only the most potent performance option, with 503bhp on tap.
Cupra Formentor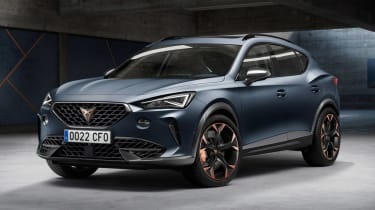 Price: From £38,000 (est)
On sale: October
Cupra's first standalone model since it was spun off from parent brand SEAT is the Formentor: a striking performance SUV.
The eye-catching body is 87mm longer and 104mm lower than the Ateca's and gives a squat, coupé-like appearance, while Cupra's signature copper-coloured highlights feature throughout.
Two power options will be available when it goes on sale this autumn: a 242bhp plug-in hybrid which can cover 31 miles in electric-only mode, or a full-fat 2.0-litre turbo petrol with 306bhp and four-wheel drive. Both variants will feature adaptive dampers as standard.
Continue Reading
1

Best new cars coming in 2020 – Aston Martin to Cupra

– currently reading

From electric SUVs to exotic supercars, we look at the best cars coming in 2020

2

Best new cars coming in 2020 – Ferrari to Kia

From electric SUVs to exotic supercars, we look at the best cars coming in 2020

3

Best new cars coming in 2020 – Land Rover to Peugeot

From electric SUVs to exotic supercars, we look at the best cars coming in 2020

4

Best new cars coming in 2020 – Porsche to Volvo

From electric SUVs to exotic supercars, we look at the best cars coming in 2020
Source: Read Full Article