When you break down at the side of the road you really need to be seen, so which emergency breakdown light is best?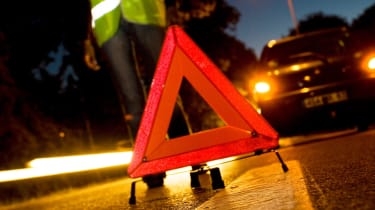 Breaking down can be a frightening experience, especially if you are unlucky enough to be forced to stop on an unlit country lane or so-called smart motorway with no hard shoulder. This is when making sure your stranded car can be seen by other traffic could literally be a lifesaver.
Although warning triangles are not a legal requirement in the UK, they can make a real difference to your safety if your vehicle comes to a stop, alerting other drivers that there is a hazard ahead well before they see your car.
But are triangles still the best way to make sure you are seen in an emergency? There are now plenty of other warning devices available that claim to offer even better protection by making your car visible from further away. 
As the long, dark nights of winter approach, we've tested six to see which has the best chance of keeping you safe while you wait for help to arrive.
How we tested them
We placed all our devices on one side of a field and assessed how well they could be seen from 500 metres away at night and in bright sunshine. For those that weren't illuminated, we shone headlights on dipped and main beam to see how well they reflected.
Those with lights were fully charged or fitted with identical alkaline batteries and left switched on for 18 hours to see how long they lasted. We also sprayed them with water to simulate heavy rain, while the final factor was price from online sources.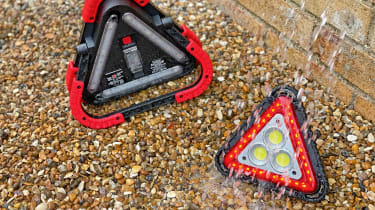 Advice on being seen
Although some British drivers do carry lights like the ones we've tested here, as well as hi-vis jackets and red warning triangles, there's no legal requirement to do so in the UK. Cross the Channel, though, and you could land yourself in trouble with European police forces should you fail to remember the latter two items.
Regardless of where you're driving, though, the benefits of carrying these pieces of safety kit never change. If you break down at night, you're likely to be glad of the chance to make yourself more visible.
Red warning triangles should be placed approximately 46 metres behind your vehicle. With warning lights, follow the instructions from the manufacturer to see if the recommended distance differs.
Verdict
The Powerlantz offered adaptability and the brightest warning lights at a decent price. It takes our Best Buy prize and is the device we'll be keeping in our car. 
We liked the adaptability of the Nightsearcher HazStar too, but the expense means it will only make sense if you will need to use its power bank and work light functions regularly. Nightsearcher's Pulsar was also impressively tough, but lost out because its lights just weren't as bright as its rivals'. 
Powerlantz Car Emergency Light Breakdown Kit
Nightsearcher HazStar
Nightsearcher Pulsar AAA
Reviews
Powerlantz Car Emergency Light Breakdown Kit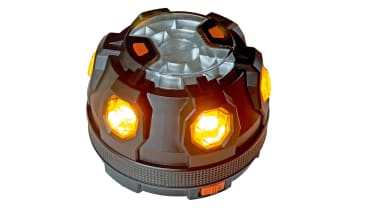 Illuminated: YesTorch: YesPrice: Around £17Rating: 5 starsContact: amazon.co.uk
We loved the versatility of the Powerlantz. It can either be placed in the road away from your stranded vehicle to warn approaching traffic or attached to the car using a magnet. There are two hooks too, and the base tilts so the light can be set at the most useful angle.
A work light is built into the top of the unit and is bright enough to help with night-time repairs or even just for camping. With three standard AA batteries it was still going strong after 18 hours and the multi-pattern strobing lights are the brightest here. 
Buy now from Amazon
Nightsearcher HazStar Rechargeable Hazard Work Light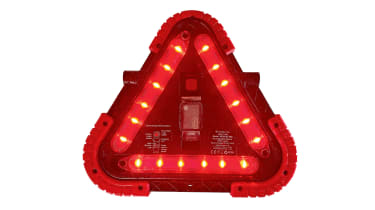 Illuminated: YesTorch: YesPrice: Around £58Rating: 4 starsContact: nightsearcher.co.uk
The HazStar might seem pricey compared with the other products here, but it does have some features to justify the cost. 
Firstly, the battery is rechargeable via a mini-USB port and can double up as a power bank for other devices. The red flashing elements of the triangle can be removed from the main unit and placed magnetically on parts of the car while you use the usefully bright lamp to illuminate any repairs. 
It's too expensive to be kept in the boot for emergencies only, but if you'll use the work light or built-in power bank then it starts to make more sense.
Buy now from NightSearcher
Nightsearcher Pulsar AAA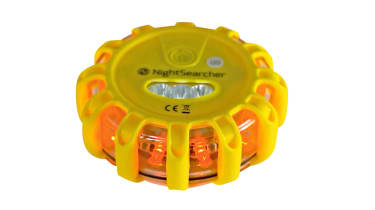 Illuminated: YesTorch: YesPrice: Around £15Rating: 4 starsContact: nightsearcher.co.uk
Like the Powerlantz, the Pulsar can either be placed on the road away from your car to warn of a hazard, or attached to the vehicle itself using a powerful magnet. There's a wide combination of flashing or solid LED patterns and a white-light torch. 
To help survive being left on the road, it's tough, and can cope with being run over by a car or immersed in water. The Pulsar is about half the size of the Powerlantz, so will take up less space in your boot too, but the flashing lights weren't as bright as the best rivals' here.
Buy now from NightSearcher
Fiesta Centre Emergency Warning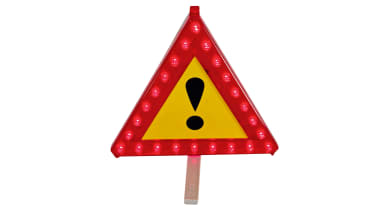 Illuminated: YesTorch: NoPrice: Around £10Rating: 3.5 starsContact: ebay.co.uk
We included this triangle in the test to see what you could get for less than £10 and were pleasantly surprised. This small triangle can either be used on its own with the simple stand mechanism, attached to the car with suction pads, or placed in the centre of a traditional warning triangle. 
The simple flashing red LEDs lasted more than 18 hours with a pair of AA batteries and were clearly visible at 500m. It even survived our drenching with a hose, despite having no apparent waterproofing. For such a bargain price, it's gimmick-free and useful.
Buy now from eBay
Be Seen Screen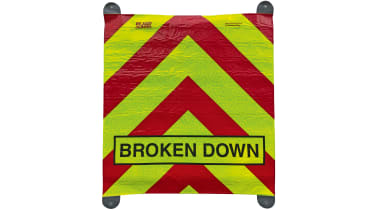 Illuminated: NoTorch: NoPrice: Around £55Rating: 3 starsContact: be-seen-screen.co.uk
The Be Seen Screen has no lights but is made of the same material as emergency-vehicle livery, which means it is incredibly reflective of other vehicle headlights, even on dipped beam at distance.
The panel unrolls and has suction pads on each corner to hold it in place to the rear of your car. It is undoubtedly going to help your car be seen but it's bulky to store and has no other use, unlike the lights here, which have built-in torches. It's also far too expensive. If the screen was half the price we might feel a bit more inclined to recommend it.
Buy now from Be Seen Screen
Wolfteeth LED Warning Triangle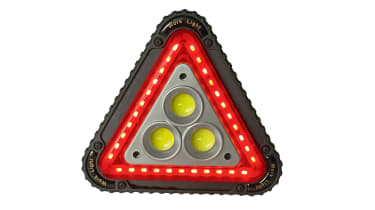 Illuminated: Yes Torch: YesPrice: Around £12Rating: 2.5 starsContact: amazon.co.uk
The Wolfteeth Triangle appears to provide most of the features of the Nightsearcher HazStar but at a quarter of the cost. In reality it is half the size, and although it does offer a socket for rechargeable batteries, none are included. 
There is no magnet or hook to mount it on your car either, so you need to rely on a simple stand to place the light away from your vehicle. The red LEDs can either flash or stay solid, while the three-LED worklamp has 
two power levels. It was marked down mainly because it instantly failed when sprayed with water.
Buy now from Amazon
Source: Read Full Article