Eight cameras line up for their screen test as we test the market's leading dash cam soloutions
1

Best dash cams 2022

– currently reading

2

Best dual dash cams

3

Best factory and dealer fit dash cams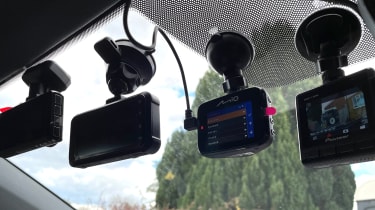 Social media channels are flooded with uploaded dash-cam videos, showing everything from meteor storms to cats on pedestrian crossings. But they have a serious role to play in the event of an accident or crime, often saving hours of wrangling with insurance companies and paying for themselves many times over.
In the event of an incident, then, any camera will be better than none at all, but there is a huge choice facing the first- time buyer. The quality of the footage captured also varies massively from model to model, while the specifications and features offered can be confusing. 
Best sat-nav apps 2022
Do you need filters, hardwires, Alexa and WiFi? Although there are cameras that cost as little as £15 and as much as £1,000, we have gathered the eight best options in the most popular price range, from £60 to £300, to see what works and what matters. 
How we tested them
The most important feature of any dash camera is to capture clear footage in a wide variety of weather and light conditions. To test this, we drove a route in bright sunlight and at night. 
Most cameras have an app for viewing footage, so this was used, along with a check for clarity on a larger computer screen. 
The greatest importance was placed on being able to read registration numbers clearly in all conditions. Finally, we took value for money and additional useful features into account. 
Bear in mind that some cameras have an SD card included in the package. If they don't, then don't forget to budget between £10 and £20 for something suitable to store footage on.
Verdict
While the Nextbase 622GW still sets the benchmark in terms of the quality of its footage, a price rise means it is starting to look expensive, especially when rival Kenwood is dialling up the value. 
It's enough to see the Nextbase knocked off the top spot by a newcomer in the form of the Ring RSDC3000. It will cost less than £100 even with the additional expense of an SD card, yet it has all of the features we think are essential in a camera. The RSDC3000  also takes surprisingly good-quality footage, too. 
Ring RSDC3000   
Nextbase 622GW   
Kenwood A601W
Reviews
Ring RSDC3000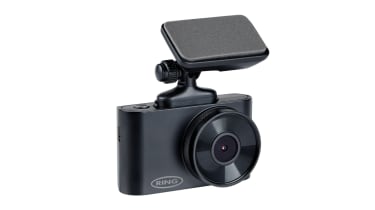 Price: around £85 (plus memory card)
Rating: 5 stars
Resolution: 1296p
Contact: ringautomotive.com
If your priority above all else with a dash cam is to have the very best-quality footage, the Ring isn't going to provide it. But for a package that costs less than £100, it offers an unbeatable combination of features and value. 
The compact RSDC3000 has a resolution of 1296 pixels, giving it a useful step up in quality from the 1080p resolution of most cameras in this price range. It dealt well with changing light conditions, too. 
It also has GPS tracking data to log speed and location, and a two-inch screen to make navigating menus easier. It will connect to Ring's app using a WiFi connection to view and download files.  
Buy now from Amazon
Nextbase 622GW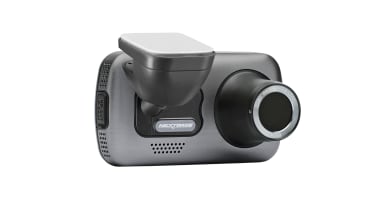 Price: around £250 (plus memory card)
Rating: 4.5 stars
Resolution: 4K
Contact: nextbase.com
In terms of footage quality, the Nextbase 622GW is still the benchmark for dash cams. It has the clearest images in all conditions, even compared with rivals we've tried costing twice as much. 
The 622GW also has some interesting – if gimmicky – extra features included, such as What3Words location data and Alexa voice activation, which work better in theory than they do in practice. 
But we can't ignore that the Nextbase's price has risen by £30 since it won our last test, so adding extras such as an SD card and a rear camera will take the total price to £319. It's still the best cam, but you pay for it.
Buy now from Halfords
Kenwood DRV A601W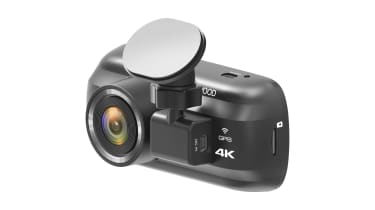 Price: around £200 (includes 64GB memory card)
Rating: 4.5 stars
Resolution: 4K
Contact: kenwood-electronics.co.uk
Kenwood's range-topping 4K camera almost matched the Nextbase 622GW for footage quality, but can't quite repeat the image stabilisation in darker conditions, especially on rougher roads. 
It also has to make do without the Nextbase's Alexa and What3Words features, but in exchange it costs less than £200, and that includes a 64GB memory card. 
You can also buy the Kenwood as part of a bundle that includes a hardwire kit, an SD card and a rear camera for the same price as the basic Nextbase 622. 
Buy now from Kenwood
Kenwood DRV A501W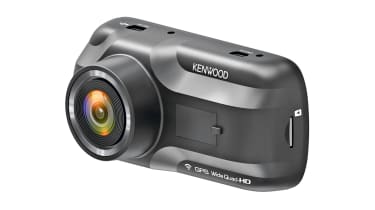 Price: around £140 (includes 16GB memory card)
Rating: 4 stars
Resolution: 1440p
Contact: kenwood-electronics.co.uk
If you don't need the full 4K resolution quality, but want a step up from 1080p, Kenwood's A501W offers all of the useful functionality and features of the company's A601W camera (see page 59), at a usefully lower price. 
The £139.95 cost includes a 16GB SD memory card, too, but what lifts the Kenwood above similarly priced rivals is the inclusion of a polarising filter as standard. This works like sunglasses in bright conditions and noticeably reduces the glare on footage. Factor in the camera's WiFi, GPS and magnetic mount and it makes the A501W a decent package.
Buy now from Kenwood
Ring RSDC4000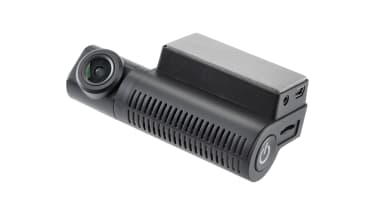 Price: around £100 (plus memory card)
Rating: 3.5 stars
Resolution: 1440p
Contact: ringautomotive.com
Ring's range-topping DC4000 lacks a screen, which is a feature we always appreciate on a dash cam, because it makes the device far easier to set up and to check footage. 
But we can almost forgive it, because connecting the camera to the Ring app is simple and means the RSDC4000 is tiny. This could be a real bonus if you have a shallow windscreen and want to hide the cam behind the mirror. 
The footage can't challenge the 4K cameras and lacks the detail of the Kenwood's 1440P A501W, too, but the Ring is good value, even taking into account the lack of an SD card. 
Buy now from Amazon
VANTRUE X4S 
Price: around £170 (plus memory card)
Rating: 3.5 stars
Resolution: 4K
Contact: amazon.co.uk/vantrue
The Vantrue is the cheapest way we could find to get full 4K dash- cam footage, and the X4S also has a three-inch rear screen to view it on. As you'd expect from a dash cam at this price level, there's a WiFi connection and a simple app to download and manage your video. 
But there are a few surprising omissions, too, the biggest being a lack of GPS location and speed stamps. To add these features, you must buy a module that costs an extra £23.99. That, plus an SD card, will take the total price to the same as the superior Kenwood 601.
Buy now from Amazon
Garmin Dash Cam 57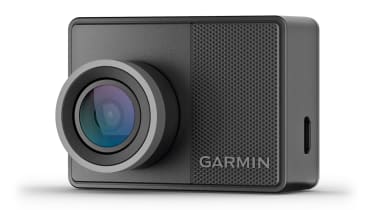 Price: around £130 (includes 16GB memory card)
Rating: 3.5 stars
Resolution: 1440p
Contact: garmin.com
This compact Garmin 57 has the usual GPS, a neat screen and app, but it also has a couple of innovative gadgets that we really liked the sound of. 
The first of these functions is the option to use voice activation to save clips, and the second is the ability to connect to a WiFi hotspot and view the camera's feed even when you are away from the car.
Unfortunately, neither of these features worked smoothly in our tests, making it difficult to justify the extra cost over the other 1440p cameras here.
Buy now from Halfords
Mio C312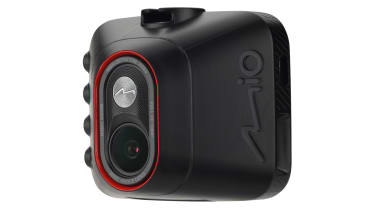 Price: around £60 (plus memory card)
Rating: 3 stars
Resolution: 1080p
Contact: halfords.com
The Mio has two big points in its favour: the price and the size. The downside is that the C312 lacks features, too, with no GPS, smartphone link or other useful gadgets. It does have a two-inch screen, however, which makes it easy to navigate menus and check the camera is pointing the right way. 
But that screen is also a hindrance because it is permanently on, which can prove distracting, especially at night. The footage also suffers in the dark. While the Mio will capture acceptable detail during daylight hours, its tiny lens struggles at night.
Buy now from Halfords
In this review
1

Best dash cams 2022

– currently reading

Eight cameras line up for their screen test as we test the market's leading dash cam soloutions

2

Best dual dash cams

If you want to record both the front and rear of your vehicle, then check out a dual dash cam

3

Best factory and dealer fit dash cams

With dash cams becoming such big business, some manufacturers have got in on the action too
Source: Read Full Article