Which shows its rivals a clean pair of heels?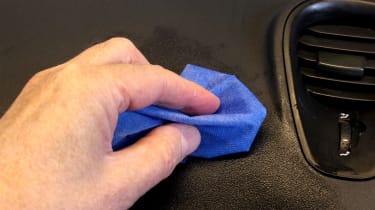 You could easily spend a day giving your car's interior a good spring clean, but sometimes, there's only time for a quick once-over, which is where cleaning wipes come into their own.
They're easy to use, getting the cleaning power just where you need it. Most can be used on just about any surface in the car and in the workshop or around the home. Tubs generally represent better value than sachets, but they're bulkier and not as easy to carry in the car.
So which product wiped out the opposition and cleaned up in our test? We got to grips with eight to find out.
How we tested them
We tried the wipes on a variety of hard surfaces, including the dashboard, door trims and rubber seals. We then marked the wipes on how well they dealt with felt-tip pen, light oil, grease and glue.
We also awarded points for wipes being biodegradable and anti-bacterial, and for giving dermatological protection. The final factor was value, based on the price per square metre.
Verdict
Draper's Tuff Texture is still impressive, but Everbuild's Wonder Wipes are almost as effective at a much lower cost, in which case they sneak ahead. The Big Wipes HD take the final podium spot, with Autoglym's Multi Surface in fourth.
Everbuild Wonder Wipes
Draper Tuff Texture Hard Graft Heavy Duty Wipes 84712
Big Wipes Heavy Duty 4×4 Formula
Reviews
Everbuild Wonder Wipes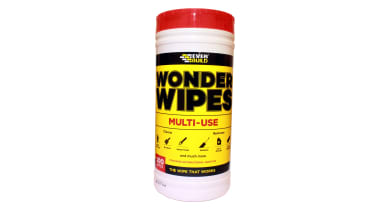 Price: around £6
Rating: 5 stars
Number of sheets/price sq m: 100/£1.33
Contact: everbuild.co.uk
According to the tub, there's virtually nothing that can't be cleaned with these, including hands, tools and most surfaces.
They cleared our sample stains, working well on the grease and glue. Importantly, they also contain an anti-bacterial additive, something that's ever more important nowadays.
The tub contains 100 wipes, each a useful 482sq cm, so many tasks could be handled by a single cloth. A textured side would have been useful, but the price – almost half that of our runner-up – more than balances this out.
Buy now from Toolstation
Draper Tuff Texture Hard Graft Heavy Duty Wipes 84712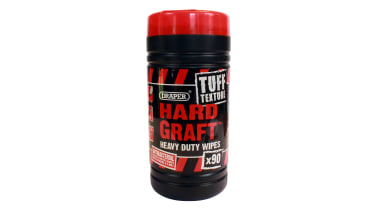 Price: around £12
Rating: 4.5 stars
Number of sheets/price sq m: 90/£2.58
Contact: drapertools.com
Our previous winner remains a serious performer, although we should repeat the caveat that you should check their use on a sample area first. They are very effective and may be too much for some more delicate surfaces.
They're dermatologically tested, anti-bacterial and are the second largest. We liked the textured side for tackling ground-in dirt, and selection was made easier thanks to different colours. They're great at cleaning, but a high price drops them down a place.
Buy now from Amazon
Big Wipes Heavy Duty 4×4 Formula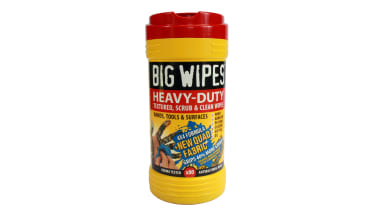 Price: around £10
Rating: 4.5 stars
Number of sheets/price sq m: 80/£2.17
Contact: bigwipes.com
These wipes are monsters, easily the largest we tried at around 600 sq cm each. Like the Draper option (left), they are also dual-sided, in this case called scrub and clean.
We were pleased to see they were EU dermatologically tested – with zero level of skin irritation – and anti-bacterial. The water-based formula is preservative-free, with both the fabric and the cleaner biodegradable.
They completed all our tests well, with just the glue needing a bit more effort, and once more gave the Tuff Textures a hard time.
Autoglym MSWIP100 Multi-Surface Sanitiser Wipes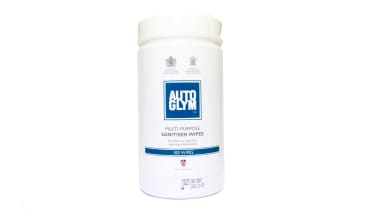 Price: around £6
Rating: 4 stars
Number of sheets/price sq m: 100/£2.88
Contact: autoglym.co.uk
Autoglym makes much of its wipes' medical attributes. Notably, they're said to kill all manner of unpleasant micro-organisms such as bacteria, fungi, yeasts and coronavirus.
With an average price per sq m, the wipes were quite small and we often needed two or sometimes three for what would usually be a single-wipe job.
They managed all the tests, but the glue took some shifting and the grease even more. Unusually, there wasn't much of a smell, but still a decent result.
Buy now from Autoglym
CarPlan Dash Wipe Gloss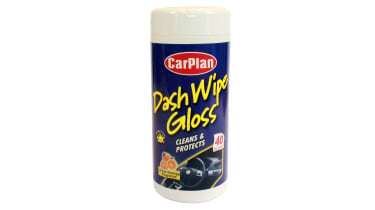 Price: around £3
Rating: 3.5 stars
Number of sheets/price sq m: 40/£2.11
Contact: carplan.co.uk
As with most wipes, these struggled at first with the glue, but eventually they beat it. They felt a bit flimsy, but stood up well to extended use and didn't rip.
The anti-bacterial wipes are said to have an orange fragrance, but we thought it was more antiseptic in essence. We liked the gloss finish, though (probably the best we've tried) because it left a shine, but wasn't too bright.
At 371 sq cm, these were large enough to handle most tasks and the price was good, but there was nothing exceptional.
Buy now from eBay
Armor All Orange Cleaning Wipes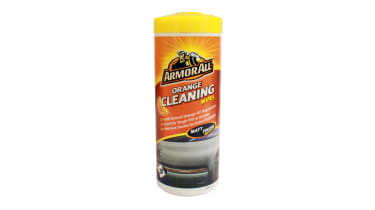 Price: around £6
Rating: 3.5 stars
Number of sheets/price sq m: 30/£5.06
Contact: armorall.eu/en
These wipes definitely brought a whiff of oranges into the car. According to the label they have natural degreasers and so it proved, with all our tests being swept aside with ease.
The finish was listed as matt, but we found it to be in between that and gloss, something that would probably appeal to many users.
There were no claims for hand care or antibacterial use and they felt a bit flimsy, although they didn't rip. The big downside was the price, which was high, especially for a tub, and a smaller one at that.
Buy now from Amazon
Armor All All Round Wipes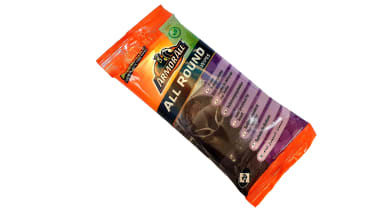 Price: around £3
Rating: 2.5 stars
Number of sheets/price sq m: 20/£3.75
Contact: armorall.eu/en
Like some rivals, these wipes are plastic-free and fully biodegradable. We liked their size and they contained plenty of cleaner, which contributed to a good score, although the grease took more effort.
They are designed simply to clean and if you want a specific finish, you'll have to follow with a matt or gloss product.
They can be used on most in-car surfaces except glass or paint, making them less 'all round' than some rivals. The third highest price per square metre didn't help the overall result, either.
Buy now from Wilko
Simoniz SWPS0014A Interior Wipes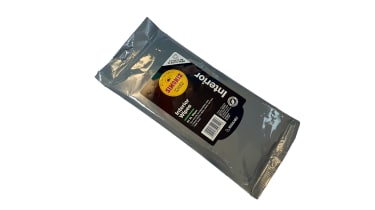 Price: around £4
Rating: 2 stars
Number of sheets/price sq m: 20/£4.73
Contact: holtsauto.com/simoniz
These conventional wipes from Simoniz have no textured side or claims about hand care or antibacterial properties, but they are biodegradable. We expected more with the price being second highest.
The XL-size wipes were a reasonable size, but the test results were a real mixed bag, because the wipes cleaned the felt tip, glue and light oil easily, but struggled with the ink and we couldn't totally remove the grease stain.
Compared with some, the wipes felt a bit dry, which meant more effort was needed to get the cleaner onto the surfaces.
Buy now from Euro Car Parts
Source: Read Full Article